Scone Palace is home to one of the country's largest private collections of orchids, begun by Lord Mansfield nearly 40 years ago
Scone Palace, the ancestral home of the Earls of Mansfield, is well known for its historical association with the Stone of Scone. It is also well known for its horticultural association with David Douglas, Scotland's pre-eminent plant collectors who started his illustrious career as under-gardener at Scone. But what is less well known is that Scone is currently home to one of the largest private collections of orchids in Britain. The collection began by chance in 1971 when Lord Mansfield was given an orchid as a birthday present; he was instantly captivated and began buying orchids at the Chelsea Flower Show, which he then grew in his London flat.
A fascination for orchids
By 1985, when now Head Gardener Peter Timoney came to Scone, the collection numbered 150 different varieties. Orchids also fascinated Peter and a partnership built on a shared passion for these exotic plants was born. The collection, which includes both species and hybrids, now numbers around 1000 plants.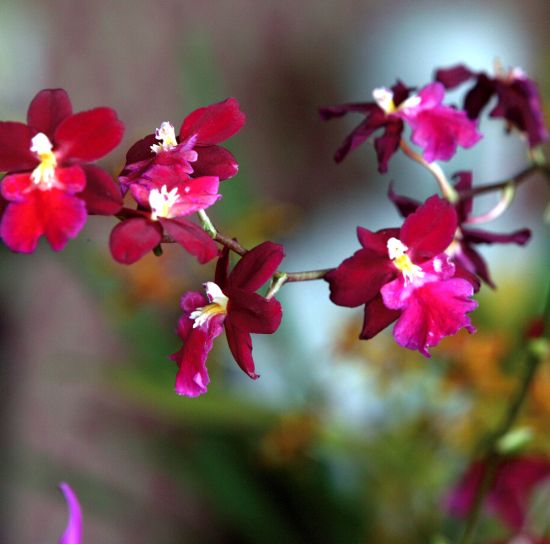 Laelia gouldiana from Mexico.
Learning on the job, Peter read everything he could. He soon started exhibiting, later qualifying as a British Orchid Council judge. Admitting that it took many years of trial and error before getting things right, he stresses that the most important thing for any orchid grower is to find the right conditions to suit a particular plant. 'In the wild they grow in all sorts of different places,' he says. 'They are found clinging to the bark of trees in the rainforests of Brazil and Venezuela, hidden on the ground, deep in the shade in China and high up in the Andes and the Himalayas. They thrive in the humidity of the Philippines and in variable temperatures in Japan.'
The glasshouses
When not on display in the Palace State Rooms, which provide an excellent backdrop, the orchids are kept in a series of purpose built glasshouses divided into three sections, warm, medium and cool, with varied humidity. Here the massed colours of red, orange, yellow, purple, pink and white orchids raised up on a series of wooden platforms emerge jewellike from a sea of green foliage. Clouds of grey Spanish moss hanging down from the metal rafters and used as an indicator of humidity provide a soft background and a gentle contrast to the vibrant colours.
Head gardener Peter Timoney.
'I've run out of growing space,' Peter laughs, alluding to the resting plants that spill down off the front of the stand and onto the floor waiting their turn in the limelight. 'It's part plant laboratory here with flowering plants mixed in with seedlings.' The first to catch the eye is Vuylstekeara 'Sussex Gold' a dramatic hybrid with arching sprays of orange flowers exploding from a bed of green leaves. Sprays of bright Oncidium 'Tiger Sun' stand out against pale yellow cymbidium, a relatively easy to grow orchid that Peter recommends for beginners.
He also recommends phalaenopsis as a houseplant because it flowers for such a long time. Exotic fragrance Wafts of scent linger in the humid air: this comes from varieties such as the white foxtail orchid, dendrochilum, and purple and yellow striped zygopetilum and pure white Odontoglossum pulchellum. 'Orchids throw out their scent,' Peter says, 'It can end up anywhere in the glasshouse and it fills any room in the evening.' Purple Laelia gouldiana and L. autumnalis provide an example of the provenance of some rare species. 'These were given by friends. Like all gardeners, orchid growers are generous people.
If you ask for something they will give it to you,' he says, adding that his biggest find was a pure white Dendrobium thyrsiflorum found in a sale box as a tiny seedling. Despite its rarity this pure white plant was destined to flower unseen when it proved frustratingly difficult to get in flower at the right time for shows. Next your eye is drawn to a dramatic yellow and red oncidium, 'A blowsy Spanish dancer type,' he jokes.
Peter is justly proud of a low growing generously proportioned apricot and red orchid, Brassolaeliocattleya 'Scone Palace.' 'It is the result of a passing liaison, when I happened to find both parents in flower at the same time and had a chance to pollinate them. Propagating them was a challenge but I like challenges. If you don't try you'll never get anywhere. I can't help myself, I'm so enthusiastic.'
Cymbidium against a background of Vuylstekeara 'Sussex Gold'.
fieldfacts
Peter Timoney's Orchid Growing Tips
Orchids are the best selling pot plant in Europe but all too often their lifespan is limited by a lack of understanding of their needs. The secret to success lies in knowing the conditions that will best suit your plant. 'There is no point putting a shade loving plant in a bright sunny spot. Always read the instructions on the label carefully.' Local orchid societies, he points out, are also a mine of information.
An Orchid Kingdom DVD by Peter Timoney £14.95. This excellent DVD includes a section on choosing orchids, the right place to grow them and details of feeding and watering.
Festival of Orchids at Scone Palace by Perth PH2 6BD From 7-8 August 2010.
Many of Lord Mansfield's orchids can be seen on display daily in the Palace State Rooms. Annual Festival of Orchids takes place in the grounds of the Palace 7 – 8 August 2010. Gardens open daily Easter until end October 9:30am to 5:30pm
The glasshouses at Scone are not open to the public. visits@scone-palace.co.uk www.scone-palace.co.uk