Ready for orcas to pass through Scottish waters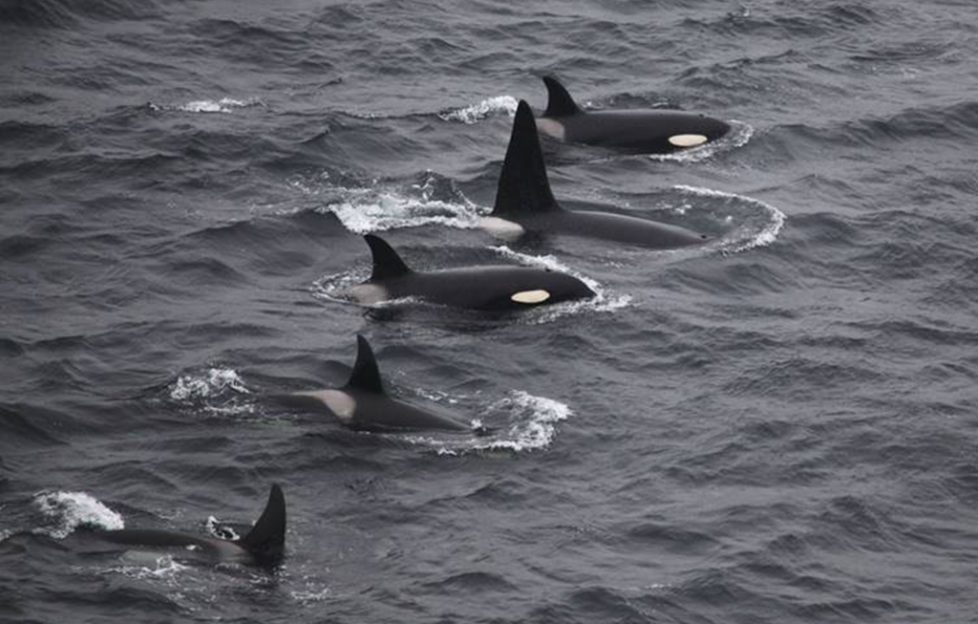 Sealife lovers are set to descend on Scotland, as the annual Orca Watch is just days away.
The staff of the Sea Watch Foundation is waiting in anticipation to start conducting watches and collect records of the orcas passing through the Pentland Firth.
Three other sightings of orcas have already been reported around Caithness in the last few days including the sight of a well-known group of orcas which regularly visits, and which travel south from Iceland to Shetland, and Scotland in search of food.
At the end of May, the Pentland Firth welcomes back the charity's annual Orca Watch event during which the North coast is visited by hundreds of whale enthusiasts, tourists and local media wanting to witness the passage of orcas close to shore.
Now in its eighth year this event originated from the collaboration between Sea Watch Foundation and their former regional coordinator Colin Bird.
With the possibility of underwater turbines installed in the area, a decision was made to establish a seasonal watch to gather information on how orcas use this area and what might be the consequences of such an installation.
The 2019 event takes place from 17-26 May where people from all walks of life are invited to join the dedicated volunteers for watches throughout this time.
Watches will be conducted at Duncansby Head, Caithness, the main view point, around Orkney and Shetland (times and locations can be found online at www.seawatchfoundation.org.uk/orca-watch-2019/). There will also be volunteer observers onboard the John O'Groats ferry (connecting mainland to Orkney), collecting sightings and effort data.
More than two thousand people have contributed sightings to the Sea Watch Foundation's National Database that currently comprises over 60,000 records, making it one of the largest and longest-running sightings schemes in the world.
Scientists and volunteers do complete sightings forms for Sea Watch, recording not only the sightings they make but, where possible, also the number of hours spent watching or the distance travelled in a boat. Even when no cetaceans are seen, it is important to have a measure of effort in order to interpret sightings more effectively.
This year's Orca Watch does also see the collaboration of the following organisations that are helping conducting watches and social events: Whale and Dolphin Conservation (WDC), Scottish Natural Heritage, John O'Groats Ferries, Pulteney People's Centre, RSPB wardens at Marwick Head, Sanday Development Trust, organizers of the Orkney Nature Festival, High Life Highland Countryside Rangers and Hebridean Whale and Dolphin Trust.
This is an open event and anyone interested is welcome to reach the organised land watches at any time during the day, but people are also free to look out for whales and collate sightings anywhere else along the coast.
Sightings should be reported HERE.
Dr Chiara Giulia Bertulli, Sea Watch sightings officer and lead organiser of this year's event, said: 'Being able to sight so many different cetacean species in Caithness, Orkney and Shetland so close to shore is something truly amazing!
'What we hope for is to be able to collect sightings data involving members of the general public, helping each other while sharing skills.
'Sightings are important because they give us information about where and when particular species occur, from which we can identify important areas and habitats, as well as determine changes in their status and distribution. Such knowledge helps provide better informed conservation measures.'
The north coast of Scotland is one of the best places to see whales, dolphins, porpoise and many different seabird species in the UK. As well as the orca, many other species of whale and dolphin can be seen from the shore including the common minke and humpback whale, Risso's, common and white-beaked dolphins and the harbour porpoise. For the bird aficionados, sightings of razorbills, puffins, fulmars, great skuas, and terns are possible too.
If you live locally and want to organize your own land or boat watches the recording forms can be found online and get in touch with Sea Watch if you have any questions about it.
Sea Watch Foundation is also very proud to announce an evening of orca talks on May 18 at 6.30pm, at the Pulteney People's Centre in Wick during the Orca Watch.
The opening night of talks will bring together leading investigators in the field of cetology with invited speakers providing an avenue for scientists, wildlife enthusiasts and tourists to brainstorm and create synergy across disciplines. Invited speakers include Dr Peter Evans, Director of the Sea Watch Foundation opening the night with a talk about orcas in the UK.
Dr Saana Isojunno and Emily Hague from St Andrews University will give insight into the interaction between orcas and seal in Scotland, and to conclude the night Dr Chiara will introduce the SW Sightings Network and their land-watch data collection protocol.
An Orca Watch beach clean will also be organized at Sannick Beach on May 22 in collaboration with the Highlife Highland Countryside Rangers. A cetacean talk will be given to the kids at the Canisbay Primary School on May 24th too.
Full details of all Orca Watch events can be found HERE.