A new start for Golden Eagles as trio move south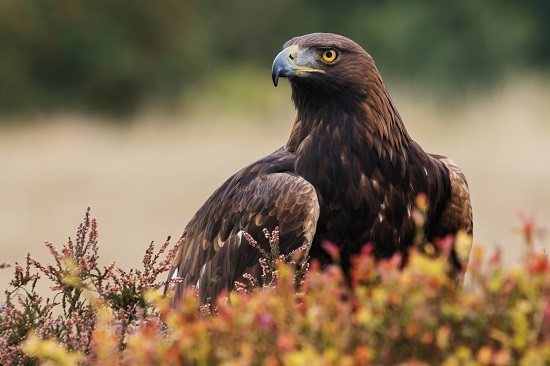 Three Golden Eagle chicks from the Scottish Highlands have been taken to a secret location in the Southern Uplands of Scotland.
In the first of a series of groundbreaking translocations addressing low numbers of Golden Eagles in the South of Scotland, conservationists working for the South of Scotland Golden Eagle Project have successfully transported three Golden Eagle chicks, named Edward, Beaky and Emily to the other end of the country.
Project partners RSPB Scotland, Scottish Land & Estates, Forestry Commission Scotland, Scottish Natural Heritage, Buccleuch and the Southern Uplands Partnership, have been working together for more than eleven years to bring it to fruition.
Funded by The National Lottery, project partners, the Scottish Government and local LEADER Programmes, the initiative is a key project under the Scottish Government's 2020 Challenge for Scottish Biodiversity (which sets out a route map to protect and restore Scotland's biodiversity).
Earlier this year, led by the South of Scotland Golden Eagle Project, raptor workers in the Scottish Highlands carefully collected the chicks under license from Scottish Natural Heritage (SNH) and took them to their new home in a confidential location in the Moffat Hills.
The birds were then cared for in specially-designed release aviaries and supplementary fed through the autumn/winter period to help them adjust to their new habitat before their release.
Experts at the University of Edinburgh Dick Vet School have also provided considerable support throughout the process to monitor the health and wellbeing of the birds.
Scotland's Environment Secretary Roseanna Cunningham said: 'Golden Eagles are one of Scotland's most impressive species and many people – myself included – will be excited by the increased opportunity to see these magnificent animals in the wild.
'In bolstering Golden Eagle numbers in the South of Scotland, the project will add to the biodiversity of the area, as well as potentially attracting more visitors – with the accompanying economic benefits that brings.'
The chicks have been adopted and officially named by children and young people from Moffat Primary School, St Peters Primary School in Galashiels and Priorsford Primary School in Peebles to safeguard the area's biodiversity generations to come, and celebrate Scotland's Year of Young People 2018. The schools will continue to support the project throughout its lifetime, while other local schools will be given an opportunity to name future chicks.
Mark Oddy, chair of the South of Scotland Golden Eagle Project said: 'Arguably Scotland's most iconic bird, in recent decades the south Scotland Golden Eagle population has been small and fragmented. We want to give it a helping hand to overcome problems in the past which have limited the size and viability of the population.
'It is amazing to see the first of our first chicks now settling down and soaring majestically above the Moffat Hills. We couldn't have done this without the incredible support we've had from supporters, landowners and managers, conservationist partners and the funding we've received from the Heritage Lottery Fund and local Leader Programmes. It is also reassuring for future biodiversity conservation to see such passion among local children and young people for the project.'
Francesca Osowska, Scottish Natural Heritage's chief executive, said: 'I remember the thrill I felt the first time I saw a Golden Eagle. The more people who can experience this, the better – and this wonderful project will make that happen.
'Golden Eagles are such an amazing part of Scotland's wildlife, and we're passionate about returning them to places where they used to be plentiful. These striking birds are crucial for all of Scotland's nature to thrive.'
Project manager Cat Barlow added: 'We are thrilled to welcome our first Golden Eagle chicks and to see people in the south of Scotland really rallying to promote this wonderful area for wildlife.
'In the years ahead many hundreds of people will have the opportunity, through trails, events and CCTV, to learn more about the golden eagle and its role in Scotland's biodiversity. I hope it will continue to inspire and empower them to safeguard its existence for future generations."
'We're now calling on locals and visitors to the South of Scotland to help our project staff and members of the Scottish Raptor Study Group in monitoring the birds' progress, so that we can ensure that we can see even more of these magnificent birds across the south of Scotland's skies.'
For more information or to report a Golden Eagle sighting in the South of Scotland click HERE.