These boots are made for walking: TRIED & TESTED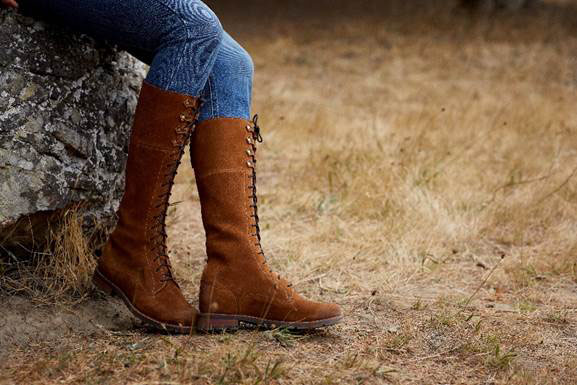 Cityscapes or boundless countryside, walking amidst nature has become even more crucial to our mental wellbeing this past year.
Whether you're heading down Edinburgh's Leith Walk to spot the resident otters or working the dogs out on the hill, the need for a good pair of boots has never been greater. Thanks to leading performance footwear brand Ariat, us ladies can enjoy being comfortable and cosy over the winter months – and, thankfully, we needn't sacrifice style.
WHAT IS IT?
Ariat Ketley H20 country boots, RRP £270. Available in Chocolate and Willow, or Chestnut colourways. 
I WANT IT BECAUSE:
Ariat's reputation goes before it for providing sturdy, working boots. The added bonus of having a gel-cushioned foot-bed and heel stabiliser makes these boots all the more appealing when you're spending lengthy periods outdoors.
USEFUL FOR:
These boots are fit for all conditions, support your feet and ankles, and keep you warm and dry thanks to the breathable, waterproof full-grain leather. Whether you are ploughing through muddy fields, walking in the pouring rain or tackling thick ice on daily dog walks, these boots not only look good but can take on Scotland's inclement, ever-changing weather.
HIGH POINT:
The fact that they are sturdy but stylish makes for a wonderful combination. Even if you're mucking out the stables and need a practical pair of boots, the striking lacing up the front makes them feel one step up from the old wellies at the back of the cupboard. Brush the mud off and hose them down, and they're good to go while running errands in town.
LOW POINT:
The first time I wore them, it took a bit of time to loosen/tighten the laces in the right places to fit my leg, but I haven't needed to adjust them since. (Thanks to the zip up the back of the boot, I can now slip them on and off very easily). At 5'10" I wish they came just half an inch higher up my leg, but having experienced many treacherous, cold days in Scotland this year, these boots have barely left my feet. They keep you warm, dry and have thus far prevented any embarrassing Bambi on ice moments.