Scottish bishops unite to launch charity fundraiser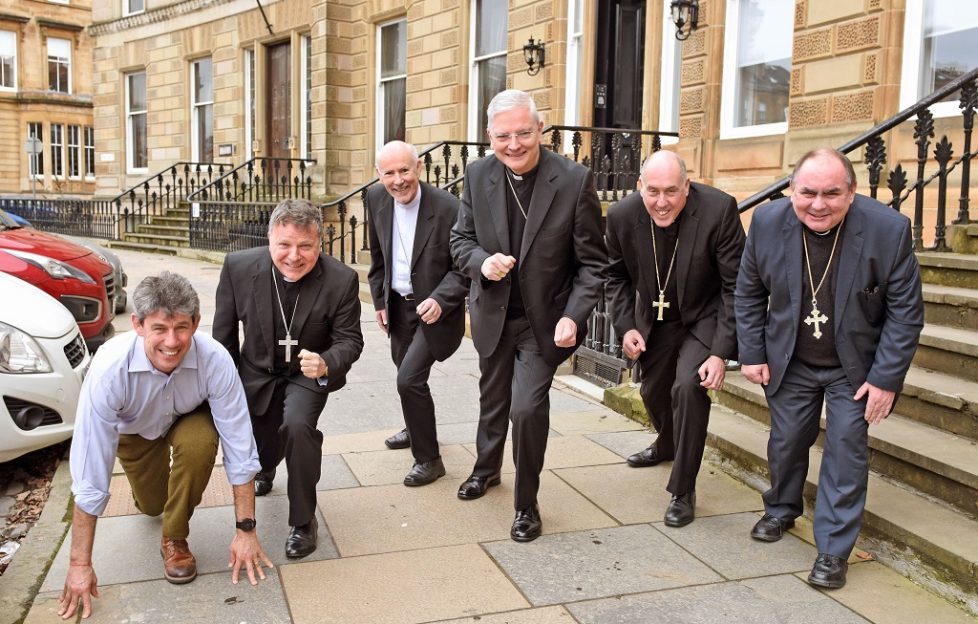 Bishops across Scotland got on their marks in a bid to help raise money for the world's poorest people.
They came together for the Scottish Catholic International Aid Fund's 6k Family Fun Run.
SCIAF's Bishop President Joseph Toal teamed up with Archbishop of St Andrews and Edinburgh Leo Cushley, Bishop of Argyll Brian McGee, Bishop of Paisley John Keenan and Bishop of Galloway William Nolan to help trigger a rush to the starting line.
They are urging Scots to put their faith into action and share the journey with family, friends, colleagues, fellow parishioners and classmates by signing up for SCIAF's second fun run at the scenic Strathclyde Country Park in Motherwell, on Saturday, 2 June, at 11am.
Millions of people have to walk hours every day in search of food and water, while others are forced to flee across continents to get to safety. By joining in the SCIAF 6k people can show solidarity with people in need around the world and do their bit to help them work their way out of poverty.
Bishop Toal said: 'Millions of people walk for hours every day in search of food and water. Others flee across continents to get to safety. By taking part in SCIAF's 6k Family Fun Run you can raise money to help the poorest survive and thrive and show solidarity with people fleeing conflict around the world.
'It's also a great way to keep fit and spend time with family and friends. So what are you waiting for? Sign up today and share the journey.'
In the poorest communities in Ethiopia men, women and children walk for hours each day to reach clean drinking water and with little time left for work or school, it's almost impossible to break the cycle of poverty.
Every step participants take on the SCIAF fun run – whether theyrun, jog or walk – will bring someone living in poverty closer to freeing themselves from hunger, poverty and injustice.
SCIAF director Alistair Dutton said: 'Whether you run, walk or sponsor someone, you have the opportunity to help some of the poorest communities in the world to get the help they need to grow more food, earn a living and create a better future.
'I urge everyone to come along to SCIAF's 6k Family Fun Run in Strathclyde Country Park – it'll be a great day out for a great cause.'
To sign up for the 2018 SCIAF Fun Run click HERE or call the community fundraising and events officer Teresa McGoldrick on 0141 354 5555. Registration costs £5 for children and £10 for adults.