The Caddy Mann Restaurant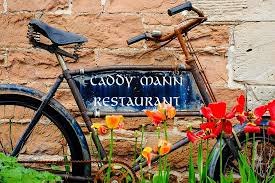 A warm and friendly welcome awaits at The Caddy Mann Restaurant at Mounthooly, by Jedburgh in the Borders. This small yet popular rural restaurant specialises in locally-sourced seasonal ingredients. Small-batch cooking is the name of the game here, which explains why menus change daily – making return visits mandatory.
Family owned, the kitchen team at The Caddy Man is headed up by Ross Horrocks, with his wife Lynne keeping everyone happy out front. Over his career, Ross has worked in some of the country's best-known restaurants, including five years at Gleneagles, before heading to the Borders to work at the Duke of Roxburgh's hotel near Kelso.
Ross' influence stems from working with some of the country's finest Michelin-starred chefs, as well as the wonderful natural larder that the Borders – and Scotland as a whole – has to offer. Taking full advantage of this, everything at The Caddy Mann is homemade – from the bread to the ice-creams. Ross and Lynne's dedication to fresh, quality produce is reflected in the awards that The Caddy Mann has gained over the past two decades, including Best Lunch, Best Evening Meal, Best Service and Local Produce Champion in the VisitScotland awards for 14 consecutive years, as well as the 'Consistence of Excellence' award. The Caddy Mann has also held a TripAdvisor Certificate of Excellence for the past 10 years.
Ross and Lynne at The Caddy Mann deal directly with local farmers, estates and small artisan suppliers to produce delicious, seasonal dishes well worth travelling for.
The Caddy Mann is the perfect place to meet up with friends and enjoy a relaxing lunch or a luxurious evening meal – or just stop by and enjoy a coffee and the tempting selection of home baking.
Only one hour's drive from both Edinburgh and Newcastle, The Caddy Mann is located just off the main A68 trunk road, with a large, private car park on site.
The Caddy Mann Restaurant – the best in the Borders, from the Borders – is open six days a week (Tuesday-Sunday). Stop by between 10am-4pm for teas, coffees, cakes and snacks, opt for lunch between 12-2pm, or book a table for dinner on Friday and Saturday evenings.