The art of family dining
A day's shopping in Glasgow can be an exhausting experience when accompanied by bored, fidgety children and a husband with one eye on the pub and the other on a new pair of trainers. It is with this in mind that I promised my nearest and dearest a slap up lunch, on the condition that they allowed me a couple of hours browsing through rails of clothes that I cannot afford and eventually purchasing a standard issue black t-shirt and skinny jeans. However, my fashion failings are by the by and we headed for the Southside and our chosen destination, Michaelangelo's in Clarkston.
Run by Michael Onorati – who was formerly head chef at well-respected and much loved Italian restaurant Roma Mia in the city's Pollockshields – Michaelangelo's opened its doors in September last year. Michael had always had his eye on the site which is within easy reach of the city centre by bus or train and is close to an abundance of free parking, a real bonus when we had already paid through the nose for city centre parking.
The a la carte menu is extensive, although there's a good value market lunch menu to choose from if you'd prefer to limit choice and outgoings. Our little ones were delighted to have a menu all to themselves and plumped for garlic bread and macaroni cheese, Italian? Sort of. Adventurous, erm no. However they both devoured their lunch with typical gusto and waited like angels in the hope of chocolate ice cream to follow. Our five year-old daughter was tickled pink by the 'parmesan snow' that owner Michael showered onto her macaroni from a great height. Our three year-old son also developed a new found love for polenta chips and calamari, the former which were a tasty precursor to our starters and the latter which he swiped from Daddy's plate.
And that is no mean feat. I struggled to purloin anything from husband's plate as the boys tucked into the calamari fritti (£6.95), assuring me that it was cooked to perfection in a light and crispy batter. I plumped for the Bruschetta Con Porcici e Rucola (£5.95), which I refused to share in protest at my lack of squiddy sustenance.
Between courses, I had a chance to properly take in our surroundings. The restaurant was bustling with a range of diners. Couples in for a light lunch, families, like us, taking time out from Saturday shopping and a large table seating several generations of a family celebrating a birthday. It undoubtedly works to any restaurant's advantage to be a comfortable place for a multitude of dining occasions.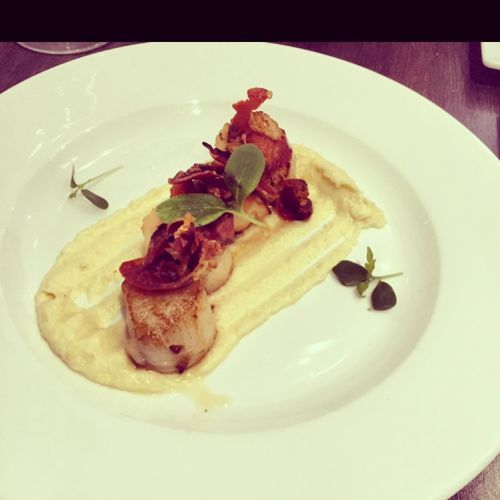 Husband couldn't resist the lure of the fillet steak (£21.95), and who could deny him the pleasure of his ultimate comfort food following a morning of intensive retail therapy. His appreciative yums of approval speaking volumes for the quality of the meat. I was tempted by the call of the pizza oven and the delicious looking offerings being delivered to our neighbouring tables, but I couldn't resist the Risotto all Nonna Lia (£11.95), a delicious blend of creamy rice and sweet peas, cut through with the fresh flavour of mint. This was topped off by the crowning glory that was three perfectly cooked seared scallops.
Dessert was too much for me and hubbie, but the wee ones took full advantage and finished up smeared in delicious cioccolata gelatti. As I enjoyed a quick cup of tea before heading out once more unto the high street breach, I ruminated on how nice family dining can be when there's something for everyone. If only there was a way to make family shopping this enjoyable.
Michaelangelo's, 9 Helena Place, Busby Road, Clarkston, Glasgow G76 7RB
Tel: 0141 638 7772
Email: info@michaelangelosglasgow.co.uk
www.michaelangelosglasgow.co.uk
by Morag Bootland