Pitlochry – A Course with a View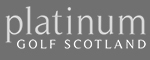 Stuart French, Managing Director of Platinum Golf Scotland (www.platinumgolfscotland.com), reviews the Pitlochry course.
Pitlochry is a small town in rural Perthshire regarded by many as the gateway to the Highlands and a popular destination at all times of the year with a real Scottish feel and welcoming atmosphere.
With so much on offer Pitlochry is a destination for everyone, and for the golf enthusiast it's home to one of Scotland's finest inland courses.
Founded in 1909 this heathland course is not for the faint hearted. It's a course that will test your skills, and leave you gasping at the thought that went into its design. Originally farmland, the course over the years has evolved into an excellent experience. It's not a long course at 5,700 yards but it's a great test, making demands on all your shot-making ability to negotiate this tricky layout – Pitlochry is a spectacular golf course.
What is so special about Pitlochry?
Standing on the 1st tee you get an instant idea of what lies ahead. This is an elevated tee with a blind second shot to the green. The 2nd and 3rd holes are uphill and as you near the 3rd green and 4th tee area you begin to notice that the course is set on a hillside offering some of the most stunning and spectacular views in Scotland.  There is a great mix of holes with only three par 3's and and a good selection of par four holes some of which are no longer than 420 yards from the white tees indeed many of the par 4 holes will, with a decent drive leave you with a short iron to the green.
However don't let that lull you into a false sense of security – a golf course on the side of a hill doesn't have straight forward greens and the Pitlochry greens are no exception. Concentration is paramount to deal with the undulations. Does every putt run towards the town? I'll let you find out.
Like all great golf courses every hole on Pitlochry is different and equally you will be rewarded with sensible shot making. The 9th in particular is a brilliant dogleg left with out of bounds down the left just to make it a little more challenging.
As I mentioned earlier this course offers stunning and spectacular views from the many elevated tees so don't forget your camera – Pitlochry is the kind of course that makes you feel good to be alive and witness what is laid out before.
Locals regard the short 16th (you guessed it – an elevated tee) with out of bounds down the right, as the signature hole but I'll leave you to take your pick. I like the 16th but I would suggest there are others to choose from as well – the 1st, 6th, 9th and 18th are favourites of mine and all candidates to be named the signature hole.
Talking about the 18th – this must be one of the best finishing holes in Scotland. Elevated tee for a last look down the valley, out of bounds all the way down the right, a burn in front of the green and yet you are invited to take on the tee shot because at 328 downhill from the yellow tees and favourable wind it is definitely worth a pop – a truly great finishing hole.
A final tip – don't leave without a visit to the clubhouse. Lunch, evening meal or just a post round drink, get yourself a table by the window looking out at the 18th hole and watch others tackle the final hole.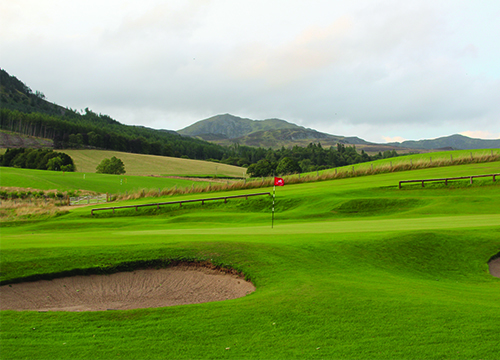 Is Pitlochry worth a visit?

Most definitely – you can't fail to enjoy this course. It is a golfer's course with the scenery to match and a very friendly clubhouse to relax and remember the views and the good shots.
Where to stay?
Pitlochry has an abundance of hotels and guest houses many within walking distance of the centre of town and there are also many fine restaurants and coffee shops. Like the golf course, The Atholl Palace Hotel at the entrance to Pitlochry has an elevated position looking down the valley and is well worth your consideration.
What else to do?
As I said earlier, Pitlochry has something for everyone. For hill walkers there is Ben Vrackie just short of a Munro but a great walk with amazing views from the top. Schiehallion, one of Scotland's favourite mountains with hill walkers, is also near at hand.
Queens view overlooking Loch Tummel on the way to Loch Rannoch provides a wonderful day of sight-seeing as does Loch Tay.  They all lie to the west of Pitlochry or you might prefer to drive a little further to the Cairngorms National Park to the north.
Walking, cycling, fishing, white water rafting and kayaking make Pitlochry and the surrounding area an outdoor activity paradise.
Pitlochry is also home to the famous and award winning Festival Theatre situated by the Hydro Electric Dam which has the Salmon ladder allowing salmon to move from the lower reaches of the River Tummel to Loch Faskally and beyond.