Brighten up your day at Simpsons
Fancy some inspiration for your garden or home? From the moment you walk into this cathedral of gardening, your senses will be assailed by wonderful scents, sights and sounds.
The aroma of coffee and home baking will lure you to the welcoming Glasshouse Restaurant, past the glittering array of gifts, the fabulous food hall and everything you need to brighten up your home. And outside? Row upon row of beautiful plants, shrubs and trees await, all tended by a team of highly trained horticulturalists.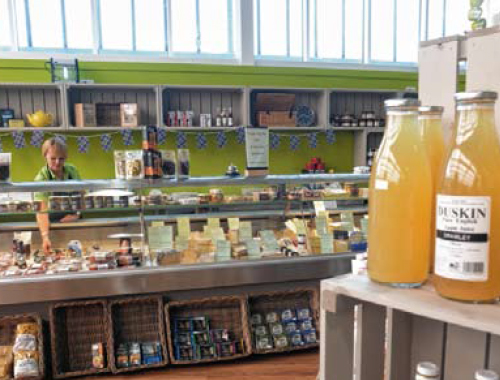 The business is blooming… it's not just a shining example of a great local garden centre, but one that's rated on a national scale, too. From its humble beginnings as a small plant nursery, INverness-based Andrew Simpson has nurtured his baby into one of the country's leading stores.
Awards are coming thick and fast or plant area, for restaurant and then Best Destination Garden Centre in Scotland at the end of last year. But now Andrew and his team of 90 have won the highly coveted Garden Centre of Excellence award by the Garden Centre Association (GCA).
The GCA, which only invite the best, most innovative and customer-focused garden centres to join the association, rated Simpsons number 5 in the whole of the UK – out of 200 centres on their books.Generally considered the 'Oscars' of the gardening industry, it's a huge pat on the back for the centre.
'The awards tell us we're doing something right,' says Andrew. 'It comes down to a whole variety of things working together – the right people with a keen eye for the right product, great staff service, specialist knowledge across all areas, expertise in the kitchen and the determination not to compromise on standards, whether it's a cake for the restaurant or a tree for the garden."
So whether your heading up or down the A9 and need a coffee or cake to help you on your way, or are looking for plants, outdoor furniture and landscaping ideas to completely transform your outdoor space, Simpsons fits the bill.
Make sure you have plenty of room in the boot of your car, though – you may find the fantastic locally-sourced culinary treats in the food hall and gorgeous gifts too hard to resist.
Simpsons Garden Centre is at Inshes, Inverness. It's within easy reach of the A9 – just take the turn-off for Culloden Battlefield. Call 01463 250200 or go to www.simpsonsgardencentre.co.uk