Bah Humbug!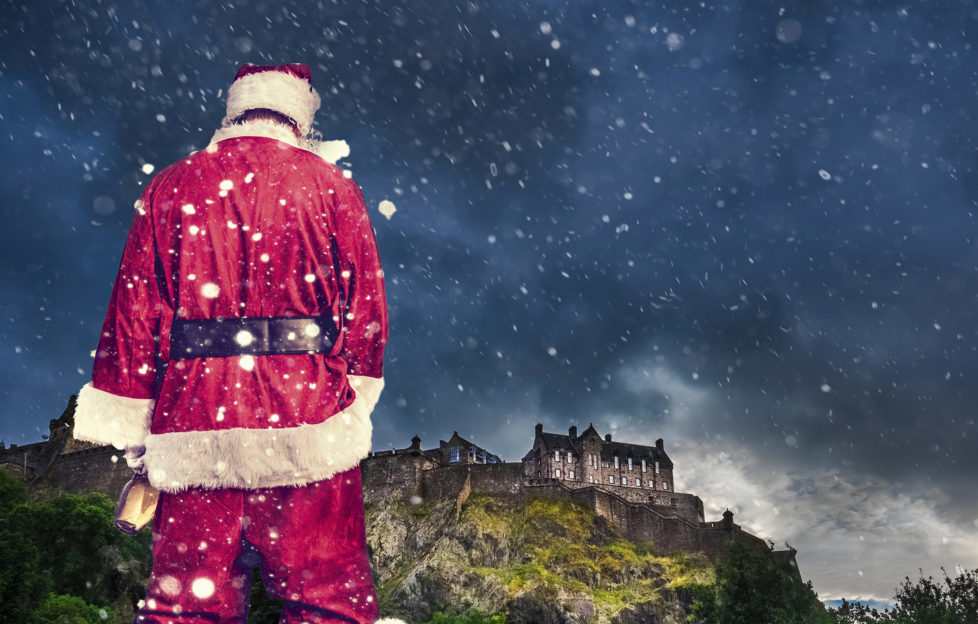 Christmas is celebrated by an estimated two billion people worldwide. In Scotland the average family will spend over £600 on food and drink alone this Christmas. As early as October, lights begin to appear along George Street and Princes Street and whether you consider yourself a Christian or not, it is impossible not to be swept up in the festivities.
But it wasn't always like this. Christmas was shunned in Scotland for more than 400 years, with Hogmanay celebrations thriving as an alternative reason for winter merriment (many Scots still prioritise it). Indeed Christmas was only rehabilitated by Queen Victoria, with Christmas Day only becoming a Scottish national holiday in 1958 with Boxing Day following as recently as 1974.

Christmas has a fascinating history. For thousands of years, pagan tradition across Europe celebrated the winter solstice – the moment in the year when the sun begins to climb higher every day, signalling the eventual end of winter.
Persians celebrated the Birthday of the Unconquered Sun; Norse culture celebrated the birth of their god Freyr, god of sunshine and weather; and the Celts celebrated the solstice as the rebirth of the sun, which, with uncanny seren­dipity, they knew as the Birth of the Divine Child.
This celebration of Yule was so powerful and wide­spread across the known world that with an if-you-can't-beat-'em-join-'em twist of pragmatism, early Christians reluctantly pitched in, perhaps partly to make Christianity more acceptable to a wider audience. After pious debate in 350 AD, Pope Julius I decided to shift the birthday of Christ in 6 BC from 6 February to 25 December, a shifting of the goalposts that could only have been achieved by a pope.
The Romans brought Christianity to Britannia in the third century when Emperor Constantine I converted to Christianity and Roman legions occupying Hadrian's Wall spread the new religion to Caledonia.
Fast forward several centuries to the Reformation and criticism of the firmly established Catholic Church has spread throughout Europe. Protestantism is growing fast and under English influence, Scotland follows suit after the breakdown of its auld alliance with France and its breach with the Pope following the execution of Mary, Queen of Scots.
In 1560 Scotland, under the guidance of John Knox, the reformer and founder of the Presbyterian Church of Scotland, formally split from the Catholic Church. Knox and five other Scottish reformers wrote the Scots Confession of Faith, setting the standard for the Protestant Church in Scotland and officially denouncing the Pope and Roman Catholic doctrines. Yule celebrations were fiercely discouraged. In 1638 the National Covenant was drafted and signed, further opposing Catholicism and the influence of the unpopular king, Charles I.
It was at this time in Britain that Father Christmas started to appear. As a ploy to defend Christmas from Puritan criticism, writers such as Ben Jonson and Thomas Nabbes began to use personification and allegorical methods to portray Christmas as a jolly old man. In the stage directions of Nabbes' 1638 masque The Springs Glorie, he wrote: 'Christmas is personated by an old reverend Gentleman in a furr'd gown and cappe.' This figure then goes on to say: 'Resigne to thee! I that am the King of good cheere and feasting, though I come but once a yeare to raigne over bak't, boyled, roast and plum-porridge, will have being in despight of thy lard-ship.'
After almost a century of enforcing the doctrines of the Protestant Church of Scotland, the 1640 Act of Parliament in Scotland officially abolished the 'Yule vacation and all observation thereof in time coming'.
Catholicism did survive and returned in the seventeenth century, with Christmas quietly celebrated by a daring few, despite arrests throughout Scotland. Then in the 1840s, Queen Victoria and Prince Albert bought the Balmoral Estate and brought with them all the Victorian Christmas traditions we know and love to this day: Christmas trees, roast turkey, mulled wine, parlour games, carols, and many more. In 1880, 11.5 million Christmas cards were sent in Great Britain – the commercialisation of Christmas was well underway. These Victorian customs slowly filtered down from the nobility to the middle classes. Yule became more about family and children and Father Christmas began to be less associated with feasting and more with gift giving.
To this day New Year celebration stands as an important date in the diary for any Scot, however it is safe to say that Christmas has caught up after so many centuries of suppression thanks to Queen Victoria's adoration of the festive period.
So for those of us who, come Boxing Day, rub our bellies and groan at our own gluttony – be thankful and remember that Christmas as we know it jolly nearly never happened.