Over 400 Trees planted at Tree Planting Event to celebrate River Dee Trust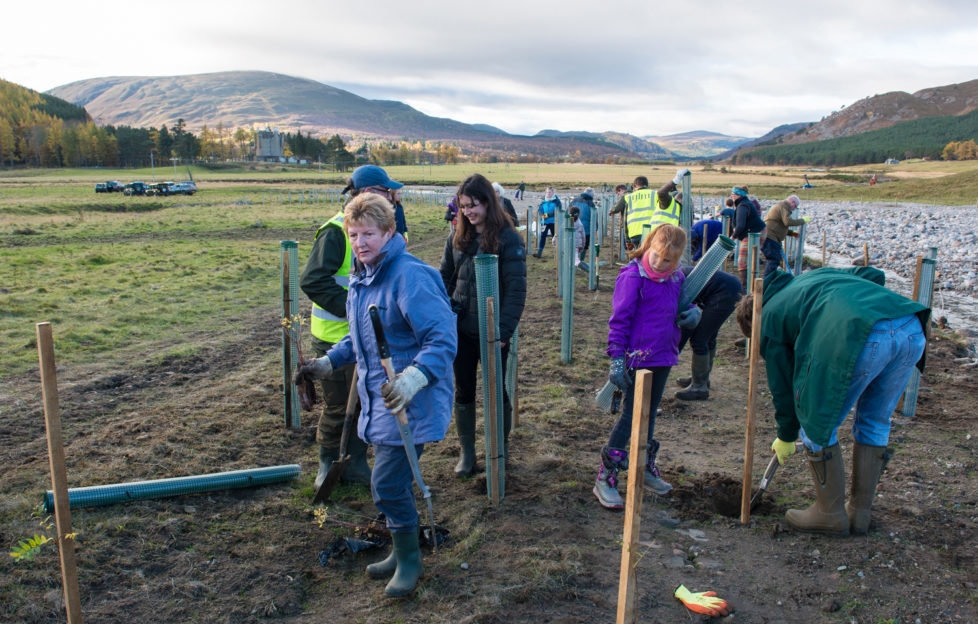 Last month over 400 trees were planted on the Invercauld Estate near Braemar for a tree planting event to celebrate the River Dee Trust. On Saturday 29 October, Iwan and Manuela Wirth, Braemar residents and owners of The Fife Arms hotel, organised a barbecue and tree planting event on behalf of the River Dee Trust. The event was to celebrate the conclusion of a vital project to remove gravel embankments in the Allt an t-Slugain burn near Braemar, as part of the charity's Pearls in Peril initiative.
Locally led by the River Dee Trust and Dee Fishery Board, the Pearls in Peril project brought together over 22 partners including Scottish Natural Heritage, the Cairngorms National Park, the Invercauld Estate and the River Dee Trust, and was licensed by SEPA. All joined forces on this vital conservation initiative to restore the habitat and encourage the regrowth of freshwater pearl mussels along the bank of the Slugain, following an earlier decision to straighten the banks in an effort to reduce spillage onto grazing land.
60 project volunteers and stakeholders gathered on Invercauld Estate outside Braemar to hear an address by Mark Bilsby, Director of the Dee Fishery Board, during which he thanked those who had supported the project on Deeside over the last 3 years. He also thanked the volunteers who aided the clear-up in the wake of Storm Frank, which took place in December 2015.
A cavalcade of landrovers driven by gamekeepers, estate workers and estate managers took the participants down to the Slugain where Jamie Urquhart and Calum Hislop of the River Dee gave a brief demonstration of how to conduct the tree planting. Russell Jobson and Ian Price from the Woodland Trust were on hand to distribute the native trees including willow, alder, silver birch, rowan and the old scots pine trees that had been donated by the Woodland Trust.
405 trees were planted in 45 minutes. The tree planting that took place that day not only supports and improves the habitat for freshwater pearl mussels along the River Dee, but will also help alleviate the danger of floods in the future.
Following the tree planting, Iwan and Manuela Wirth and the Fife Arms team served a seasonal lunch of fish soup, vegetable soup, locally-sourced venison casserole and sausages from the local butcher – all cooked over an outdoor fire pit – finishing up with homemade apple tartlets.