Madeira for it
There's something special about islands, isn't there?  A unique feeling of solitude, a deeply ingrained sense of security and an exotic charm that only comes from being surrounded on all sides by the ocean.
The island of Madeira is situated in the Atlantic, north-west of the Canary Islands and close enough to Africa to ensure great weather all year round. My trip to the island's capital, Funchal was timed to coincide with the 5th annual Madeira Film Festival. An eclectic mix of independent films alongside Hollywood's finest were among the treats in store at the Municipal Theatre, a gorgeous historic building in the capital's old town.
Festival organiser, Aitken Pearson is keen to promote the island and the festival – which he founded and is still his baby – to Scotland and the world.
'I was here in Madeira and I was walking up in the Laurissilva forest,' explains Aitken. 'When the thought came to me that this would be a good place for a film festival. I knew I would need a venue to launch a festival and Belmond Reid's Palace immediately came into my head. So we asked if we could stage a small indie festival here and they said yes.'
Built by William Reid, the son of a crofter from Kilmarnock on the edge of a cliff overlooking the Atlantic Ocean and the old town of Funchal, Reid's Palace opened in 1891 and is a five-star hotel in the original sense of the word.
Reid's looks gorgeous and wears its traditional sense of style with the greatest aplomb. The public areas are sumptuous and filled with memorabilia and press cuttings replete with the faces and names of the world's great and good. The hotel has been a favourite haunt of royalty including King Edward VIII and Princess Stephanie of Monaco. Other famous guests include the likes of Ernest Shackleton and Robert Falcon Scott, Roger Moore, Gregory Peck, George Bernard Shaw and Winston Churchill.
The rooms are huge, pristinely clean and luxuriously furnished. In the evening beds are turned down, curtains are closed and pyjamas are folded neatly on your pillow. And it's the service that makes the difference here. At Reid's you are looked after, I mean really looked after. The food is magnificent and the award-winning mixologist shakes up a mean cocktail. There's a pianist in the bar, flower arrangements everywhere and sofas of every shape and size encouraging yet another brief rest to contemplate a different view of the waves crashing on the rocks below. I could wax lyrical for days on the subject of Reid's as you can probably tell.  It really is the heart of the film festival, a place to meet the filmmakers, festival organisers and musicians who have travelled to Madeira to perform at the gala dinner and concert, fashion show, recitals and cocktail receptions which are all held in this grand old building.
These musicians include renowned Scottish harpist and composer Phamie Gow, piper Ian MacDonald and American violinist Andrea Levine. The Scottish connection hasn't gone unnoticed and is certainly no accident as Aitken explains. 'Reid's was built by a Scot and that's inspired me to maintain a Scottish theme. We'll undoubtedly continue to have Scottish musicians perform at the film festival.'
In the beginning Aitken needed to attract the world's attention to this little island and the festival itself. 'I knew that I needed a star and I tracked down Kyle Eastwood, Clint Eastwood's son, who is a jazz musician and he came to the first festival to perform' explains Aitken. 'It was a great success and it gave me the impetus to pursue it. Madeira is a great place to do the festival. We get so much co-operation from the island – from the hotel, the theatre, locals and classic car owners.'
The Municipal Theatre makes for a grand background to the films which Aitken selects for the festival programme, with offerings as diverse as an Iranian vampire movie, an improvised comedy set in the Black Mountains of Wales and the recent take on Macbeth starring Michael Fassbender and Marion Cotillard. 'I select all the films,' Aitken tells me. 'I attend film festivals. Especially Edinburgh. The quality of films there is brilliant and it's easy to meet filmmakers. So that works. We have an online submission platform for short film makers.'
Aitken is a great ambassador for the island, which is now his home, as well as for the festival. He is clearly taken by the diverse landscapes that Madeira has to offer and is keen to encourage film makers and fashion photographers to look at the island when considering the best places to shoot. 'There's lots of co-operation and very little red tape to wade through,' he explains.
And with rambling old town streets, high dramatic cliffs, vast expanses of ocean and the glorious Laurissilva forest, a natural forest and UNESCO World Heritage Site covering over 20 per cent of the island's surface you can see why this is the perfect spot for a range of filming. Or of course for a holiday that you are sure to remember for a lifetime.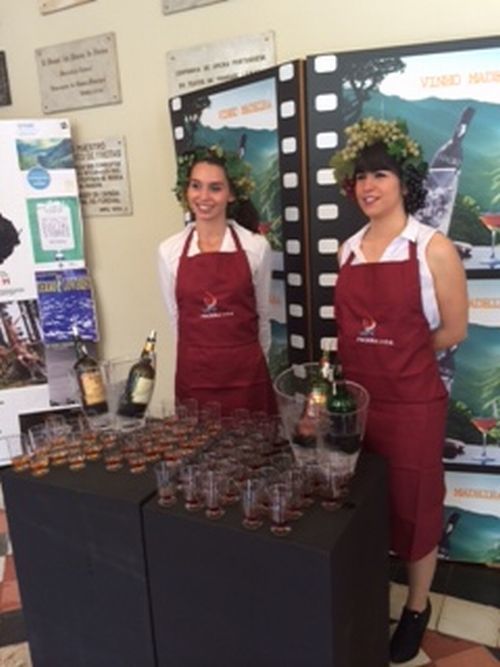 by Morag Bootland