First ever Dementia Friendly opera at Festival Theatre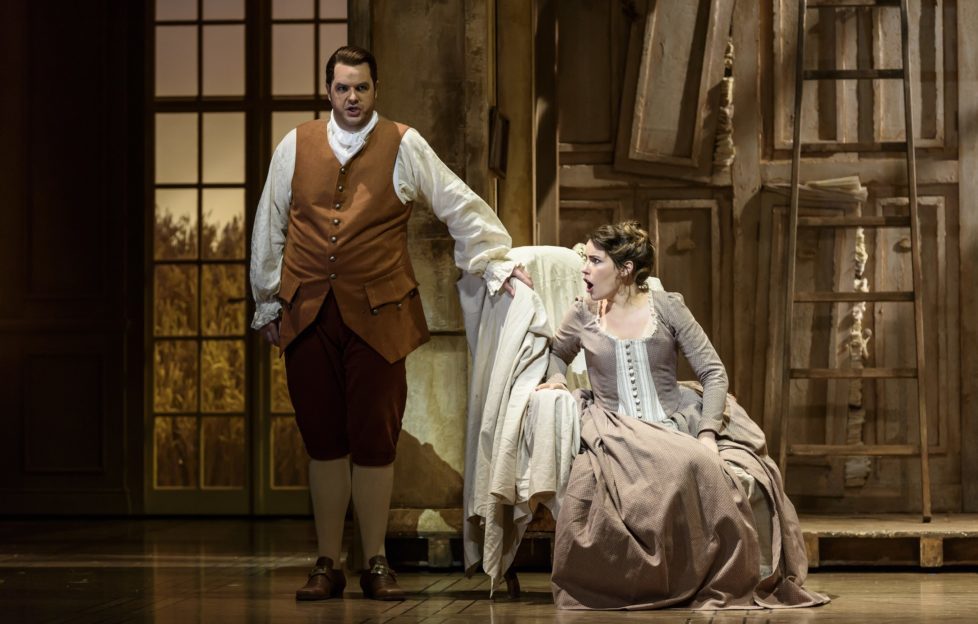 Scottish Opera and Festival Theatre Edinburgh present the UK's first Dementia Friendly opera performance at the Festival Theatre on Saturday 12 November 2016 at 3pm.
This landmark event follows the pioneering work by both Scottish Opera and the Festival Theatre, supported by the Life Changes Trust, to develop dementia friendly communities at the heart of their work.
The UK's first dementia friendly opera will be a specially abridged performance of Mozart's The Marriage of Figaro. With a running time of 1 hour 45 minutes including an interval, the performance is carefully designed to make the theatrical experience more accessible to those living with dementia. Sound and lighting levels are adjusted for the comfort of the audience, and the wonderful cast is joined on stage by a narrator. Audiences will also be able to go in and out of the auditorium during the performance and see the show in the foyer areas on TV screens.
The performance is being staged as part of the run of Scottish Opera's The Marriage of Figaro at Festival Theatre Edinburgh, from Wednesday 9 to Saturday 19 November. The dates also include an audio-described performance and touch tour for audience members with visual impairment, a free pre-show talk and an Unwrapped event, a free one-hour taster to encourage first time attenders to opera.
Directed by the great British baritone, Sir Thomas Allen, Mozart's irresistible masterpiece is full of humour, subtlety and wit. Telling the story of one day in the household of Count Almaviva and Figaro, his charming head of staff, the bubbling, energetic score sees Mozart at his theatrical best, with gorgeous period designs by Simon Higlett providing the backdrop.
In the dementia friendly performance, the role of Figaro is performed by former Scottish Opera Emerging Artist Andrew McTaggart, who is joined by Lucy Hall as Susanna, Pauls Putnins as Count Almaviva, Marie McLaughlin as Marcellina and Emma Kerr, a Scottish Opera Emerging Artist, as Cherubino. The narrator is Allan Dunn, and Timothy Burke conducts.
The introduction of dementia friendly performances builds on Scottish Opera's existing work with those living with dementia. Since 2010, the Company's Education and Outreach Department has run the Memory Spinners programme in Glasgow, which uses music, storytelling, movement and the visual arts to help people with dementia and their carers relax and get creative. This successful programme also recently launched in Edinburgh with workshops and performances taking place at the Festival Theatre.
The Festival and King's Theatres, supported with significant funding from the Life Changes Trust, officially launched Forget Me Not in September 2015, a pioneering collaborative project designed to create dementia friendly communities at the heart of their cultural venues. Led by the project's Coordinator, Paul Hudson, Forget Me Not has set out a full and inclusive programme of events and activities to engage and support people living with dementia, their carers and families. In addition to the dementia friendly opera performance of The Marriage of Figaro, Festival Theatre Edinburgh also staged Scotland's first dementia friendly performance of a major touring musical, Chitty Chitty Bang Bang, on Friday 14 October.
Scottish Opera's The Marriage of Figaro opened on 12 October at Theatre Royal Glasgow, and tours to Aberdeen, Inverness, Edinburgh and Liverpool. A revival of the much-loved 2010 production, Mozart's masterpiece is a comedy of social revolution and change that is as relevant today as ever.