Edinburgh's Hogmanay will have Scots traditions at its heart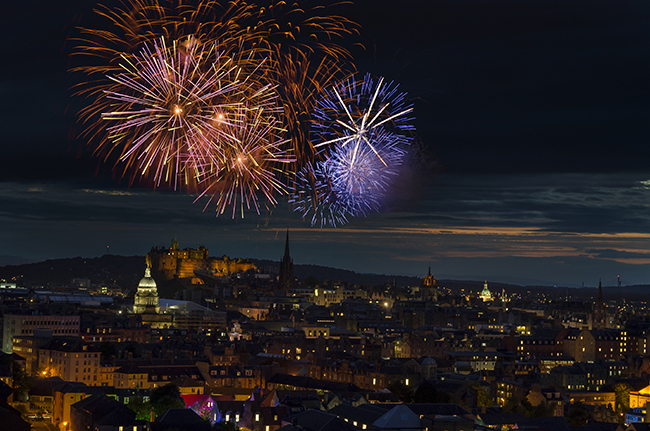 Distinctly Scottish traditions will be at the heart of Edinburgh's Hogmanay Street Party.
From the moment revellers arrive at Edinburgh's Hogmanay front doors on 31 December it will be clear that this year is different – traditional tenement doors will give way to acrobats greeting those arriving.
Step inside and giant granny puppets over three metres tall will welcome you, and teams of dancers will show you the steps to the Gay Gordons and Dashing White Sergeant ahead of the Big Dance happening a little later in the evening.
In the tradition of First Footing, Edinburgh's Hogmanay will welcome friends, family and strangers into its home for a night to remember, full of entertainment, music, dancing, old friends and new and a spectacular midnight moment.
Charlie Wood and Ed Bartlam, directors of Edinburgh's Hogmanay, said: 'We want to create a sense of welcome the best Scottish tradition. As people arrive at the front door, they're going to get a traditional greeting and, at the same time, feel the impact of this fresh new execution of one of Scotland's great events.
'We're incredibly lucky to have this team of fantastic creative minds working on the Street Party to make an experience over the course of six hours which will blow everyone's socks off.'
The doors close at 10.30pm, but organisers advise getting there early to get the full experience of this brand new show, designed and directed by a team of creatives who have a wealth of both theatre and event ceremonies under their belt.
This year's Street Party has its own director, Struan Leslie (RSC, Babs BBC One, and Casanova with David Tennant). Under the guidance of executive producer Martin Green (2012 Olympic Ceremonies, Hull 2017 UK City of Culture) Lighting Designer Durham Marenghi (Opening and Closing Ceremonties of Rio Olympic, the Queen's Diamond Jubilee celebrations, The Wall for Roger Waters in Berlin), sound designer and film composer Dan Jones (Shadow of the Vampire, Max, Sky Orchestra and Kursk) and set designer and architect Ala Lloyd (Head of Design 2012 Olympic Ceremonies) and TV production director James O'Brien (Head of Sport Presentation for LOCOG, Production Executive MTV Networks Europe, Head of Production Rapido TV) come together to design and animate the arena through the use of light, sound, new stages and performers.
Two music stages bring six terrific music acts to Edinburgh, from the best of modern Scottish bands such as Sacred Paws (winners of Scottish Album of the Year) to Isle of Skye's Niteworks, and UK acts from hotly tipped Barns Courtney to retro classic Human League, the furiously impressive Treacherous Orchestra and the ever colourful Colonel Mustard and the Dijon 5.
Arching high over the party goers, the brand new elevated DJ stage in Castle Street brings club cool with sets by Huey Morgan and The Mac Twins and am immersive sound system to complement the DJs and pick up the party.
Three podium stages (each 9m x 5m) with ribbons of psychedelic swirls in Hogmanay pink and explosions of colour reaching skyward sit along the length of Princes Street to form new performance zones with moving lights and surround sound creating a superb outdoor performance experience.
Local parkour artists, Cyr wheel specialists Alula Cyr, fire, circus and physical theatre company Delighters, fire acrobats Pyroceltica and SPARK! rotate across the new podium stages with visually spectacular acts.
Straps, trapeze, aerial hoop and and other skyward darings are on display spinning and swinging from the aerial tower on the Mound showing off the skills of some of the UK's finest aerial artists.
Buildings along Princes Street will be animated as never before as All Or Nothing, Scotland's ground-breaking aerial performance company, take audiences by surprise throughout the night culminating in a massed choreography to tracks performed live by Rag'n'Bone Man at Concert in the Gardens.
In Hogmanay's dazzling tartan, comedian Sanjeev Kohli hosts the Edinburgh's Hogmanay's own TV show relayed onto screens around the arena.
Roaming live with his own TV crew, Sanjeev will drop in and report from Concert in the Gardens, Ceilidh under the Castle with Edinburgh Gin, Hogmanay HQ, and stages and spots across the Princes Street arena to share the whole event with party goers. As Hogmanay Host he'll keep the party going all night long and bring everyone together for big shared moments.
Freshly clued up on Scottish country dancing revellers will be encouraged to join the Big Dance topping off the first hour. Scottish bands and artists from 1970s through to today form the soundtrack to the second hour between 8pm and 9pm. Louise Marshall (Lord Provost's Piper) has formed the killer all-girl Diva and Districts Pipes and Drums especially for the Street Party. They'll play traditional tunes and covers of chart hits while marching from one end of the street while LED drummer group SPARK! march in from the other. Where they meet the Drum-Off will look and sound spectacular.
Edinburgh's Got Soul lead the Big Sing shortly before 9pm getting everyone going with a pop anthem singalong, launching activity on the podium stages set to continue until the Bells.
A Big Disco moment and a look back at 2017 are other moments that will unite the arena for moments ahead of the midnight fireworks.
At 9pm, 10pm and 11pm fireworks will be launched from Edinburgh Castle in a rousing countdown to the midnight moment, which sees Edinburgh's first commissioned soundscaped fireworks, for which music by Niteworks and Dan Jones has been written in collaboration with fireworks gurus Titanium to create a spectacular choreographed display full of light and shade which will entertain the audience for the first 9 minutes of 2018.
Auld Lang Syne follows before the pace picks up and confetti, glitter and banging tunes from The Mac Twins make sure the Street Party kicks on through to 1am.
Tickets to the Street Party are still available (£26 including booking fee) by clicking HERE.