Edinburgh's Christmas opens this weekend across the city centre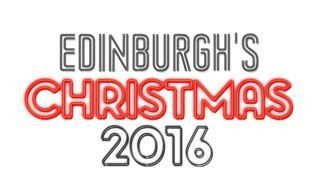 Edinburgh's Christmas opens on Friday 18 November and runs until Saturday 7 January.
St Andrew Square Ice Rink
18 November 2016 until 7 January 2017 10am – 10pm, slots 30 – 45 minutes
The elliptical ice rink in St Andrew Square is always a popular draw and a much loved part of Edinburgh's Christmas, set next to the Christmas Nativity scene in the gardens. It is also the only outdoor ice rink in Scotland's central belt. Last year 61,000 tickets were issued to festive skaters. This year new sponsors Standard Life are making sure local school children have every opportunity to enjoy the fun, through the donation of 10,000 free tickets. If you are at school in the City of Edinburgh get your ticket code from your school and book your free skating session online at www.edinburghschristmas.com

Five Guys Named Moe at the Festical Square Theatre 

18 November to 7 January 2017
A major new production of the hit West End and Broadway musical opens at Edinburgh's Christmas, featuring the toe-tapping and irresistible hits of jazz legend Louis Jordan, including; Early In The Morning, Choo Choo Ch'Boogie and Saturday Night Fish Fry, plus many more performed on stage by a live band. Tickets are available to book at www.edinburghschristmas.com
The Mound Precinct and East Princes Street Gardens
19 November 2016 to 7 January 2017. Free to access.
The arrival of the Big Wheel in East Princes Street Gardens signals the festive season has arrived! Take a ride in this Dutch made Ferris wheel's cosy, covered pods to enjoy spectacular views and a commentary which gives you insights into this wonderful city. Bejewelled with 20,000 lights it makes a joyful addition to Edinburgh's famous festive skyline. Santa takes up residence in his festive and cosy Santa Land grotto from 19 November. In the heart of East Princes Street Gardens the grotto is surrounded by Christmas sparkle and magic with the Elves workshop hidden inside the Christmas Tree Maze, if you can find it, the Santa Train and other affordable kids rides. Over 100 stalls return to East Princes Street Gardens and the Mound Precinct from across northern Europe with a selection of tasty food, warming drinks and beautiful handmade gifts for sale.
Light Night
Sunday 20 November, 1pm – 5pm
Light Night is an event free for all to enjoy, which encapsulates the true spirit of the festive season: family and the community. Choirs from across Scotland including Edinburgh Festival Chorus, Royal Scottish National Orchestra Junior Chorus, Edinburgh's Got Soul and Edinburgh Rock Choir will perform in front of an expected audience of around 20,000 people. This year the Street of Light at the west end of George Street will make its first appearance as part of Light Night and the acts will perform on a stage by its lights. The Christmas Tree on the Mound, a gift to the City of Edinburgh Council from Hordaland County Council in Norway, will be lit as part of the Light Night switch-on. Forth One DJ Arlene Stuart and Edinburgh's Olympic gold and silver medal winner Callum Skinner switch on the city's lights and set off the celebratory fireworks.
The Street of Light on George Street
21 November to 24 December 6.00pm & 8.00pm
The spectacular Street of Light this year transforms West George Street in Edinburgh's New Town with its 24 arches each 19 metres high covered in a total of 60,000 bulbs. This year the lights are accompanied by music from local choirs and bands including the Edinburgh Festival Chorus, Royal Scottish National Orchestra Junior Chorus, the hottest contemporary fiddle music from the Highlands and Islands' Blazin' Fiddles and Scotland's very own bhangra group Tigerstyle. Last year's spectacular was all about spectating, this year we want to get you singing and dancing.
The Street of Light will launch at Light Night on 20 November and then run each evening from 21 November for 35 days until Christmas Eve, with an expected audience of over 350,000 people. Free to access. Tickets available at www.edinburghschristmas.com