Sir Richard Branson boosts three Scottish businesses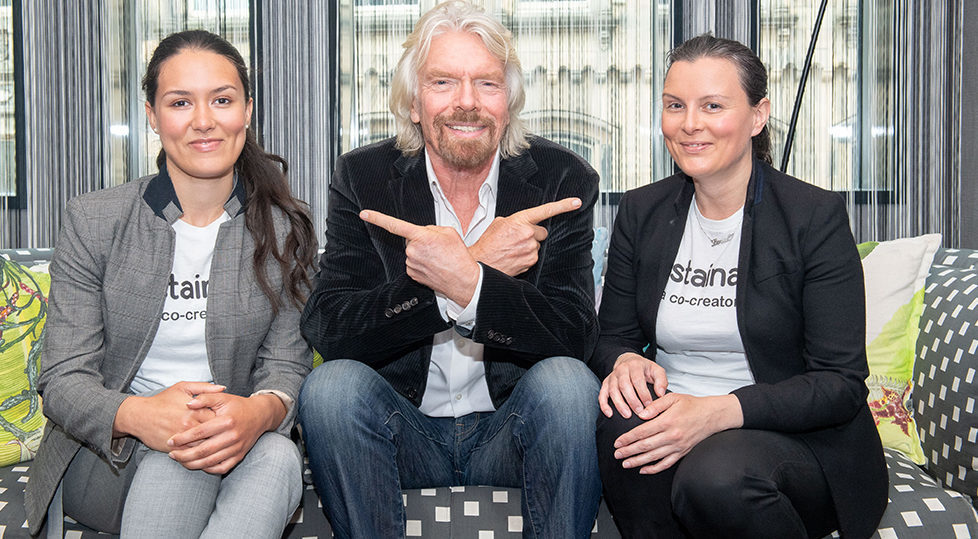 Representatives from three of Scotland's leading startup businesses got a surprise at Virgin StartUp's inaugural search for Scotland's startup Business of the Year – when Sir Richard Branson appeared in person.
Celia Hodson from Hey Girls, Loral and Eishel Quinn from Sustainably and Pooja Jain from CogniHealth were left in disbelief when Sir Richard Branson burst through the doors and joined the mentor session, surprising everyone around the table.
Having fought off competition from over a hundred entrants earlier this year, the three finalists were delighted to be joined by Jackie Waring, the founder & CEO of Investing Women to gain money can't buy insights and advice from the leading business owner herself, before also being treated to Richard's unexpected appearance.
The session included advice on how to grow your business, make connections across sector, provided three unique businesses insight into different sectors and of course a surprise visit by one of the original Entrepreneurs Sir Richard Branson.
Hey Girls, who was the overall winner of the competition in March, is an early stage business tackling period poverty via a 'Buy One Give One' model and was named the winner of Virgin StartUp 10: Scotland's competition. CEO and Founder, Celia, is already proving to be an excellent ambassador for Virgin StartUp and she is a great example of someone Changing Business for Good.
Sustainably is a new way of living and giving and enables you to donate to causes you care about every time you shop. Sustainably is a fin-tech startup that rounds-up your everyday transactions and gives your spare change to your chosen good causes. It currently supports over 10 charities including Edinburgh Dog and Cat Home, MacMillan Cancer Support, Downs Syndrome Scotland and Project Scotland.
CogniHealth is a digital companion for people with dementia and caregivers that promises innovative ways of approaching dementia care. The app functions as an interactive tool for caregivers and is designed to improve the caregiving experience by assisting with everyday tasks, and addressing the caregiver's emotional and physical stress.
Jackie Waring, the founder and CEO of Investing Women, added: 'It was an honour to be able to sit with some of Scotland's leading entrepreneurs and share my advice and experiences with them.
'In the work we do to encourage female entrepreneurs across Scotland, we know how vital it is to have a support system around you. I hope Hey Girls, Sustainably and CogniHealth were able to take something from today away with them and use it to make a difference.
'Of course, Richard showing up was an added bonus for us all – I couldn't believe it when he came through the doors. Hearing from the man himself has left us all inspired and motivated to reach our goals.'
Virgin StartUp launched in Scotland in 2016 and has supported 69 businesses with loans and mentoring over the years.
Sir Richard Branson, Virgin Group founder said: 'I'm proud of the support we offer entrepreneurs across the Virgin Group. The team at Virgin StartUp knows the importance of mentors and have provided thousands of support hours across the country. It was brilliant to drop-in and surprise everyone; and a great way to kick off my visit to Edinburgh.'
Launched in England in 2013, Virgin StartUp is the not-for-profit arm of the Virgin Group spearheading the Group's entrepreneurial philosophy. They provide Government backed loans between £500 and £25,000 to entrepreneurs who work with the VSU team to build robust business plans.
As well as finances VSU also recognises the importance of guiding business owners through their infancy years and matches them with a specific business mentor local to them, there are over 700 of these mentors available.