Stunning £1.3million+ sporting estate for sale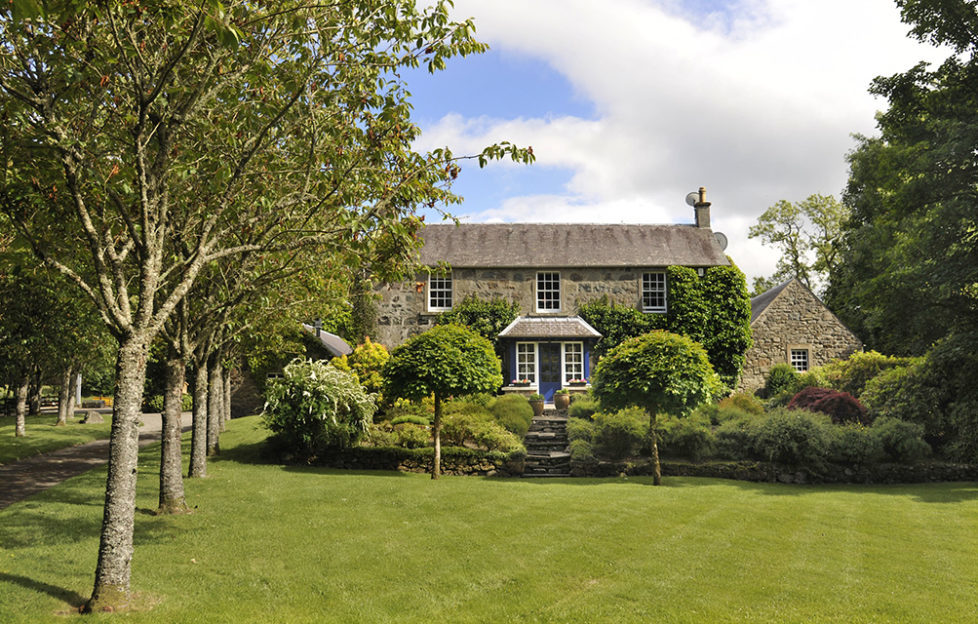 Wester Gartchonzie is a delightful mixed sporting estate, which will offer the purchaser a rare opportunity to acquire a 600-acre estate.
Presented by Galbraith, it has a desirable traditional farmhouse in an exceptionally scenic location bordering Loch Venacher in Stirlingshire. The property is for sale as a whole or in two lots.
Duncan Barrie, who is handling the sale for Galbraith, said: 'Wester Gartchonzie offers the complete package of a lovely residential property, with separate steading and outbuildings, a mixture of hill ground suitable for country sports, productive in bye pasture, and varied areas woodland, all in a particularly beautiful but accessible location offering easy access to local services and Edinburgh and Glasgow.
'It is rare to find an estate where you are just two miles from a good size town – Callander – and yet you have the opportunity to enjoy complete tranquility and exceptional views in a secluded setting within Loch Lomond and Trossachs National Park.'
Wester Gartchonzie offers a very attractive three-bedroom stone farmhouse, set on one side of a lovely courtyard. The other buildings around the courtyard include a reception hall, two guest suites, store and game larder as well as a double garage with the potential for conversion to further accommodation, subject to planning consent.
A short distance from the house lies a useful portal frame building which is currently set out for livestock and storage.
To the rear of the traditional outbuildings is a modern, architect-designed building housing an office, workshop and garages.
The estate extends to about 601.66 acres of land, comprised of about 259 acres of hill ground, 98 acres of permanent pasture and the rest of the estate offers rough grazing and woodland.
Red deer and roe deer stalking is available, together with occasional grouse shooting and a good low-ground pheasant shoot. There is a trout loch and two duck flighting ponds, plus 350-yards of frontage on to the River Teith, which is famous for its trout and salmon fishing.
Duncan continued: 'The land at Wester Gartchonzie offers the potential for a combination of an upland farming unit, with the moor providing excellent summer grazing with the in-bye pasture allowing for a productive block of improved pasture ground.
'The woodlands and topography of land provide a natural environment for deer, and game, but also provide shelter for livestock during harsh weather.
'Recently the land has been let on a seasonal basis for sheep and cattle but prior to that, 30 Highland Cattle plus followers were run in-hand on the farm by the current owners.'
There are two telecoms masts situated in the southwest corner of the estate and these currently generate a secondary source of income and are available as a separate lot (lot 2).
Wester Gartchonzie lies in a private secluded setting with spectacular views over the surrounding countryside. The local town of Callander is one of the 'gateways to the Highlands' and provides a good range of everyday amenities including a post office, supermarkets, a health centre and primary and secondary schooling.
In the last 12 months, more than 100 farm and blocks of farmland totalling over 15,000 acres, with a value in excess of £100 million were marketed by Galbraith in Scotland.
The firm offers the most comprehensive network of Agricultural Mortgage Corporation agents in the country, who can help to secure agricultural and rural business loans through the AMC.
Many Galbraith agents also run their own farms, providing first-hand experience of the business. The Galbraith farm sales team in Stirling is complemented by planning consultants, building surveyors and agribusiness specialists. Galbraith frequently handles sensitive sales off market.
Wester Gartchonzie is for sale through Galbraith as a whole, or in two lots: Lot 1 offers over £1,300,000; Lot 2 offers over £50,000; As a whole at offers over £1,350,000.
For further details click HERE.