Aberdeenshire house looks stunning as businesses come together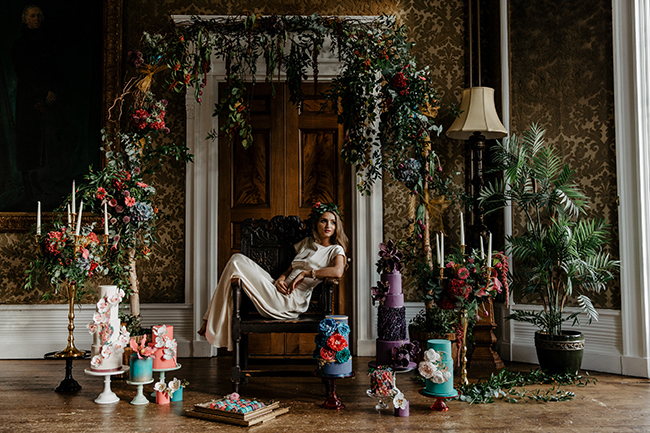 An Aberdeenshire house was the star of an amazing photoshoot.
Raemoir House, in Banchory, which is magnificent in stature yet welcoming in atmosphere, was the perfect back drop for the collaboration between local business to come together to show case their talents in their latest photoshoot.
Laura Lane, founder of Love Laura Lane Cakes, said: 'It's amazing when collaborating with friends how quickly ideas come together, through our mutual love of swooning over beautiful luxury dessert tables the idea was born.'
Laura put the plan into action first securing Raemoir. The theme of luxury, deep jewel tones, golds, lush florals lots of sugar and edible flowers was set.
The venue was an integral element to the success of the photoshoot. The grandeur of rooms with their high ceilings, chandeliers, portrait paintings adorning the walls set the tone perfectly.
Jill Ritchie, owner of Hays flowers, who works in collaboration with Laura on many projects, was next on board.
Laura enthused: 'Jill's expertise and eye for detail and colours are second to none.'
Mhairi Morriss, marketing and events manager for Raemoir House, was thrilled with how the day went.
She said: 'What this project highlights is how fortunate we are to have right on our door step such talented ladies who are leaders in their individual fields and who can match suppliers on a worldwide stage.'
Hayley Palmquist was the photographer, and added: 'Raemoir was a dream location for me, not just the natural light flowing in but the rooms were stunning.'
Raemoir House is returning to its roots as an exclusive use venue for private, corporate or wedding use. Set in 14 acres of secluded park and woodland, with 18 luxury individually decorated en-suite bedrooms it is easy to see why Raemoir is such a sought after venue.
For more details, click HERE, or call Mhairi Morriss on 01330 824884.