Student inspired at Chelsea Flower Show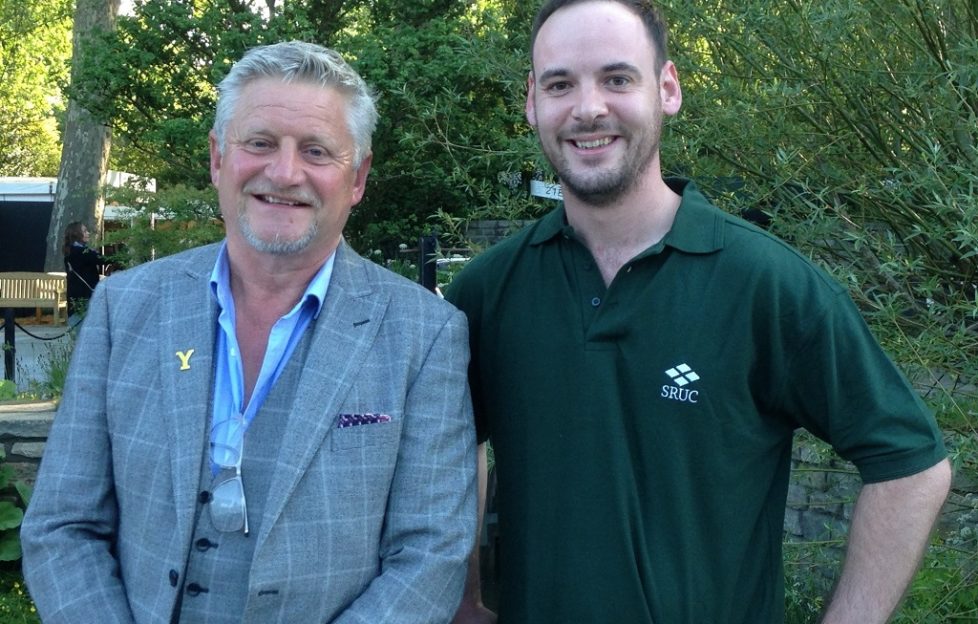 For budding horticulturist Colin Palmer, a trip to the Chelsea Flower Show has helped sow the seeds for future plans.
Colin, 32, from Livingston, is currently studying for a degree in Horticulture with Plantsmanship at Scotland's Rural College (SRUC).
He was invited to attend a Chelsea breakfast event – hosted by the Royal Horticultural Society and sponsored by M&G Investments – by his lecturer George Gilchrist.
The invitation included early entry into the show ground as well as the opportunity to network with speakers, employers and other attendees – including TV presenter Adam Frost and Gold Medal and People's Choice Award winner Mark Gregory.
Colin said: 'It was a fun, interesting and exciting day. The highlight was being able to spend 45 minutes in the show ground before it opened to the general public, because once everybody turns up it's hard to get into any of the gardens.
'My favourite garden from a design point of view was the Greenfingers Charity Garden. I also liked Mark Gregory's garden because it invoked childhood memories of running along canals as a kid, and the Artisan Gardens were a highlight as well.'
Colin originally completed a National Certificate in Horticulture at Oatridge when he was 19, but then took a different career path and joined his twin brother working as a chef.
When his daughter was born, he set up a business supplying bait for carp fishing, before deciding to return to college.
Having completed an HNC at Oatridge, he is now working towards his degree at SRUC's Edinburgh campus and the Royal Botanic Garden Edinburgh (RBGE).
Colin added: 'I had never totally moved away from horticulture. I've always enjoyed it.
'My long-term goal is to have an organic farm and fine dining business with my brother. I am really interested in the science of cooking, which is where I am with horticulture – growing things for a specific purpose and looking at how things can be improved.'
Lecturer George Gilchrist said: 'It's always a great pleasure to take students to their first Chelsea Flower Show – it is one of those days in your horticultural career that you never forget.
'The Young Horticulturist Breakfast reception really is a fantastic event that helps inspire the next generation of horticulturists like Colin by giving him a unique opportunity to not only visit the Chelsea Flower Show, but also meet some of the industry leaders like Adam Frost and Mark Gregory.'
For more information about studying at SRUC, visit the website HERE.