Jenny's studio is a haven of beautiful paintings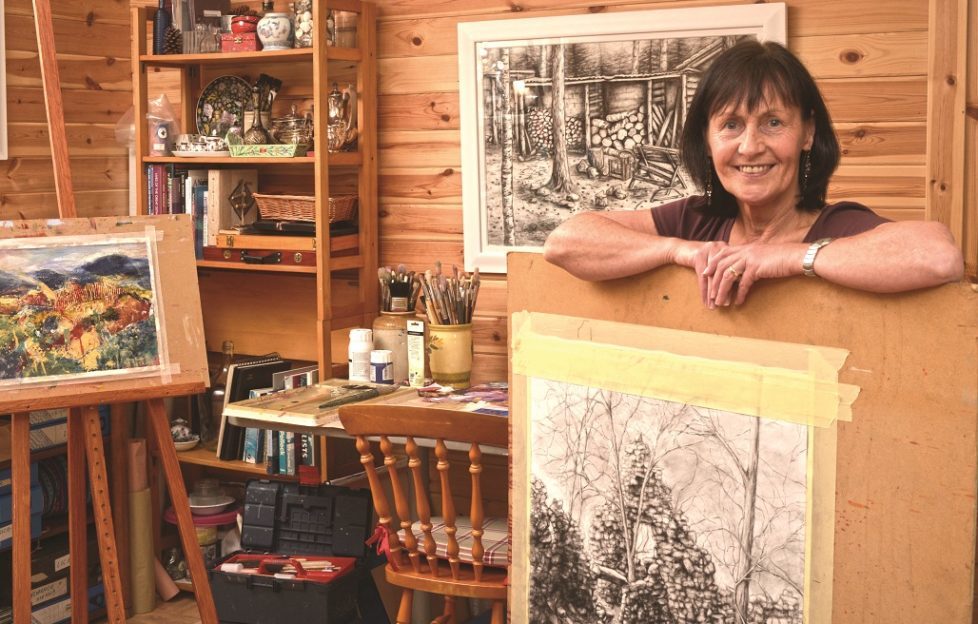 Buildings hold a fascination for artist Jenny Hunter. From a tumble-down bothy in Aberdeenshire to the golden elegance of a Venetian palace, she is drawn to structures, and intrigued by their history.
When she is out and about, Jenny's love of old buildings can take her scrambling over obstacles or hiking through the undergrowth to get a picture of a deserted farmhouse or have a closer look at a long-abandoned shed. On holiday, she often trails behind her family when crumbling stonework, old shutters and quirky wooden doors catch her eye.
Back at her Aboyne home, her photographs are the basis for her artwork, which varies through painting to printing and sketching.  Jenny's original career was as a nurse, working with special needs children. It was a job she loved, but when she hurt her back, she had to find a change of direction.
'I took the bull by the horns and went to Gray's School of Art,' she explains. 'Up until then, going to  art school had only been a dream.'
Graduating in 2002, she soon started working full-time as an artist, although she continued to help young people with learning disabilities.
Jenny works from her studio, which is set amongst the trees in her garden. It is her own little bit of paradise with a view across the grass and a steady stream of birds visiting the well-stocked feeders. 'Animals and birds play a really important part in my life,' she reflects.
'I love coming out here to work, especially on a summer evening when it's sunny and peaceful.'
She uses a variety of mediums including paint, charcoal, pencil and ink to create her pictures.
'I like the challenge of changing from one medium to another, or mixing media,' says Jenny. 'I love texture and different effects.'
A current passion is printing, which she does with the help of an old-fashioned household wringer.
'I couldn't afford a proper press but the wringer works really well.  I can print from Perspex, acetate or lino, and then leave the prints as they are or add coloured ink or watercolour.'
True to her love of architecture, her pictures vary from affectionate studies of weather-beaten Scottish ruins to Mediterranean buildings sizzling in the sun. The ever-changing Aberdeenshire countryside is a constant challenge as well as an inspiration and Jenny also produces sweeping landscapes in rich blues, yellows and reds.
'Since I moved to Aboyne five years ago, I have found myself looking at more natural subjects. You can't help that really in this area,' she says.
'Everything I look at is a painting in my mind.'
Despite being constantly inspired by what she sees around her, Jenny feels that her photographs can't do total justice to the buildings or landscapes she loves.
'I don't really work directly from my photographs because they never seem to reflect what I've seen. They are a reference point while I work out my own colours and composition.'
Despite her experience and success as an artist, it's surprising that Jenny never has a plan when she opens the studio door in the morning.
'The subject matter or medium I use just depends on my preference on the day,' she admits. 'I never come in here knowing what I'm going to do!'