There are so many models to choose from that everyone should find one to suit
Our first car in 2010 is celebrating a 50 year history of production. The Mini has been around since the 1960s and is now more popular than ever. I collected a Mini Cooper Mayfair from Peter Vardy Mini, Seafield Road, Edinburgh, and immediately started to enjoy the go-cart feeling of this little car, with its 1.6 litre petrol engine and six speed gearbox.
Top speed I am told is 126 mph, and 0-60 takes 9.1 seconds, which sounds quite slow but in the wee low car seems much faster. Combined fuel consumption is just over 52 miles per gallon, meaning that you'll go over 450 miles on one fill. The engine produces 120 bhp and 160 nm of torque at 4250 rpm, so taking off from a green traffic light was quite fun, although it was easy to get front wheel spin even on dry tarmac.
The car has lots of technology that I was surprised to see in a car that costs under £13,715.00 at present on the road (but don't forget that from this month VAT is back up to 17.5%). The Mini Mayfair is one of over 20 different petrol models and there are 4 diesel models as well, so everyone should be able to find one to suit. To p of the r a n g e in the c a r division is the Mini Cooper S, which also has a 1.6 litre engine but gets to 62 mph in 7.1 seconds and has a top speed quoted at 140 mph.
'I Immediately started to enjoy the go-cart feeling of this little car'
This car would set you back £16,580.00 in the manual form and automatic adds another £650.00. If you want a cheap shopping car, then the Mini one with a 1.4 litre petrol engine would be good around town; the manual costs £12,385.00 on the road. CO2 emissions vary from 128 for the Mini one, and 129 for the six speed manual Mini Cooper, to 149 for the all singing, all dancing 1.6 Mini Cooper S with the twin-scroll turbo-changer. One of the Mini's saving features is 'minimalisation', composed of three different technologies.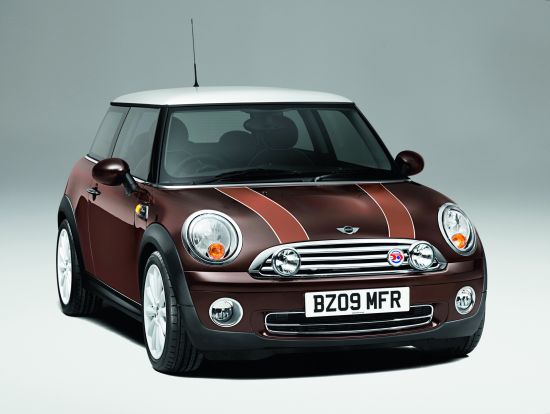 Mini Cooper Mayfair.
Firstly, on manual gearbox only, there is an Automatic Start Stop Function so that when you put the car into neutral at the lights the engine cuts out to save fuel. The second feature is Brake Energy Regeneration, which uses the braking to recharge the battery, and finally there is Shift Point Display, which indicates when to change gear to reduce emissions and save on fuel. There are lots of extras that can be fitted, such as Navigation System, special wheels, sport button to help you get there more quickly, body trims, leather seats and so on. Colour schemes and interior options are endless. 'I Immediately started to enjoy the go-cart feeling of this little car' One drawback is leg room in the rear, which is not good.
If you want more leg room and more carrying capacity, then you buy the Mini Clubman Estate version, which is approximately £1,000 more than the comparable car for each model. In my view, the Mini is not a vehicle for long road journeys on motorways, but ideal about town: easy to park, cheap to run – and lots of fun as well.
Every month in Scottish Field our correspondent Doug Niven gives you his latest car review. Don't miss an issue – find out about our latest subscriber deals by clicking here now.