Three new drams on the way for this summer's Open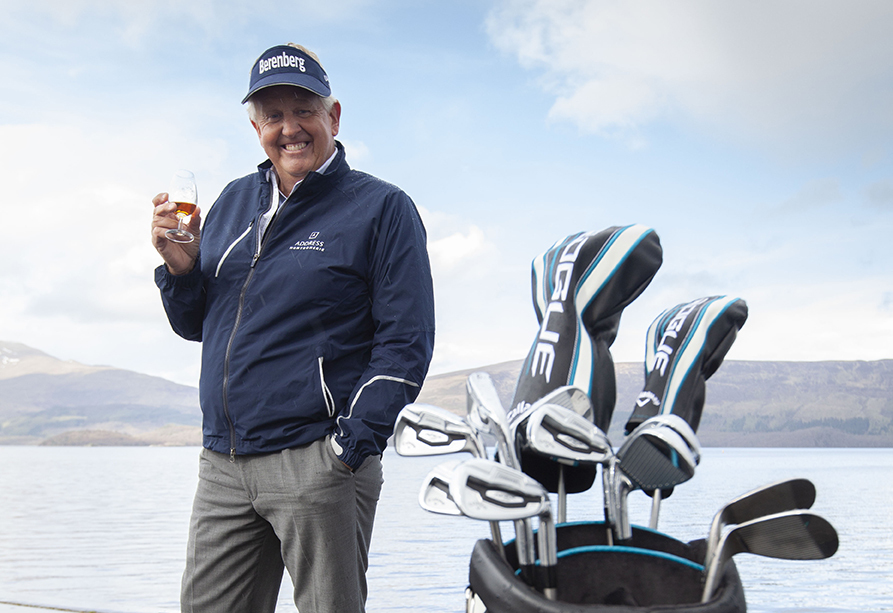 An award-winning independent Scotch whisky distiller has unveiled three new limited edition single malts to tie in with The Open.
Loch Lomond Whiskies recently announced its prestigious, five-year partnership with The Open.
Loch Lomond The Open Special Edition, Loch Lomond The Open Course Collection Carnoustie 1999 created in partnership with Colin Montgomerie and Loch Lomond 1999 Vintage Autograph Edition signed by Paul Lawrie, showcase the worlds of whisky and golf, two of Scotland's most famous exports, in a set of unique special edition bottlings.
Loch Lomond The Open Special Edition (£36) was created to celebrate golf's original championship, Loch Lomond Whiskies Master Blender Michael Henry has crafted The Open Special Edition single malt to display four different spirit styles, ensuring the distillery's fruity character underpins the flavour with a gentle hint of peat and smoke.
A complex single malt, it delivers vibrant fruity notes of peach and pear which are enhanced by using specially selected spirit distilled from wine yeast fermentations. Creamy vanilla oak and maple syrup provide a sweet backdrop before subtle peat smoke comes to the fore to create a balanced finish.
Presented in a distinctive golf themed gift box, The Open Special Edition offers a perfect present for golf and whisky aficionados around the world. A limited edition release priced at £36, it has an ABV of 46% and is available worldwide and in selected global travel retail markets from June 2018.
The Loch Lomond The Open Course Collection Carnoustie 1999 is available for £150. This is a fine single malt whisky crafted to celebrate Carnoustie as The Open Course where the tournament was famously won in dramatic circumstances in 1999. Carnoustie is also the venue for The 147th Open this July – the first year where Loch Lomond Whiskies will be 'The Spirit of The Open'.
To create the edition, Loch Lomond Whiskies Master Blender Michael Henry worked alongside Colin Montgomerie to handpick the finest casks maturing at the distillery since 1999. The result is a single malt displaying an exceptional balance in which the underlying fruit character of Loch Lomond Distillery shines through. The fruity flavour combined with the American oak maturation provides deep aromas of honey, tropical fruits, hints of maple syrup and oak, making this limited edition 1999 Vintage a true Loch Lomond classic.
Limited to just 1500 bottles worldwide, each features its own individual serial number and is presented in a luxury gift box depicting a course map of Carnoustie in the centre, creating a coveted collector's item. Priced at £150, the whisky has an ABV of 47.2% and is available in selected global markets from June 2018.
Colin Montgomerie said: 'As a proud Scot I know that Scotland is world-renowned for both our whisky and our unrivalled golf courses. I'm passionate about telling the story of both and was really impressed by the quality, authenticity and diversity of flavours of the Loch Lomond single malts.'
The Loch Lomond 1999 Vintage Autograph Edition is priced £150.
Paul Lawrie has been working with Loch Lomond Whiskies Master Blender Michael Henry to create the Loch Lomond 1999 Vintage Autograph Edition, a single malt crafted from 1999 casks to reflect the year of Lawrie's most famous victory at Carnoustie, when he came through a 36-hole qualifying tournament to lift the Claret Jug.
The cask selection also represents the underlying fruit character created by the innovative stills at the Loch Lomond Distillery. Maturation in American oak casks from the onsite cooperage has ensured the fruit character has been maintained throughout the process, with the addition of honey sweetness and other tropical fruits coming to the fore.
Encased within premium packaging featuring Paul Lawrie's signature, the edition is available globally in June 2018 before the worlds' best golfers return to Carnoustie for The 147th Open. Priced at £150, it has an ABV of 50.8%.
Paul Lawrie said: 'I'm thrilled to be working with the experts at Loch Lomond Group, who share my passion for arguably two of the country's most loved exports – golf and whisky – and I'm impressed with how they've established themselves in the sport in such a brief period.'
Michael Henry, master blender at Loch Lomond Whiskies, said: 'Loch Lomond Whiskies is The Spirit of The Open and we're proud to unveil three remarkable single malts to celebrate golf's original championship.
'These whiskies pay tribute to Loch Lomond's fruity distillery character and are bottled in the traditional artisanal manner – non-chill filtered at higher strength – to provide a richer mouth feel and a deeper more complex flavour.'
Founded in 1814, Loch Lomond Whiskies can trace its roots back to the Littlemill distillery, established in 1772 and thought to be one of the oldest in the world.
Set near the southern shores of Loch Lomond, a natural wonder in the heart of Scotland, the distillery is inspired by its beautiful location to create an exceptional family of naturally distinctive whiskies.
It features a unique combination of traditional swan neck and unusual straight-necked pot stills, enabling it to craft a diverse range of flavours, from light and floral to heavily peated with a hint of spice.
The Loch Lomond special editions will all launch for sale from the end of June and will also be available to buy at The Open in July.