Presenting the Glen Grant 50 Year Old!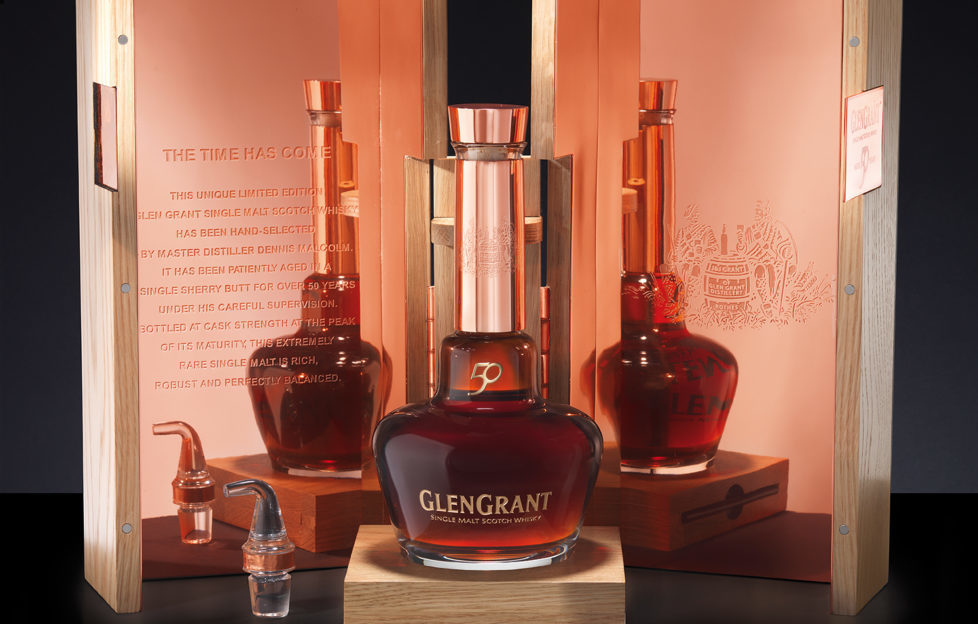 This year Glen Grant is releasing an exceptionally rare edition, the Glen Grant 50 Year Old.
On 28 October 1963 a rather special cask was hand filled by a young man who, at the time, was unaware that this liquid gold would ultimately shape his destiny. It would slowly mature for 50 years until 25 November 2013, when it reached its zenith – a robust, full-bodied and perfectly balanced single malt of distinction. That young man, Dennis Malcolm, became the Master Distiller of one of Scotland's finest distilleries, Glen Grant.
Only 150 bottles of this exclusive timeless collector's item will be released globally. Each piece is unique and handcrafted in every sense – presented in a hand-blown crystal glass decanter, hand engraved, hand numbered and finished with the number 50 in 18-carat gold lettering. The design of the decanter is an exact replica of Glen Grant's tall, slender pot stills – a creation of Glen Grant's legendary innovator, James 'The Major' Grant. It is housed in a copper-lined Scottish oak box,
The Glen Grant 50 Year Old will be launched in Asia's Travel Retail Market. It will be available in Hong Kong as from Friday 21 March and shortly following in Singapore, Seoul, Shanghai, Beijing and Taipei. As of June 2014, it will be launched internationally in other duty free and domestic markets.  RRP approximately €10,000