Many happy returns as distillery marks 70th anniversary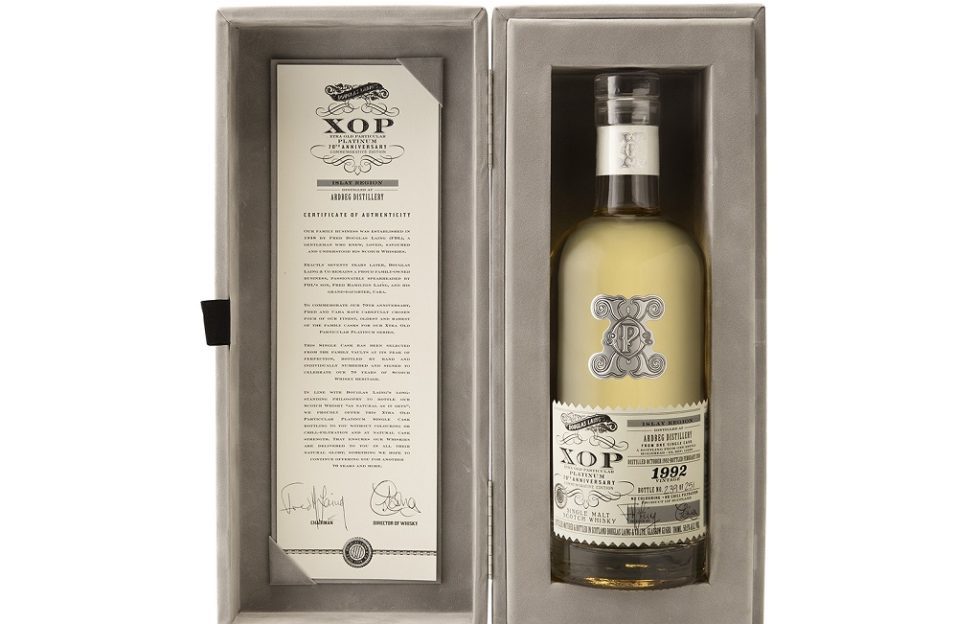 A Scottish distillery is marking its 70th year with a special release.
Family owned Scotch whisky specialist Douglas Laing has begun a year of celebrations by releasing XOP Platinum – a limited edition series within their Xtra Old Particular range as well as a commemorative Old Particular double bottle pack.
The company was established by Fred Douglas Laing in 1948 – a year which delivered a number of greats including HRH Prince Charles, Maurizio Gucci as well as music legends from Alice Cooper to Andrew Lloyd Webber!
Now, 70 years later, Douglas Laing is regarded as one of the most innovative independent spirit businesses owned and run by second and third generation family members.
2018 will see a number of exciting initiatives to commemorate their anniversary but they are kick starting proceedings with the launch of four XOP Platinum Single Casks and an Old Particular double pack carrying two very different 35 Years Old whiskies.
Four whiskies have been specially selected for the XOP Platinum by Fred (Jnr) with his daughter Cara Laing for release through 2018.
The first bottling will be a 25 Years Ardbeg Single Cask Single Malt at natural cask strength, without colouring or chill-filtration. The specialist packaging has been chosen to reflect both the rarity and age of the spirit, whilst each and every label is hand signed and individually numbered by Fred and Cara.
The Old Particular release carries a Single Cask bottling each of 35 Years Old Cambus Single Grain and a Caol Ila 35 Years Old Single Malt. Only 284 of these packs have been produced with each and every gift box similarly being hand signed and individually numbered by Fred and Cara.
Cara, the director of whisky, said: '2018 is a big year for us all at Douglas Laing.
'We'll have fun celebrating it – something my grandfather would heartily have approved of – but it's also a huge milestone highlighting our seven decades at the forefront of the whisky industry.
'These bottlings are a perfect representation of Douglas Laing's commitment to specialist, artisan Scotch whiskies and we are releasing them at the point where we believe they are at their peak. The Ardbeg is an outstanding example of what is to come, and one I immediately knew had to be part of this special series of bottlings while the Caol Ila and Cambus 35 Years Old deliver seven decades of Whisky excellence!'
The XOP Platinum series will be released globally throughout this year. The Ardbeg 25 Years Old (70cl) will be the first to be launched from April with an RRP of £900..
The Old Particular double pack (2 x 50cl) will be released globally from April with an RRP of £450.
Established 70 years ago, Douglas Laing & Co. is a leading creator and purveyor of the finest Scotch whiskies, specialising in Single Cask Single Malts and Small Batch Malt Scotch Whiskies. The company was founded by Fred Douglas Laing in 1948 and is still owned and run by the Laing family – Fred Laing Jr and his daughter Cara Laing.