A Vintage Celebration for A D Rattray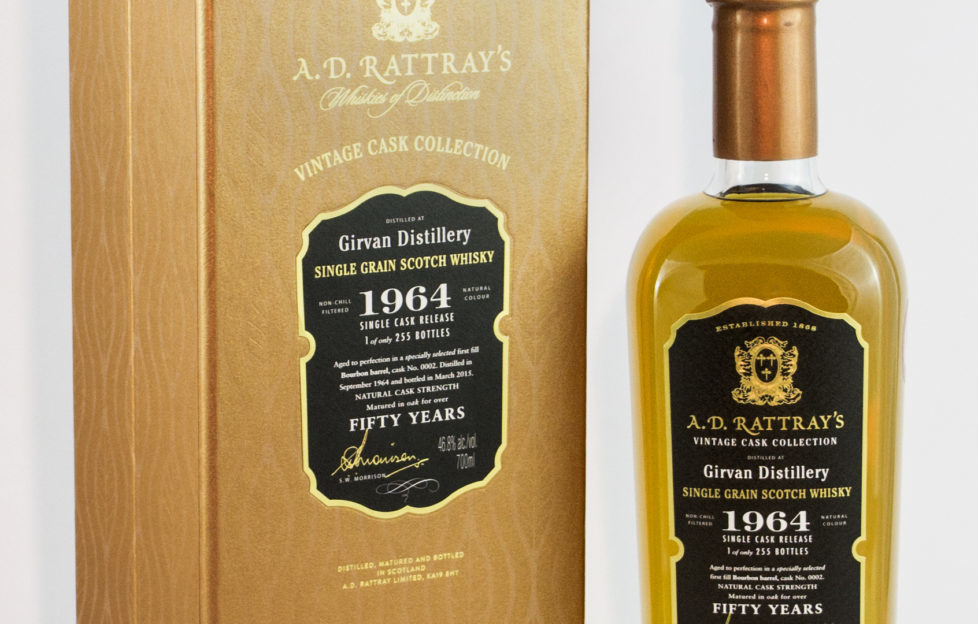 The team at A D Rattray were surprised this week when they were each presented with a bottle of 50 year old single cask whisky.
The Girvan Grain 1964 Cask No 0002 is the first to be bottled as part of A D Rattray's Vintage Cask Collection, a new range which the company has recently added to its award-winning portfolio. Mr Tim Morrison, owner of A D Rattray (pictured below with his son Andrew) and the A D Rattray Whisky Experience & Whisky Shop, said he was delighted to be able to thank everyone for their hard work over the years in this special way.
Known for quality single cask bottlings, A D Rattray pride themselves on the careful selection and monitoring of their casks, only bottling when they reach their prime. Occasionally, an older cask of exceptional quality will be rewarded with beautiful packaging and inclusion in the new range. 255 bottles of the Girvan Grain 1964 have been produced at cask strength (46.8%), appealing to collectors, whisky enthusiasts and anyone looking for that extra special whisky.
Mr Morrison said, "It is particularly fitting that this 50 year old is the first cask in our new Vintage Cask Collection range as it is the oldest whisky we have bottled to date and is from the nearest distillery to our headquarters – Girvan is just 7 miles down the road.  There is also a strong family connection between the two companies as my father, Stanley P Morrison, and Charles Grant Gordon were friends and in fact I visited Girvan distillery on many occasions while it was being built in 1963. At that time I had just started working as part of the production and management team of Bowmore Distillery which had recently been acquired by my father. It all seems like a lifetime ago and to see a bottle of whisky which was distilled back then in the hands of my son, Andrew, the next generation of our family business, makes me very proud."