Unique event packaging for three whiskies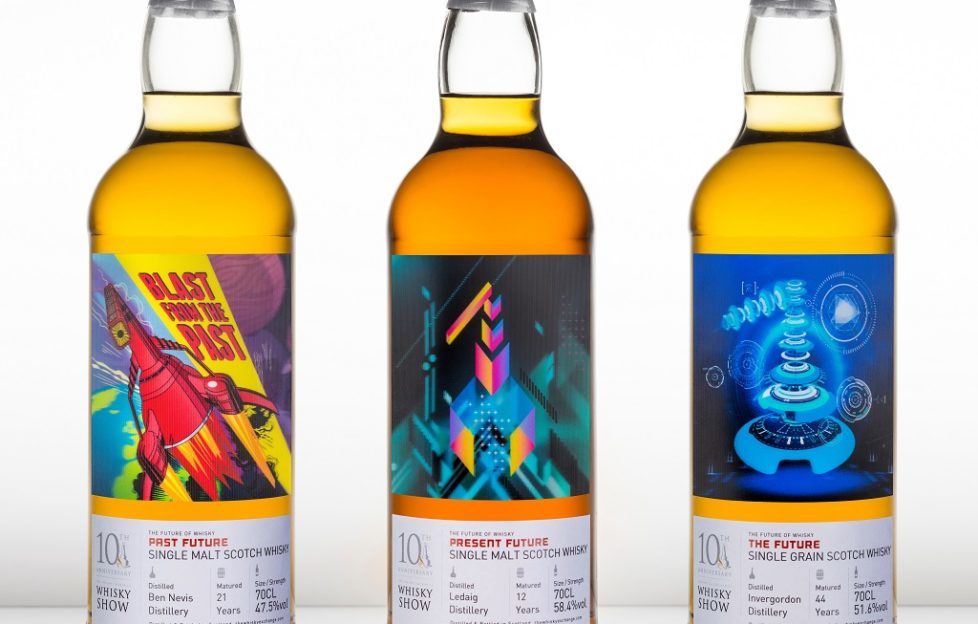 Three uniquely designed bottles of whisky will play their part in the 10th anniversary of the Whisky Show.
Being held at Old Billingsgate, London, the event has a theme of the Future of Whisky, which will be marked by three limited edition bottlings from the Whisky Exchange, of Ben Nevis, Ledaig and Invergordon, all using lenticular labels to bring the bottles to life.
In what is believed to be a first for whisky bottles, lenticular printing gives each label a feeling of depth and movement, as well as helping each whisky embrace the show theme.
The whiskies are presented as 'Past Future' (what we thought the future would be in the past), 'Present Future' (what we presently think the future will be), and 'The Future' (what we think the future might be in the future).
The whiskies will be available to taste at The Whisky Exchange stand (no. 68) and also available to buy at the show exclusively via The Whisky Exchange shop.
'Past Future', the Ben Nevis 21 Year Old, will cost £130 and is limited to 144 bottles.
'Present Future', a Ledaig 12 Year Old, will retail at £74.95 with 636 bottles available.
'The Future' is an Invergordon 44 Year Old, each bottle costing £250, with 246 bottles produced.
The Whisky Show at Old Billingsgate, London, is open to the public from Saturday 29–Sunday 30 September, from 11.30am–6.30pm. The trade day is Monday, 1 October, from noon–5pm.
Public day tickets cost £110 (includes two-course lunch, one Dream Dram token, with over 600 whiskies to try). Weekend tickets are £195.