Two new rare malt releases from John Crabbie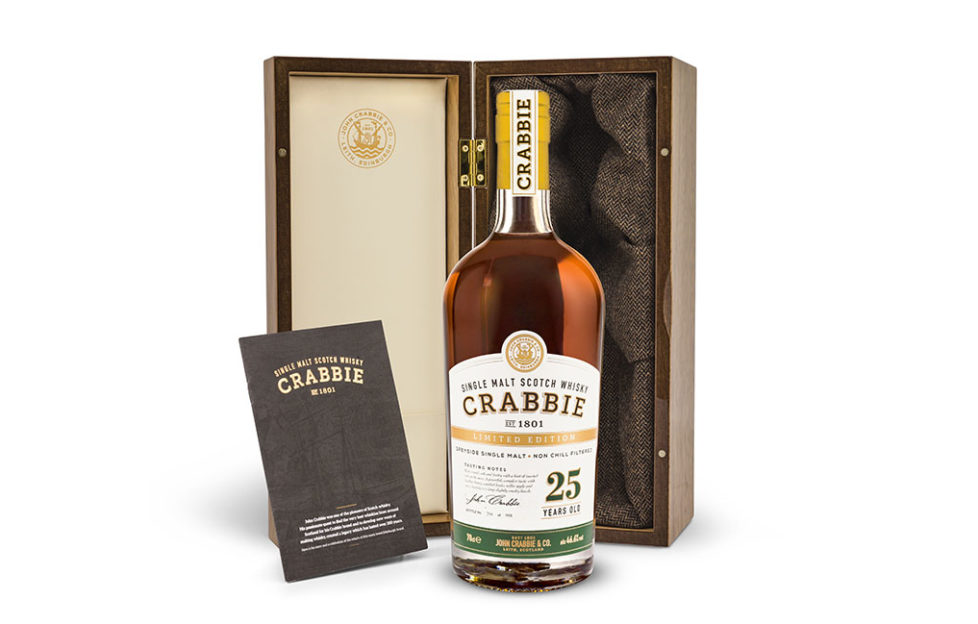 John Crabbie and Co has announced two new releases of rare single malt Scotch whisky to complement its award-winning range.
Crabbie 25 year old and Crabbie 40 year old are the latest expressions to be revealed by Edinburgh-based John Crabbie & Co, a whisky brand which has its roots in the earliest incarnations of the Scotch whisky industry.
Established in 1801, John Crabbie & Co was revived in January this year and has already released a range of award-winning whiskies, aged from eight to 30 years old, sourced from distilleries around Scotland.
David Brown, managing director of John Crabbie & Co said: 'The Crabbie 25 year old is a very rare single malt from the same Speyside distillery and group of casks that produced our Crabbie 30 year old.
'This exceptional whisky picked-up the two top accolades of 2018; it won double gold at the San Francisco World Spirits Competition and was the only whisky to be awarded "Master" at the Asian Whisky Masters, announced last week.'
'Our 40 year old, from another Speyside distillery, is quite a different beast.
'Beautifully packaged in an engraved crystal decanter with two signature glasses, this is the ultimate gift for anyone who loves Scotch whisky.'
The Crabbie 25 year old has been matured in sherry casks for 25 years and bottled at 46.6% ABV. This fantastically complex, non-chill filtered whisky, has all the character of its older sibling (the award winning Crabbie 30 year old, released in early 2018).
A limited release of 900 individually numbered 70cl bottles, is presented in a lacquered wooden gift box, along with a booklet detailing the history of the Crabbie whisky brand.
The Crabbie 40 Year Old is non-chill filtered and bottled at cask strength of 44.5%. Only 350 individually numbered decanters were filled for this one-off release of an exceptional single Speyside cask, of which just 200 decanters are allocated to the UK.
A high-gloss, red lacquered wooden presentation box contains an individually numbered 70cl Crabbie signature crystal whisky decanter and two engraved signature crystal glasses produced exclusively for John Crabbie & Co by Glencairn.