Proud whisky shop owner is a Keeper of the Quaich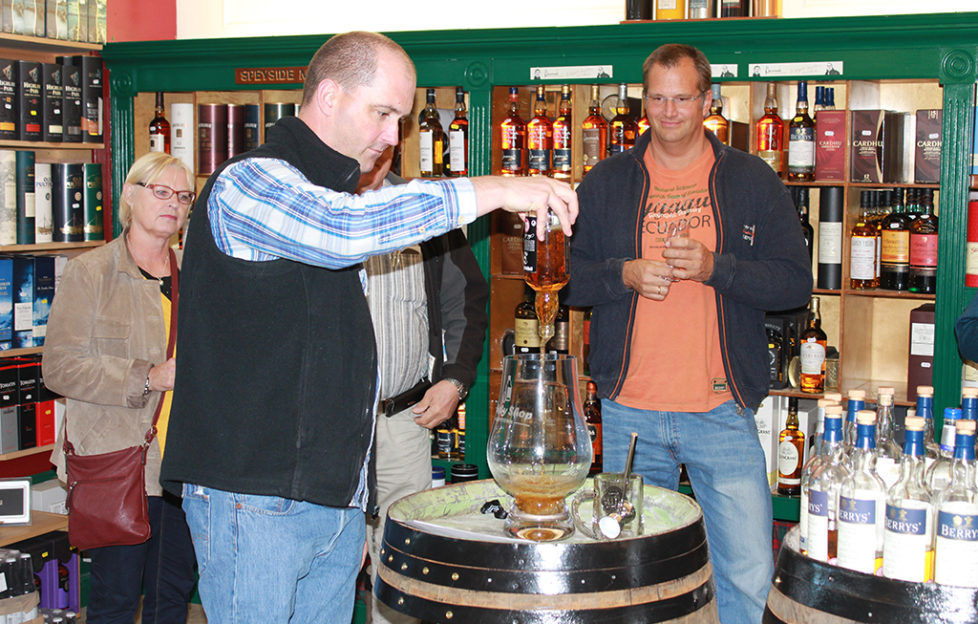 The owner of The Whisky Shop in Dufftown is delighted to have become a Keeper of the Quaich.
Mike Lord was one of 38 new members who were inducted into the international society at a private ceremony at Blair Castle.
The Keepers of the Quaich was established by the Scotch whisky industry as recognition for the people who go over and above the call of duty, to produce or promote whisky. New Keepers must have worked in the industry for a minimum of five years, and no one can nominate themselves.
Over 2600 men and women from more than 100 countries have received the honour.
Mike gave up his career in the City, where he worked in the financial services industry, to pursue his passion for whisky full time. In 2006 he bought The Whisky Shop in Dufftown and since then it has become an international success.
The Whisky Shop Dufftown now offers an impressive selection of over 600 whiskies and related items.
Mike said: 'It was about a month ago I first heard I had been nominated. I was absolutely shocked at first, as you don't expect that to happen. It came totally out of the blue, as my name had been put forward by Stephen Rankin at Gordon and Macphail.
'I was really surprised, and a bit shocked when I was told it had been accepted.
'I couldn't be more chuffed about it, but I'm very grateful to Stephen for putting my name forward.'
Stephen, director of prestige at Gordon & MacPhail, added: 'We're absolutely thrilled that Mike has become a Keeper of the Quaich. He has been a long-standing customer of Gordon & MacPhail, and the important thing about the Keepers of the Quaich is what they are doing for our industry.
'Mike has been a tremendous support of our business, but does so much more than that, putting his energies into not just the Spirit of Speyside Whisky Festival and the Dufftown Festival, and has even created his own whisky his
festival at the shop.
'This award recognises what he has done, and it's wholly appropriate for Mike to be honoured in this way. We're thrilled that we could be the ones that nominated him.'
Mike's passion for whisky grew after a visit to Speyside for Hogmanay, and decided on a complete change of career. He has won the Best Whisky Shop in Scotland (single outlet).
He said: 'Things have grown around 10 times in terms of the stock in the shop since we first opened, and the business has much more of an international profile around the world now.
'I'd like to think we're now part of the reason why people do come to Speyside, as we're giving people a reason to come into Dufftown now and spending their money here.
'This year so far, we've had people from Australia, Canada, America, Germany, Malaysia, Hong Kong and France come into the shop – and we can't forget the people of Scotland either!'
Mike loves to bring out the fun and excitement of sampling whisky from the first to the last drop. A visit to Mike's shop will shows the vast range of whiskies that are available from Scotland and the amazing variety of flavours that whiskies have.
The shop hosts whisky tastings to help visitors on a tailor-made journey to explore the world of single malts. Mike, whose shop runs its own festival over the last weekend in September, was delighted to receive the Quaich.
He added: "It was very exciting. The event itself was held in Blair Castle, so was very plush, and I got to see a lot of other people being recognised for their work in the industry. It was formal, but it had its quirky moments.'