Rare bottling from 'lost' distillery raises £50,000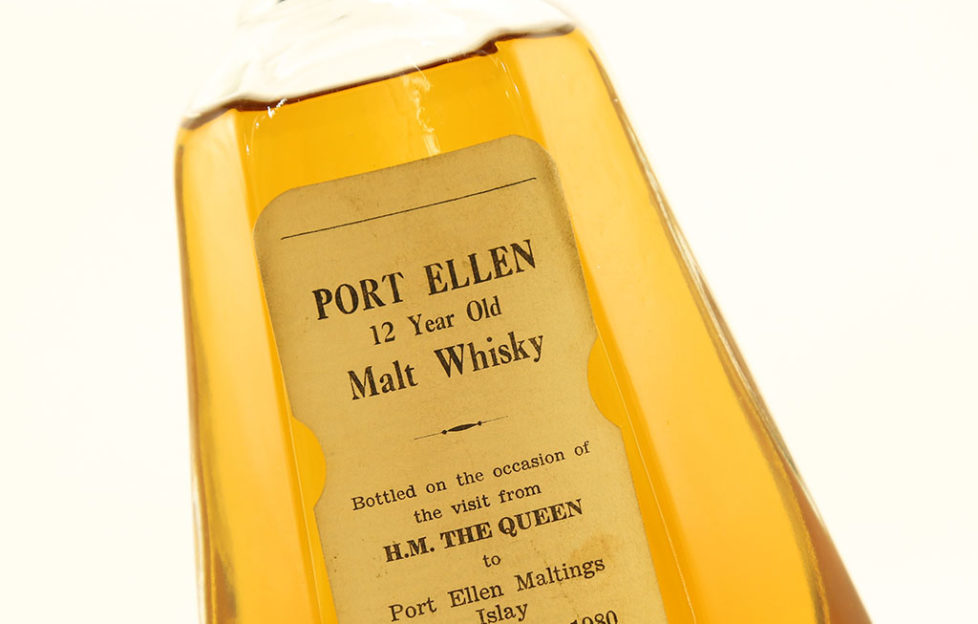 One of the most iconic, well-regarded and rare whiskies ever produced – the Port Ellen 12 Year old Queen's Visit 1980 – has been purchased for a record-breaking £50,000 hammer price in an auction held by Perth-based Whisky Auctioneer.
Thought to be the only official bottling of Port Ellen released while the distillery was active, it was produced to commemorate the visit of Queen Elizabeth II to the island on 9 August 1980.
The exact number of bottles is unknown, but it is thought that enough were bottled so that the Queen and all senior staff present on the day could have one. Unofficial estimates are that around 40 were made.
In terms of taste, it has the reputation of being a truly outstanding dram. Indeed, this is the only whisky to score a near-perfect 99/100 on Whiskyfun – the highest rating Serge Valentin has ever awarded.
The bottle attracted a lot of global interest, particularly from Europe and Asia, with over 50 bids being lodged and the eventual winner from Hong Kong.
According to Rare Whisky 101, the most recent previous auction price received for the Port Ellen Queen's Visit was £11,200 in January 2017, with a previous high auction sale in 2016 for £12,100.
Sean McGlone, director at Whisky Auctioneer, said: 'Port Ellen has been a "lost distillery" since 1983 and its near mythical status has grown each year since then – an opportunity to acquire a bottle from this distillery is rare, but this Port Ellen Queen's Visit is the only known official bottling while the distillery was active.
'Only a select handful of people received this bottle in honour of the Queen visiting in 1980 so from a collectability point of view, this is essentially unsurpassed. But to also have such a highly regarded spirit in terms of taste means this is truly an iconic whisky for collectors and connoisseurs alike.'
Another record-breaker in the August Auction was a 50 year old The Macallan – one of only 200 – which went for £56,000 hammer price, up from the last sale at auction in April 2018 for £32,525 and from the retail price of £25,000 upon its release earlier in 2018.
These lots are amongst a growing line of rare treasures to be sold by Perthshire firm Whisky Auctioneer which specialises in auctioning fine, old, rare and collectable whisky. Over the past two years, Whisky Auctioneer has broken auction records on a monthly basis, and in addition to the recent Laphroaig 1967 15 year old Samaroli sold for £61,000, a Bowmore 1966 Samaroli Bouquet sold for £51,611, standout lots include a rare collection of Corti Brothers whiskies for £52,865, and the world's largest known collection of rare and collectable Karuizawa whisky from Japan for £770,000.
The auction ran from 24 August and closed on 3 September.