Artists arrive for 2019 Glenfiddich residency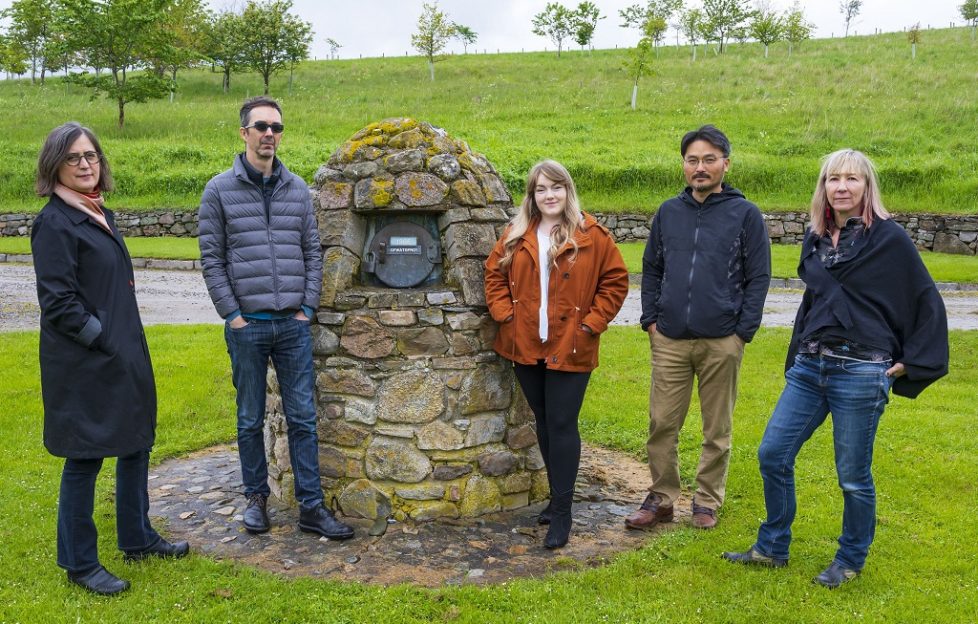 The ritual and performance of raising a toast will be explored at The Glenfiddich Distillery this summer by Canadian audio and kinetic sculpture artists, Marla Hlady and Christof Migone.
This will form part of the 18th Glenfiddich International Artists in Residence programme.
The pair are part of a group of eight leading and emerging contemporary artists from across the world who have begun to arrive at The Glenfiddich Distillery in Speyside to take part in the programme, one of the world's most sought-after arts residencies.
In addition to Canada, Taiwan, Australia, India, South Korea, the USA and Scotland are all represented in the 2019 residency, which sees artists spend three months at the Distillery creating new works inspired by their surroundings and their time living and working in the Dufftown home of world-famous single malt.
In addition to Marla and Christof's work, Los Angeles-based Linh Do will examine concepts of luxury through drawing and textiles while the Speyside landscape is set to provide inspiration for Korean videographer, Ryu Biho, whose eerie film works are both evocative and mesmerizing.
The distillery and surroundings will also provide a rich source of ideas for Liao Chine Chung from Taiwan, who specialises in recreating ultra-realistic, life-sized plywood replicas of heavy plant such as fork lift trucks. Australian artist Penelope Cain will create mixed media works emanating from her particular interest in environments which have been modified through human activity.
Glenfiddich's Artists in Residence programme also seeks to nurture and support emerging talent and the organisers have invited painter Samantha Cheevers from Port Glasgow, a recent graduate of Gray's School of Art in Aberdeen, to take part. Samantha was selected from the wealth of talent represented in this year's New Contemporaries exhibition at the Royal Scottish Academy in Edinburgh. She will be joined by Raju Baraiya who is the eighth recipient of the Glenfiddich Emerging Indian Artist of the Year award. The award is recognizsed as India's biggest art prize and Raju was chosen from a pool of over two thousand applications.
The work of the artists taking part in the 2019 Glenfiddich Artists in Residence programme will be displayed to the public through a series of three free exhibitions in the Distillery's Gallery. The first will open on Saturday 27 July.
Andy Fairgrieve, curator of the Glenfiddich Artists in Residence programme said: 'Over the past 18 tears, the unique atmosphere, culture, history and landscape of our distillery and of Dufftown and the surrounding areas have proved to be a rich source of inspiration for over 150 artists from over 20 countries who have produced an exciting and varied range of new works.
'Our Artists in Residence programme is hugely respected and is a very special opportunity for local people and distillery visitors to enjoy fresh and imaginative contemporary art by some leading and emerging figures in the contemporary arts scene. We're greatly looking forward to seeing the results of this year's residency in our three free exhibitions.'
2019 Glenfiddich Artists in Residence Exhibitions dates:27 July – 25 August; 31 August – 22 September; 28 September – 13 October.
The Gallery, located beside the Glenfiddich Distillery main car park, will be open daily throughout the exhibition periods from Wednesday to Sunday noon–5.30pm (closed Monday/Tuesday) and admission is free.
Works by previous participants in the Glenfiddich Artists in Residence programme are on display year-round both in the Distillery grounds and inside the production areas.
Further information on this year's Glenfiddich Artists in Residence can be found at www.glenfiddich.com