Meet the godfather of Australian whisky – Bill Lark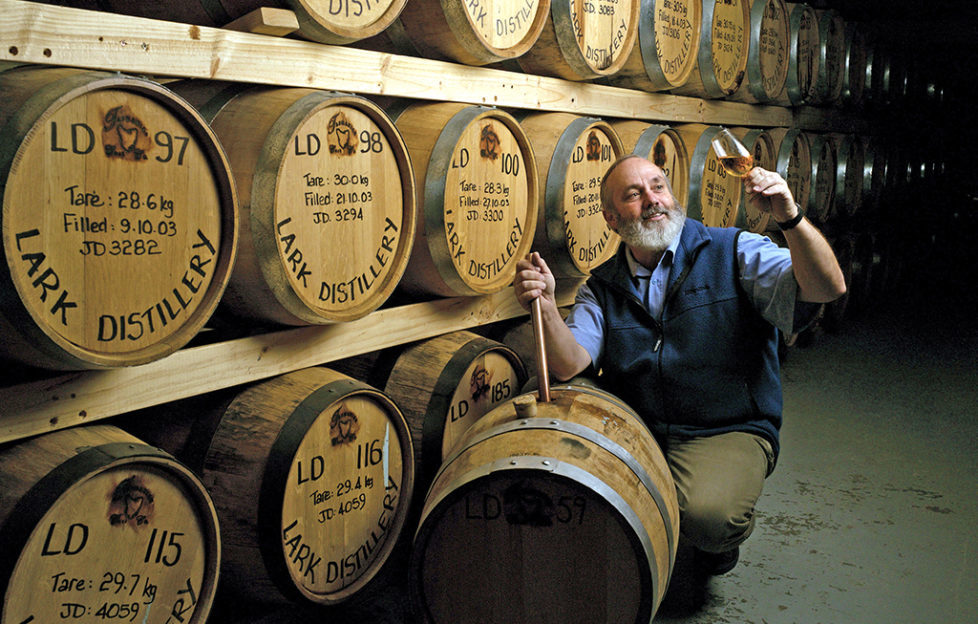 Like all the best ideas, it began when a bottle of whisky was opened.
Bill Lark had been fly fishing with his wife, Lyn, and her parents in the central Highlands of his native Tasmania and he'd caught a beautiful brown trout. As they set up their barbecue to cook the fish in a park at Bothwell, an old town beside the Clyde River, his father-in-law, Max, produced a bottle of single malt Scotch whisky to celebrate.
'After we'd had a drink, I turned to Max and asked him why no-one was making whisky in Tasmania?' remembers Lark. 'We've got fantastic barley, the water is very good here, the climate is suitable and I knew we even had peat bogs further up the road.'
Lark discovered that the Australian island had once had a thriving whisky scene, but that the industry was brought to an abrupt halt in 1838 after Lady Jane Franklin, the wife of Governor John Franklin, told her husband that 'I would prefer barley be fed to pigs than it be used to turn men into swine'.
Franklin responded to her outburst about the evils of the spirit by banning the making of whisky on Tasmania and the island's 16 legal distilleries – and its numerous illegal ones – were shut down.
Fast forward more than 150 years to 1992 and Lark set about overturning the law and reviving the Tasmanian whisky industry. 'A lot of people ask me how much of a fight I had to go through, but there was no fight at all – I was pushing at an open door,' laughs Lark. 'I got swept up in this wave of enthusiasm from people who wanted to see if we could make whisky in Tasmania. I think the local customs office was even more excited about it than I was.'
Lark enlisted the help of local politician Duncan Kerr, who in turn roped in Barry Jones, Australia's customs minister at the time. Not only did they repeal Franklin's diktat but they also changed the national laws to give Lark the chance to open a small craft distillery instead of the hulking industrial units that the rules were designed to cover.
'We bought a beautiful old copper pot still at an auction for about A$65,' Lark explains. 'I had no idea what I was doing but I knew that I loved drinking the stuff and so I would give it a go. I went down the road to the Cascade Brewery and they gave me the wash and yeast that I needed to get started. They were very excited that someone wanted to make whisky in Tasmania.'
Nowadays Lark isn't the only person producing whisky on the island, with other distillers jumping on the bandwagon. Ten distilleries are already pumping out whisky and Lark expects the total to rise to fifteen by the end of the year.
His own whiskies have enjoyed success around the world, picking up a World Whisky Award and receiving the thumbs up from countless experts. Lark began by exporting his malt to markets across Asia, Europe and the United States but, once Australian drinkers heard about all the success he was having overseas, demand in the domestic market took off.
Hailed as the Godfather of Australian whisky, Lark now produces 30,000 litres of spirit each year, double what he was making two years ago. Production is expected to double again over the next two years to keep up with Australia's new-found taste for his drinks, which also include gin, vodka and an aromatic bush liqueur called 'Tasi'.
From just employing himself and Lyn when they began in 1992, Lark Distillery now has 30 staff and the popularity of making whisky has led to a thriving spin off industry, producing copper stills, with more than 50 assembled so far. 'For a small island economy, it's a real boon," Lark adds.
Part of Lark's success with his single malts is attributed to his use of smaller barrels, around half the size of the standard bourbon casks used in the industry and about a quarter of the size of a traditional sherry butt. The smaller the barrel, the faster it provides flavour. His whisky has been described as having floral notes on the nose and a rich oily maltiness on the palate, with comparisons being drawn with Scotch from Aberlour and Glenfarclas.
Lark's popularity has led to him acting as a consultant for the other distilleries on the island. 'When we started, it was just us on our own and we were making it up as we went along,' he explains. 'But we had tremendous support from the whisky industry in Scotland. Our daughter, Kristy, got a scholarship from the Scottish branch of the Institute of Brewing & Distilling to come over and learn more, and we had tremendous help from Denis Nicol, who was the distiller and manager at Laphroaig. After the Scottish industry helped me so much, I wanted to do the same on Tasmania.'
It's not just in his native land that Lark is in demand. Doug Clement, who setup the Kingsbarns Distillery in the East Neuk of Fife, called him in as a consultant, before the Wemyss family later became involved in the project, which is now producing its first spirit.
'I was a little bit nervous – what are the Scottish people going to think about this crazy bloke from Tasmania coming over to help them?' laughs Lark. 'They've done a brilliant job at Kingsbarns.'
As well as making whisky, Lark is also branching out into the tourism market, which he thinks will be a big growth area. Having run tours for many years, he's now bought a 14-seater mini-bus to run half-day, full-day and two-day tours.
'The two-day tour includes a full day out at our distillery, where we take people through the whole process of mashing in the morning right through to the end of the day when we break the heart down and put it into a barrel,' says Lark.
'The second day we drive them up to the peat bog that we own, Brown Marsh Bog, up in the Central Highlands, so they can dig peat for us and smoke an ocean trout over a peat fire and drink some Tasmanian whisky. We even have a traditional peat spade from Northumbria.'