A star is born
Dalmore created the perfect whisky drinking experience for me to showcase their 40 year old Astrum 1966 vintage expression.
Those memories of the fat and fruity, golden elixir being consumed by the fire until the early hours is an experience that will stay with me forever.
I am often asked the question 'What is your favourite whisky?' something I always find difficult to answer. For me Whisky is unlike any other alcoholic beverage in that there is an emotional attachment to the drinking experience that has a huge impact on the overall lasting impression of the dram. It is often the company, and the surroundings as well as the taste which help the drinker form their opinion. I have often tried an amazing whisky with friends then tasted it again at another date only to be disappointed.
What Dalmore did with the Astrum vintage was to launch it very quietly but let the whisky speak for itself, there was no cheesy PR party just an intimate dinner with David Robertson the Rare Whisky Director, and Rob Bruce Head of PR for Whyte and MacKay. Dinner was followed by a unique experience to star gaze with leading astronomer Steve Owens in the UK's first Dark Sky Park in Galloway.
'My tasting of the Dalmore Astrum took place at the luxurious Glenapp Castle Hotel in Ayrshire'
The Dalmore Vintage takes its name from the Latin word Astrum meaning constellation; laid down in 1966 the whisky has spent thirty-eight and a half years in high quality Kentucky bourbon casks before being transferred into Matusalem sherry casks for a further eighteen months. These sherry casks come from the prestigious Gonzalez Byass bodegas in Jerez de la Fonterra. Bottled at 42% there are only five hundred bottles available and they are currently selling for around £1400 per bottle.
My tasting of the Dalmore Astrum took place at the luxurious Glenapp Castle Hotel in Ayrshire, a restored five star baronial castle boasting a Michelin star dining experience. Our carefully prepared tasting menu combined excellent quality local ingredients and culinary skill from head chef Adam Stokes. Each of the six courses was matched with a tasting from the Dalmore range before climaxing with the tasting of the Dalmore Astrum.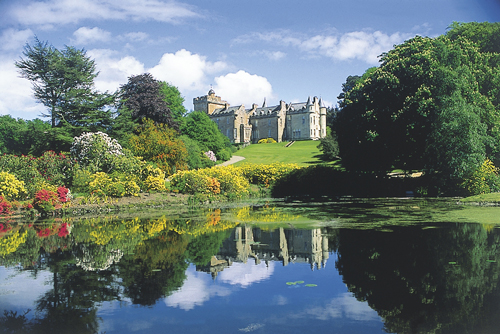 Glenapp Castle Hotel.
After dinner we were taken on a unique star gazing trip with leading astronomer Steve Owens who se passion for astronomy could rival the team from Dalmore's passion for great whisky. Wrapped in warm blankets and lying on sun loungers at midnight, being fed whisky hot chocolate and further drams of the Astrum was a delightfully bizarre experience. As we sipped our whisky and took in the dramatic view of the Milky Way in all its glory I wondered why we needed films in 3D, iPads and computer games for entertainment when all this amazing activity is going on above our heads. We were lucky to have such a clear night, and as the shooting stars fell around us I could have stayed put for a few hours more.
The Dalmore Highland distillery began production in 1839 has become well known for producing limited, rare and expensive whiskies. Still a relatively small distillery (they produce 30% of what Glenfiddich produce in a year), the brand is well respected across the world. Dalmore whiskies are known for their rich fruity blood orange flavours and aromas and the Astrum didn't disappoint. This dram is extremely fruity and spicy, but it is the thick oily treacle and liquorice finish that I remember most. The warmth of the dram filled my mouth with lovely orange zest and cream; and fuelled my imagination of thoughts of Jupiter and Meteors.
Long after the last of our small party had gone to bed, I was still awake, a roaring fire in a fairytale castle with a delicious bottle of whisky to be savoured. Dalmore had delivered my ultimate whisky tasting experience, one that I certainly will not forget in a while. The Astrum is a delicious whisky which deserves luxury treatment.
I loved the constellation link with the whisky, and as dawn broke the following day I was still entranced by whisky, stars and life on Mars. www.thedalmore.com, www.glenappcastle.com