So much choice on the new brunch menu at Eusebi's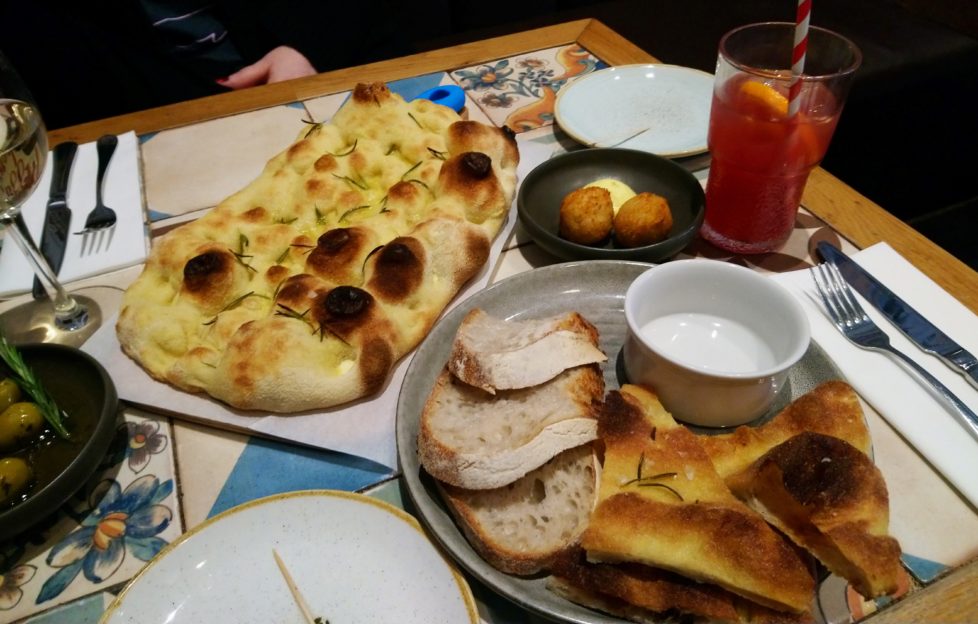 Brunch is one of those concepts I've always enjoyed – can't quite be bothered to get up in the morning, so have breakfast at lunchtime.
One of my favourite restaurants in Glasgow is the Eusebi Deli and Restaurant – and they're just launched the Eusebi weekday brunch menu – so, combining two of my favourite things made sense.
Based in Glasgow's west end, but just a couple of minutes off the M8, Eusebi's feels Italian from the moment you set foot inside.
As with a previous visit, the attentive staff speak to you straight away, and you can't help but notice how fresh the food is – there's the pasta lab in one corner, beside which the deli counter can be found, full of fresh produce, that had me drooling in seconds. And that was before I spotted the cakes and desserts.
We were seated quickly, and given some olives to share as my companion and I inspected the menu, where we were spoiled for choice.
It was suggested that we try some of the snacks and sides, and were recommended the Caio Pepe Arancini – the delicious fried rice balls, which came with a tasty sauce. We took one each and were off to a tremendous start.
But the real hit for us was the foccacia – hot and fresh out the oven, with a dusting of flour and olive oil. It tore beautifully, and I had to remind myself to stop and slow down, or I would outcarb myself before I'd even had my main course!
We also had some of the bread and oil, which was wonderful – especially with a dash of balsamic vinegar – and I was pleasantly surprised by the cannellini, a bean puree served with polenta crips. It was pleasantly minty – and disappeared very quickly.
For my main course, I swithered for a long time, between a pizza romana toscano; rigatoni and spicy lamb sausage ragu; and the ricotta anolotti. In the end, I also bypassed the small plates menu (some tasty tapa including sea bream crudo with charred pineapple, scallops, and asparagus, truffle butter and parmesan.
So I went for the rigatoni. It was, quite simply, sensational. The pasta is made from scratch each daily, and you can tell the difference from something that's been dried and then boiled in water.
Lamb isn't a meat that I choose that often, I must admit, but this was wonderful – a slow cooked spiced Scottish lamb finished with mint pangrattato. The ragu itself was wonderful, succulent and pleasant on the mouth. The dish kept its heat well too, which is always a bonus.
My companion's eyes lit up when she was the crab and mussel risotto – that was her sold in seconds. Again, her choice did not disappoint. The risotto was rich and flavoursome, while the crab meat was succulent and moist. And you can never go wrong with mussels. The portion size was good – in fact, generous would probably be the best word.
In the end, we found we couldn't finish everything, and our waitress told us, without being prompted, that it would be boxed up for us to take home and finish.
I thought I was full, but then we were presented with the dessert menu, and, well, resistance was futile.
I've always been fascinated by the cannoli, but never actually had one, so this was the perfect time to try one.
This was a chocolate pastry, wonderfully thick and broke with a pleasant crumble, without fragmenting all over the table. It was filled with a seperb ricotta, with one end dipped in pistacchios. If I lived or worked near Eusebi's, I would be having at least one of these every day. Absolutely magnificent.
But this wasn't the star of the course show. That honour went to the caramel shortcake – the base was a great pastry with a superb buttery taste. The caramel was thick and sticky and sweet – just what you would want, and offset the darker chocolate superbly. This was like a party in the mouth – and my companion was generous enough to share a small sliver with me.
We left, feeling full and satisfied – that's always the sign of a good restaurant. A busy menu with lots to choose from, an attractive setting, and friendly helpful staff mean you can't go wrong. Another winner from Eusebi's.
Eusebi Deli, 152 Park Road, Glasgow, G4 9HB.
0141 648 9999