Brasserie Prince – home of perfect choice, flavours and service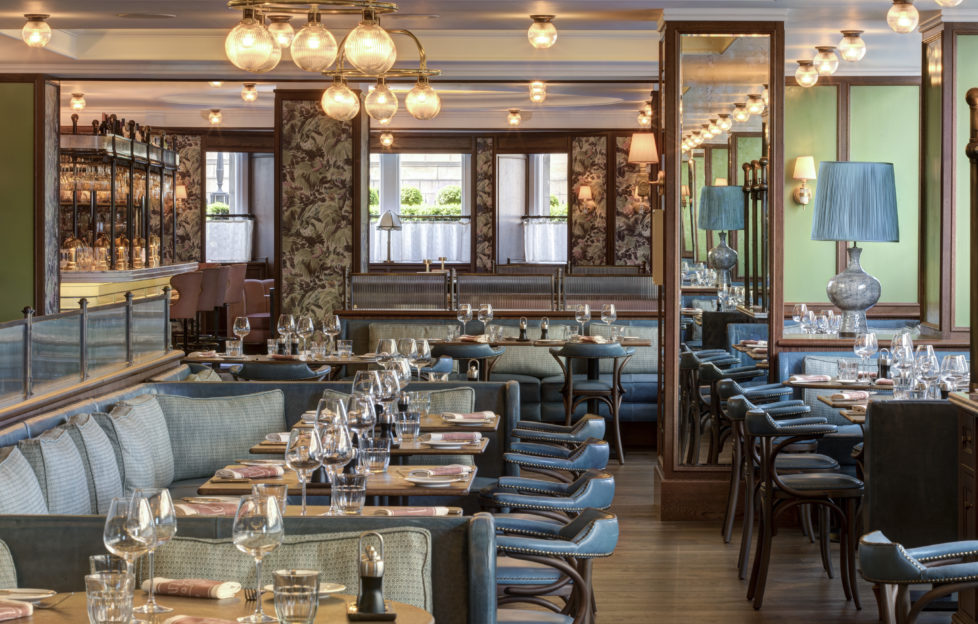 Think of France, and the chances are you'll think of the class and culture, the incredible sights, and, of course, the fine food.
Paris is one of my favourite places to visit in the world, and I do have a taste for French cuisine.
Brasserie Prince, by Alain Roux, is located in Edinburgh's Balmoral Hotel, and you couldn't hope for more pleasant surroundings.
Upon arrival at the main entrance, my companion and I were warmly welcomed and quickly seated.
The Brasserie is beautifully designed and laid out – it's open and bright, without being too light, and there is a pleasant hubbub and background noise. The Balmoral Hotel attracts an international clientele, and it was a pleasure to hear a host of accents as we looked over the menus.
We were presented with a choice of two menus – the Express Menu, available Monday-Friday from noon-2.30pm and 5.30-6.30pm, and the main menu. Appropriately, for a menu by Alain Roux, it is in both English and French – a rather delightful, and indeed classy, touch.
Alain Roux and his father, legendary chef and restaurateur Michel Roux, showcase their heritage of sensational French cooking at Brasserie Prince, inspired by the best Scottish produce.
We both chose to dine from the main menu, tempting as the Express Menu was, with dishes including smoked salmon, onion, caper and rye soda bread, ham hock, white bean and cabbage soup, rump steak maitre d'hotel and fries, salmon, choucroute and beurre blanc, and delicious desserts. At £19.50 for two courses, or three for £25, it presented good value.
We selected a sharing platter to begin with, and were presented with six burgundy snails with garlic and parsley butter. This was the first time that either of us had tried snails, and were both delighted by what we had. My companion Stephanie surmised the snail had a texture that reminded her of squid, and definitely not in an unpleasant way. The snails were beautifully seasoned with garlic and packed with plenty of flavour.
For my starter, another traditional French dish was my selection – frog's legs. Again, this was my first time trying these, but as soon as they arrived, I knew I had made a good decision.
The dish was presented in a beautifully breadcrumb-coated form, with parsley, garlic and a slice of lemon. They had the look of very well presented chicken goujons.
What I was unprepared for were the bones, after my first bite, but once I realised how to eat them, this didn't present any problems at all. I had initially cut mine up, but then realised the best way to consume them would be like a chicken leg. I had been told that there was a similarity in taste to chicken, and this is definitely a fair comparison, but it has a slightly different, but still pleasant, texture. The garlic flavour was not too strong, and after I had finished, I was left with a pleasant aftertaste. Recommended.
I was presented with a refreshing hand towel with which to clean my hands afterwards – again, another beautiful touch.
For her starter, Stephanie chose Scallop a la Parisienne – a fresh and delicate dish which moved away from the 'go to' accompaniments of black pudding or chorizo. She was pleased with her selection, which was lovely with a chilled glass of the house white.
For our main courses, we both went for poultry.
Stephanie chose the roasted duck breast with potato puree, sautéed spinach and orange sauce – she requested the duck to be cooked medium and that was exactly how it came.
It was flavoursome, succulent and had a wonderful crispy skin. The potatoes were well seasoned and indulgently creamy. She felt she could eat a serving of those on their own! Have sampled a little of it, I wholeheartedly agreed. Quite possibly, the best puree ever. The bowl in which it came was clean by the time it was collected.
The spinach was a lovely balance to the sweetness of the orange sauce and the saltiness of the duck. Stephanie said: 'It was a definite "I'd lick the plate if I was at home" dish.
My main was the chicken breast Pojarski, which had been recommended to me. It was filled with ham and Brie cheese, accompanied by sweet potato wedges and French beans.
The chicken was succulent and tender – cooked to absolute perfection, and filled with a wonderfully flavoured ham. The Brie coating on the chicken was absolutely divine – the flavours combined perfectly, but not overpowering, and just cutting into it was a joy. The sweet potato wedges were heavenly, with a very pleasant taste, and even though I normally avoid French beans, these were perfectly cooked and tasty with the wedges.
We thought that we were full, but somehow, we were able to fit in a dessert.
My companion chose the warm lemon madeleines and cherry compote. These were heaven – I had never had warm madeleines before, and these were so fresh. The smell from them took me back to my childhood and my mum's homebaking – and the texture and flavour were out of this world. They married perfectly with the cherry compote. Hugely recommended – I could imagine having a basket of these with a cup of tea.
I opted for the creme caramel with langue de chat biscuits – and I was not disappointed. The creme caramel was very sweet – just how I like it – and cut wonderfully on my spoon. Not too runny, not too solid – just the way I like them. And the biscuits too – wonderful, like shortbread, but perhaps not quite as sweet.
The service was friendly and very efficient, and no one laughed at our attempts at French pronunciations. We did at least make an effort!
Brasserie Prince is, without a doubt, one of the most rewarding and enjoyable dining experiences I have ever had. The atmosphere is warm and friendly, not just from the staff, and it looks as if you could be somewhere just off the Rive Gauche. I've eaten in restaurants the length and breadth of Britain, and in many fine places abroad, but this is one that will bring me back. And very soon.
Follow Brasserie Prince on Instagram HERE.
Brasserie Prince, 1 Princes St, Edinburgh, EH2 2EQ.
0131 557 5000
https://www.roccofortehotels.com/hotels-and-resorts/the-balmoral-hotel/restaurants-and-bars/brasserie-prince/