A winter warmer with black pudding and seasonal veg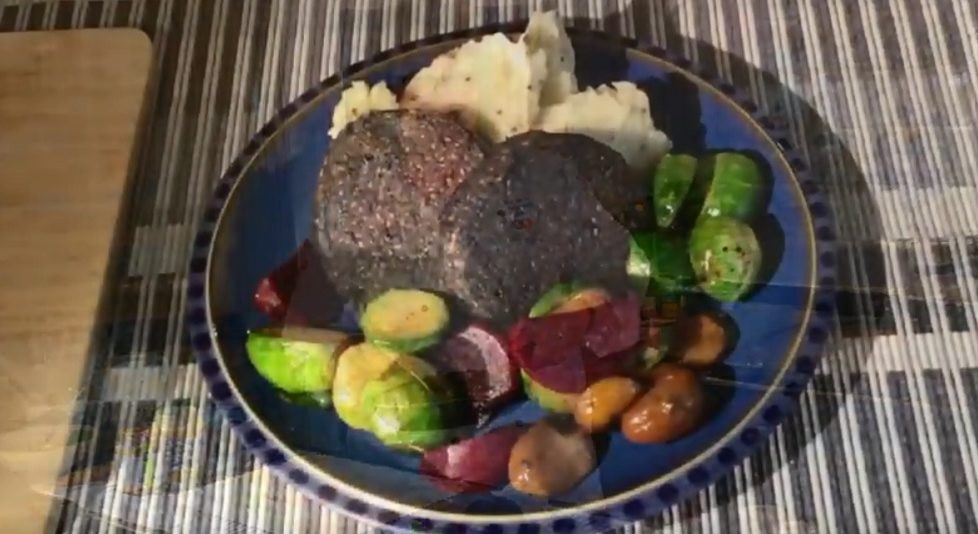 Black pudding with festive medley of roots and mustard mash (Serves 4)
Black pudding from your local butchers – 2 slices per person.
225g Brussels sprouts, blanched to part cook.
225g chestnuts – cooked vac packed ones are ideal
2 cooked beetroot
6 Maris Piper potatoes – or similar to give good mash.
1 generous spoonful of Galloway Lodge mustard
Isle of Skye Sea Salt
Freshly milled black pepper
Peel potatoes and quarter. Put in pan to boil for 15-20mins until sufficiently soft to drain and mash.
Meanwhile drizzle a little rapeseed oil in a frying pan and begin to cook black puddings, remembering to remove any outside casing first.
Prepare vegetables: slice sprouts in half and cut beetroot in small wedges.
Turn pudding to cook on other side and add sprouts, beets and chestnuts to pan. Season and shoogle! Cook for a further 5mins to thoroughly heat through.
Add a dollop of Arran mustard to the mashed potato and blend with a spoon. Salt and pepper to season.
Serve on heated plates.
Recipe © Wendy Barrie
Warming comfort food is exactly what we need to keep us going through these cold, dark winter nights.
We are delighted to present three video recipes from the award-winning Wendy Barrie, in the run up Christmas, and today, we present our third and final one, for black pudding – with festive medley of roots and mustard mash.
Wendy explained: 'Black pudding was a favourite with the drovers over 200 years ago and whilst still a must for the full Scottish breakfast it is now also on trend for informal suppers too. '
2018/9 Winner Thistle Regional Ambassador, Central, Fife & Tayside, Wendy is a highly respected campaigner for local sustainable food, popular cookery show presenter and food writer.
She is the founder and director of the award-winning www.scottishfoodguide.scot and www.scottishcheesetrail.com.
Wendy is leader in Scotland for Slow Food Ark of Taste and Slow Food Chef Alliance Member.