Snow egg offers a dessert with a difference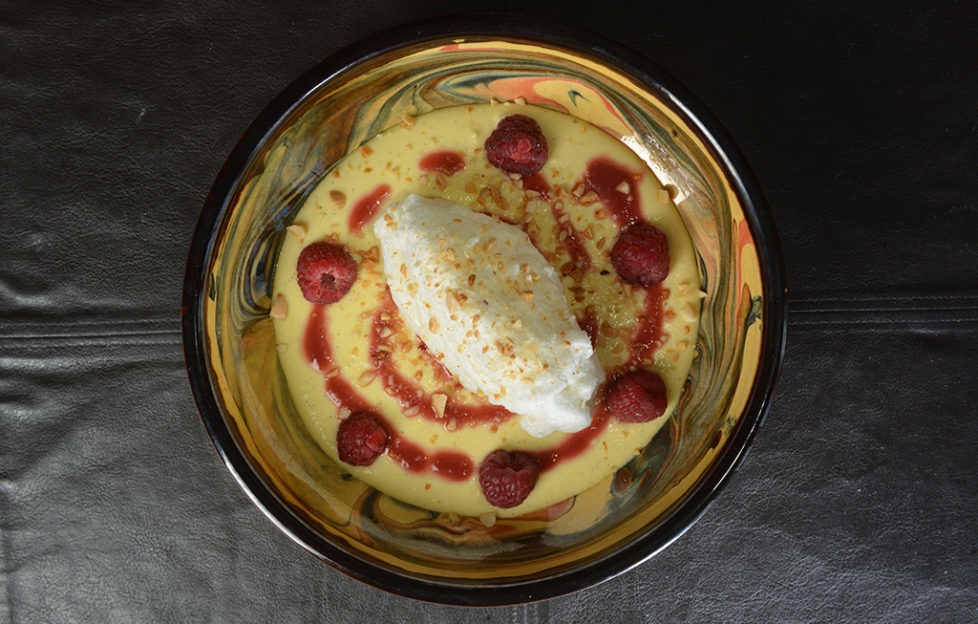 Snow egg (serves 4)
8 egg whites
A pinch of salt
280g sugar
450ml milk
1 vanilla bean, cut in half lengthways
4 egg yolks
28g sliced almonds
50ml Drambuie
Place egg whites in the the mixer and add the salt. Using the whisk attachment, mix the whites slowly to break them up, then increase the speed and beat until they hold soft peaks. Reduce the speed and slowly add 168g of the sugar. Continue beating until the sugar is incorporated and the eggs once again hold soft peaks. Scrape out a vanilla pod, reserving the vanilla beans for the crème anglaise.
For the meringue, place the milk in a large, shallow pan and bring to a boil. Add the scraped out vanilla pod to the milk. Reduce the heat to a simmer. Using two large spoons, scoop 12 quenelles from the egg whites and gently add them to the simmering milk to poach, two minutes per side. Carefully remove the quenelles, place on a plate lined with paper towels, and set aside to drain and cool. Reserve the milk.
For the crème anglaise, drain the milk into a small pot, adding more milk if necessary so that you have exactly 450ml. Add the vanilla bean and bring the milk back to a boil. Turn off the heat and let the vanilla infuse into the milk. Meanwhile, in a medium mixing bowl, whisk together the egg yolks and the remaining 112g of sugar. Bring the vanilla milk back to a boil and, whilst whisking the yolk mixture, add half of the boiling milk.
Once this mixture is combined, add it to the remaining milk, whisking constantly. Switch to a wooden spoon and stir the mixture constantly, using a figure-eight motion and making sure to reach all edges of the pot. Continue to stir over a low heat until the mixture coats the back of the spoon. Remove the sauce from the heat, discard the vanilla pod, and carefully place the pot into an icewater bath, making sure that the water does not leak into the custard. To serve, ladle crème anglaise into the bowl. Place a quenelle of meringue in the centre of the bowl and garnish with roasted almonds, raspberry coulis and fresh raspberries.
This snow egg recipe was created by Andrew Cook, head chef at The Lime Tree in Fort William.
The menu at the Lime Tree changes every three to four months.
Andrew said: 'As a team, we all write down our ideas and then we handpick it from there. There are just four of us in the team, so things get pretty busy.'
Ideas for new dishes can spring from anywhere. 'One day I'll hear a song and it'll remind me of something,' Andrew says, 'and I'll think, "I'll
try that." It triggers something.'
And when it comes to young chefs starting out, Andrew has a bit of advice. 'I'd say to always listen, keep your head down, concentrate and
always ask questions; it's always better to ask.'