A meal to savour with succulent loin of venison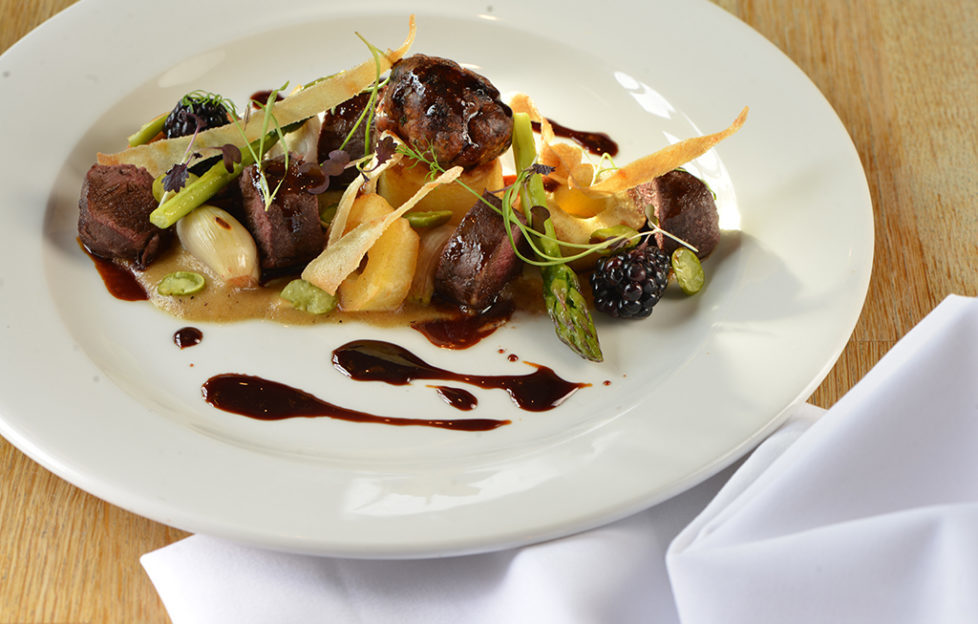 Loin of venison (serves four)
1 loin of venison (200g pp)
Venison (200g pp) 1 garlic clove
1 sprig of thyme
12 parsnips
6 shallots, halved
1 large onion
2 star anise
12 peeled asparagus
50g shelled broad beans
100ml cream
20g butter
5g micro herbs
50ml game jus
8 blackberries, cut in half
For the venison faggots: 100g sausage meat, 30g chopped venison liver, pinch of sage.
To make the parsnip crisps, peel the outer layer of the parsnips, then one more layer, toss the strips in seasoned flour and deep fry. Cut the rest of the parsnips into discs and roast with halved shallots until tender.
For the purée, fry the onion with the star anise until golden, add the cream and butter, season to taste with salt and pepper and then purée. Combine all the venison faggot ingredients except the caul fat, season to taste and then wrap it in the caul fat, roast in oven for 15-20 min. Pan fry the venison loins, season, add garlic clove.
Andrew Cook, head chef at The Lime Tree in Fort William, presents this recipe for loin of venison.
When starting out, Andrew's experience came from big, bustling hotel kitchens, before the chef 's career took a new direction.
He said: 'I didn't really start in restaurants until about ten years ago, when I got into the fine dining side of things.'
The Lime Tree is situated in a 19th-century former church manse that overlooks Loch Linnhe. The menu puts the emphasis on fresh, locally
sourced ingredients.
Andrew said: 'We try wherever possible to use local produce and keep things seasonal. We get our venison from over in Ardnamurchan, and we try to make as much as we can in house, making our own breakfast sausages, black pudding, oatcakes, breads, jams and marmalades.'