A yummy recipe with cockles to whet your taste buds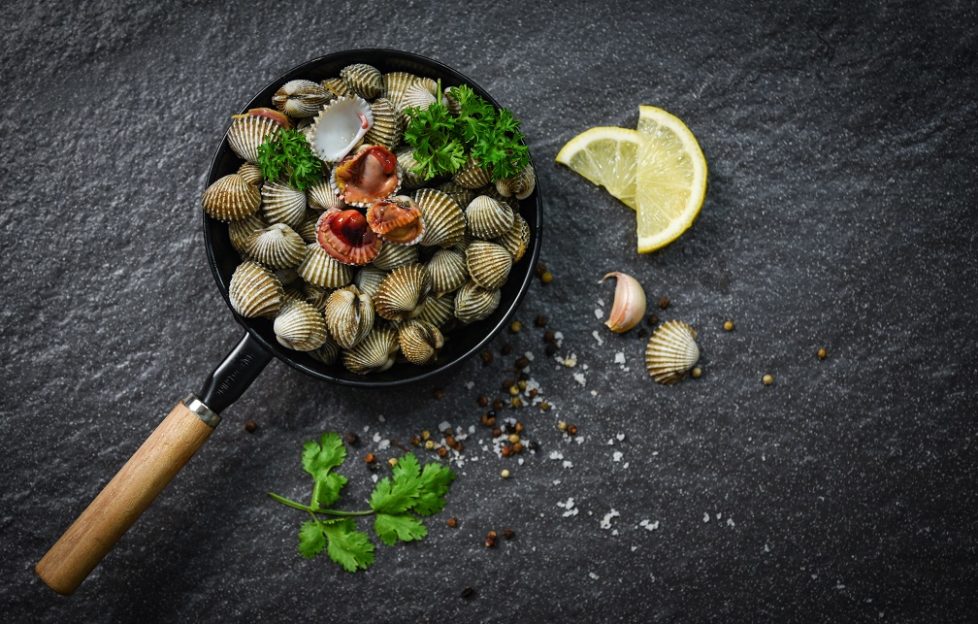 Celeriac, Carrot & Cockles (Serves 4)
2 carrots
1 medium celeriac
50ml rapeseed oil
Pinch sea salt
10g Chickweed
1kg fresh cockles, cleaned
100g butter, cold and diced
15ml Tullibardine The Murray 2007
10ml cider vinegar
For the cockles: Heat a saucepan on high heat until very hot. Quickly add 70ml of water and all the cockles, put a tight-fitting lid on straight away
Allow the cockles to steam for about 2 minutes, shake the pan to move them around while doing so. As soon as you see the shells opening, pour the contents of the pan into a colander and keep the liquid from the cooking separate
Pick the meat from the shells and keep aside. Discard the shells.
For the carrot and celeriac: Peel both the carrot and celeriac, and then using a very sharp knife, cut into 1mm slices and lay flat to cut into 1mm strips
Put these in a bowl and mix with the rapeseed oil and salt
For the sauce: Take the reserves cockle juices, bring to the boil and add the vinegar. Reduce by one fifth. Remove from the heat and whisk in the butter, slowly piece by piece
Once all the butter has emulsified, keep the sauce on a gentle heat to the side
To serve: Place the carrots and celeriac on the plate and arrange the cockles on top
Coat everything in the sauce then garnish with the chickweed
Put the whisky in a small atomiser and spray over the dish. Serve immediately.
Our recipes with craft whisky and food pairings continue today with independent restaurant Fhior and Tullibardine.
The Tulli at The Table partnership showcased the diversity of the single malt whisky and explored non-traditional flavour pairings between the spirit and Edinburgh based restaurant.
The partnership between Fhior and Tullibardine sees chef patron at Fhior, Scott Smith and master distiller Keith Geddes, worked to design an exclusive tasting menu of seven courses boasting the best flavours of Scotland inspired by the history and modern practices of the distillery.
By experimenting with whisky in different forms, the menu was designed to encourage experimentation of whisky in food and communicate its quality, diversity and potential.
From a sharp whisky emulsion in the cask strength paired with poached oysters, fermented mushroom juice and fresh cucumber to stewing seasonal fruit in the romantic flavours of The Murray Marsala in an apple, bramble, honey and oats dessert, the menu was expertly crafted at every point.
Fhior and Tullibardine have released four refreshed recipes that can be made in the comfort of your own home to entertain and impress guests. We share the third of these today.