St Bride's Chicken recipe is a delicious dinner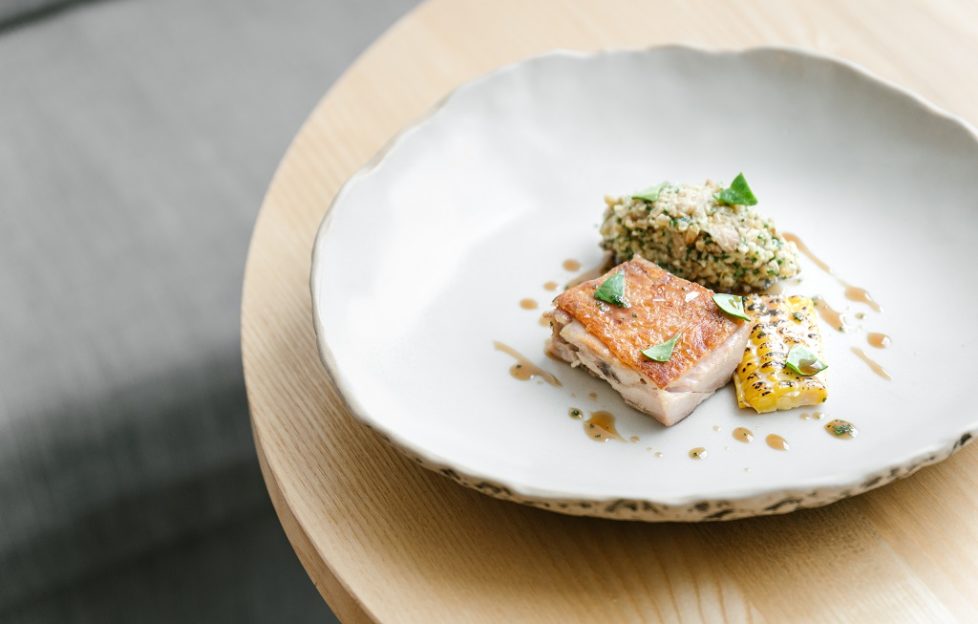 St Bride's Chicken, Skirlie, Toasted Corn & Whisky Butter Sauce (Serves 4)
1 x 2.5kg whole, free range chicken
2L Rapeseed oil
2 sprigs thyme
1 clove garlic
1 corn on the cob
120g pinhead oats
1 small onion, very finely chopped
15g Scurvy grass/ Spoonvort
25ml Tullibardine Sovereign
150g unsalted butter, diced
180g sea salt
To taste: table salt
Preheat the oven at 210⁰C. Prepare the chicken by removing the legs and breasts. Break the carcass down into smaller pieces and place them in a roasting tray into the preheated oven for about 30-40 minutes.
While the bones are roasting, prepare the chicken thighs. Cut through the joint between the drumstick and the thigh. Keep the drumsticks and breast in the fridge to use for another meal.
Add 3L of water to a saucepan and add 180g of sea salt. Bring this to the boil and then remove from the heat and allow it to cool completely. Add the thighs to the cooled brine and leave in the fridge for at least 3 hours or overnight.
Once the bones have roasted until golden brown, remove from the oven and drain the fat (keep this aside). Add the bones to a stock pot and then clean the tray by deglazing with water and scrapping all the caramelised juices from the tray and add this to the pot. Top up with bottled or soft water to just cover the bones and then place on a high heat.
Once the stock has come to a boil, skim of any fat or scum that may come to the surface. Now reduce the heat to a simmer and continue to occasionally skim this for the next 4-5 hours. Strain through a muslin cloth and put aside.
To start the thighs, drain them from the brine and add them to an oven dish that is about 15cm deep. Cover them with the rape seed oil until submerged. Add the thyme and the garlic clove and then place in an oven at 110⁰C for 2 hours. Remove and place the tray aside, keeping warm.
Make the skurlie by heating the chicken fat saved from earlier in a saucepan. Add the onion and sweat with a pinch of salt for 15-20 minutes until very soft.
Add the oats and continue to cook for about 30 minutes until they are toasted and softened. Finish with 100ml of the chicken stock and cook for another 5 minutes. Keep warm.
Reduce the remaining stock to about 200ml.
Cook the corn by bringing a pan of salted water to the boil. Put the cob in the water and cook for 8 minutes. Remove and allow to cool.
Using a sharp knife, remove the corn in whole, attached pieces and square off so you have 4 pieces. Keep these aside.
Warm a heavy based frying pan and heat a little oil. Place the chicken thighs skin side down and continue to cook for 6-8 minutes until the skin has become golden.
Now carefully turn the chicken and add the corn to the same pan. Cook for 3-4 minutes until the corn is warm and lightly charred. Remove both from the pan and keep warm.
In the same pan, add the whisky and chicken stock and reduce by half on a high heat. Remove the pan from the heat and piece by piece, add the butter while whisking to emulsify. Season to taste.
To serve, place a spoon of the skirlie on each plate. Cut each thigh in half and place this on the skirlie. Put the corn next to this and then sauce the plate with the whisky butter. Finish by garnishing with the fresh scurvy grass
Craft whisky and food pairings are the name of the game with independent restaurant Fhior and Tullibardine.
The Tulli at The Table partnership showcased the diversity of the single malt whisky and explored non-traditional flavour pairings between the spirit and Edinburgh based restaurant.
The partnership between Fhior and Tullibardine started with the development of a tasting menu inspired by the Tullibardine Core Range and its latest expression, The Murray 2007.
Chef Patron at Fhior, Scott Smith and Master Distiller Keith Geddes, worked to design an exclusive tasting menu of seven courses boasting the best flavours of Scotland inspired by the history and modern practices of the distillery.
By experimenting with whisky in different forms, the menu was designed to encourage experimentation of whisky in food and communicate its quality, diversity and potential. From a sharp whisky emulsion in the Cask Strength paired with poached oysters, fermented mushroom juice and fresh cucumber to stewing seasonal fruit in the romantic flavours of The Murray Marsala in an apple, bramble, honey and oats dessert, the menu was expertly crafted at every point.
Fhior and Tullibardine have released four refreshed recipes that can be made in the comfort of your own home to entertain and impress guests. We share the second of these today.