A sparkling education at the Fizz Feast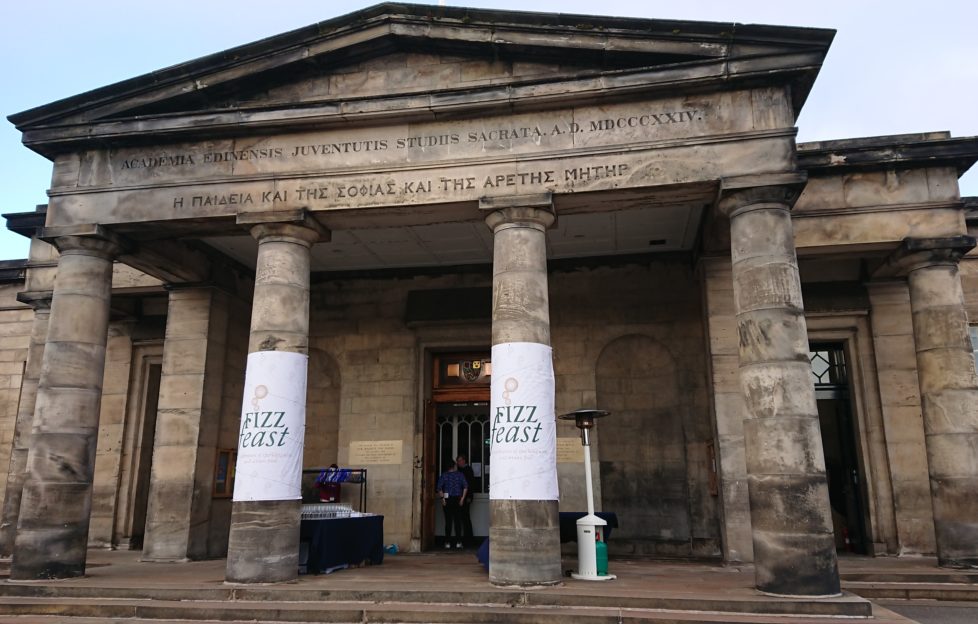 Today's Fizz Feast in Edinburgh not only has delicious Champagnes on show but also sparkling wines from around the world, writes Peter Ranscombe.
EDINBURGH Academy may be renowned for the sparkling success of its former pupils – with notable alumni ranging from writer Robert Louis Stevenson to physicist James Clerk Maxwell – but it was sparklers of a different kind that were on show today when Fizz Feast returned to the educational institution.
Bringing together 11 sparkling wine exhibitors with eight food stalls and four masterclasses, the festival featured styles of fizz stretching from classics such as Champagne, cava and prosecco through to bubbles from Argentina, Australia and even England.
Taking over from The Fizz Festival, which was held in Edinburgh in 2016, Fizz Feast is the brainchild of Diana Thompson at Wine Events Scotland and kicked off last year.
Food venders joining in the fun this year included Damn Fine Cheese, Sardinian Food Specialists and Pacari Chocolate, which took part in Thompson's chocolate and wine-matching event earlier in the year.
Trevor Clough, co-founder of sparkling wine producer Digby Fine English, officially opened Fizz Feast with a spot of sabrage, slicing the cork from the top of a bottle of his 2010 vintage wine using a sword from the First World War.
Taking a tour of the hall, there were dozens of delicious bottles on show, but the following vino highlights are well-worth seeking out:
Brave new world
Motzenbacker Blanc de Blanc (£25)
Available from German drinks specialist The Original Bier Company in Edinburgh, this traditional-method sparkling chardonnay was packed full of buttered toast aromas leading into flavours of lemon curd and peach to balance its fresh acidity. I'm told Motzenbacker's wines are served in first class on board airline Lufthansa.
Gysler Riesling Brut (£19)
Sticking with Germany and this is exactly what Oddbins does best – unusual yet well-made bottles that are accessible but also have something to offer wine geeks. Lemon sherbet and pear aromas, with lime marmalade and lemon curd on the palate. Well balanced.
Jansz Premium Cuvee (£18)
I'm a huge fan of Tasmania's flagship fizz and it was on sparkling form today, with apricot and green apple flavours and a touch of butter rolling towards a savoury finish. Classy stuff, on show with Wine Importers' historic Cockburns of Leith brand.
Zuccardi Vida Organica Sparkling Chardonnay (£15.99)
One of my favourites – great value, with baked apple, grilled peach and yeasty aromas, plus tonnes of apricot and lemon rind flavours, wrapped in buttery and toasty notes. Organic and vegan-friendly to boot.
The classics revisited
Vilarnau Brut Reserva (£9)
Organic is also the name of the game at Spain's Vilarnau, whose pink cava was on stonking form today. On the nose, there were strawberry, raspberry and fresh red cherry aromas, with the red fruit joined by a savoury note on the palate and plenty of crisp yet well-integrated acidity.
Taittinger Brut 2012 (£58.75)
Any festival celebrating fizzy wines wouldn't be complete without illustrious Champagne house Taittinger. Its 2012 vintage wine was too good to spit – toasted almonds and brown bread that's been left under the grill too long, but with fresher strawberry and lemon curd notes still peeking through.
Cattier Premier Cru Rosé (£27)
A different style of Champagne came in the form of the Cattier pink fizz, which opened with stalkier, more savoury notes, before morphing into fruiter raspberry and strawberry flavours, balancing its fresh acidity.
Lidl Organic Prosecco (£7.99)
Fizz Feast wouldn't be complete without some excellent examples of prosecco. You can tell straight away that this is organic thanks to the clearly-defined green apple and pear notes on the nose, with tart not confected apple notes on the palate.
Zonin 1821 Brut (£14)
Equally as bright and refreshing was the 1821 cuvee from Zonin, which runs The Wine House Hotel in Edinburgh. A whole range of apples were on show on the nose and the palate, from crisp granny smith to juicier golden delicious.
South of the Border
Ambriel Classic Cuvee (£28.95)
Too many English sparkling wines are released before their acidity has been given time to be tamed, but Ambriel from West Sussex ages its classic cuvee or blend for five years on its lees – the dead yeast left over from the second fermentation that creates the bubbles – and then a further year in bottle before being released. Lots of raspberry and peach flavours and then a yeasty finish, but still plenty of freshness even after its extensive ageing.
Greyfriars Vineyard Sparkling Blanc de Blanc Unoaked 2013 (£21)
Aaron from Greyfriars describes 2013 as a great year for chardonnay and it shows in this example, with tonnes of lemon, lemon juice and apricot flavours, plus a buttery note on the rounded mouthfeel. Half the 2013 chardonnay was aged in oak, while this comes from the half aged in stainless steel.
Digby Vintage Reserve 2010 (£37)
The third in the trio of English sparkling wine producers was Digby, with its splendid 2010 vintage. Aromas of apricot and toasted white bread, with lemon rind joining the apricot on the palate, alongside balanced and well-integrated refined acidity. Elegant stuff.