South Africa's old vines: in the ground and in the glass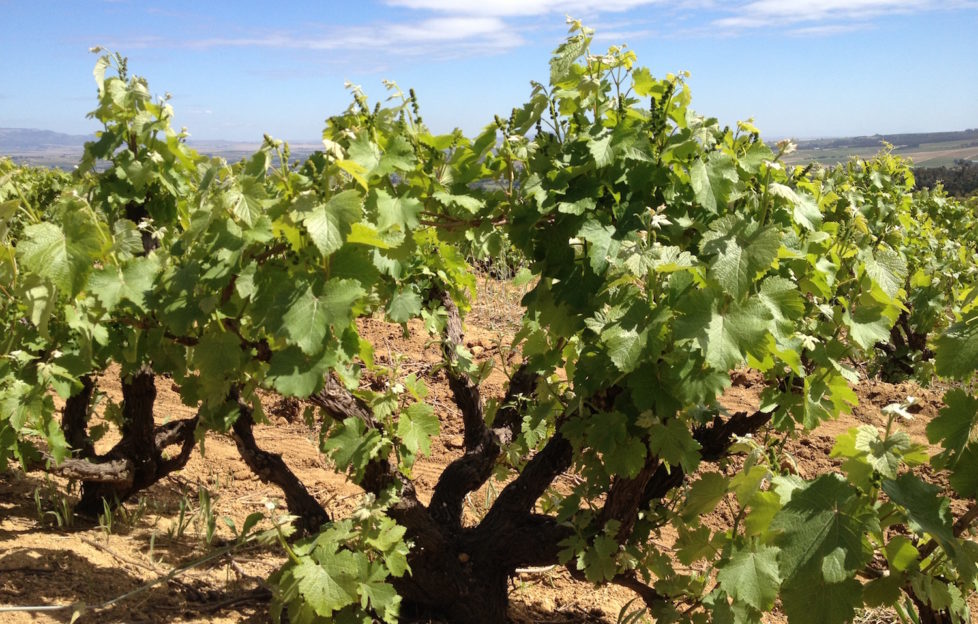 Protecting old vines in South Africa not only reaps benefits during water shortages but also pays dividends for drinkers, as Peter Ranscombe reports.
AS SOON as you land at Cape Town airport, it's impossible not to be struck by how much the recent water shortages have hit the city, with posters inside the terminal warning visitors not to waste water.
Check into a hotel and more notices proclaim the need to conserve resources, with the bath plugs removed from the en-suites to encourage guests to take "short" showers instead.
Walk across the street to the international conference centre and the taps in the bathrooms have been turned off, with antibacterial liquid soaps on offer instead.
Although taxi drivers will tell you that the severity of the situation has been exaggerated in the media – and that rural areas haven't been as badly hit as the city – there were still looks of relief on the faces of many vineyard managers and winemakers during the Cape Wine trade fair, which followed a week of rain that had helped to begin refilling reservoirs.
Yet, as climate change takes a tighter hold, water shortages could well become a more pressing problem, not just in South Africa but in wine regions throughout the world.
One of the ways in which the South African wine industry is tackling the issue is by focusing on older vines, which have deeper root systems that can access water reserves further below ground.
The Old Vines Project, led by Rosa Kruger, has been cataloguing vineyards that are at least 35 years old.
The scheme not only aims to protect existing older vineyards but, as project manager Andre Morgenthal puts it, also aims to encourage "planting to grow old", with farmers educated about the benefits of keeping vines in the ground when they reach the end of their commercial lifespan after 20 years, when output drops off.
A new "Certified Heritage Vineyards" logo on the label of bottles guarantees that the wine was made using grapes from vines that are more than 35 years old, the first certification of its kind in the world.
Putting down roots
"Old vines are very special to us all, especially as viticulturists," said Marco Ventrella, head viticulturist at KWV, the former state winemaking monopoly, during an old vines seminar at Cape Wine.
He explained that vines are allowed to become old because they had either made good wine and been profitable during their youth and so were kept in the ground instead of being uprooted, or they have been neglected and left to their own devices.
Ventrella outlined how older vines differ from younger vines, highlighting their self-defence mechanisms, such as shorter shoots, smaller leaves and lower yields.
He drew a comparison between older vines and older people, both of which tend to become more conservative and tend to have more gravitas or weight, thinking a little bit before they act.
In contrast, younger people are full of vibrance and exuberance, like wines made from grapes grown on younger vines that have more aromatic smells leaping out of the glass.
As vines get older, they store more carbohydrate reserves in the permanent parts of their structure – the arms, trunk and roots – giving them more resources to draw upon during droughts.
They also adjust to the weather conditions of each year, often reaching "phenolic ripeness" – when the flavour compounds are fully developed – earlier than younger vines.
"But we have to understand that they have their own agenda – they don't care about our wine style, their agenda is reproduction," Ventrella said.
"They're about making sure there's enough sugar there for something to eat the seed and spread – if the phenols aren't ripe and it's really tannic and really tart then it isn't pleasant to eat."
Tasting the difference
"In terms of the wine, what do they bring to the glass besides romance?" said Ventrella.
"Romance is important and we should embrace the romance and the joy and the sense of place.
"But they also bring gravitas – they're not aromatic bombs, those are the kids, the youngsters.
"For me, what differentiates old vines is texture, creaminess, structure, palate-weight, complexity – these are the things that the old vines bring.
"You can find those things in some young vineyards, absolutely, but you'll find them almost always in the old vines.
"They also lend themselves more to experimental winemaking, like skin fermentation on whites and using different fermentation vessels.
"Old vines do bring things to the wine, but it's not because all old vines are good – they became old because they were good to start off with."
It's the economy, stupid
Ventrella questioned how the industry could retain vines that were older than 20 years after their output began to fall.
He suggested that using the grapes to make fine wine – which commands a higher price – was one solution.
His comments were echoed by Stephan Joubert, group winemaker at producer DBG, owner of brands including Bellingham, Boschendal and Franschhoek Cellars.
Joubert explored the economics surrounding agriculture in South Africa and warned that 85% of vines over 20 years old had been uprooted between 2002 and 2017, with farmers turning to more profitable crops such as apples.
He set the issue of old vines in the broader context of South African wine as a whole, highlighting how the country needed to re-price its wines so it was no longer perceived as a producer of cheap bottles.
Joubert said perceptions were already changing, praising the use of old vines by younger winemakers.
Kruger also highlighted how some of the farmers whose old vines she had catalogued also grew other crops, such as Rooibos or "red bush" tea.
Five of the best old vine wines
Reyneke Estate Natural Chenin Blanc, 2016 (£59.99, Handford Wines)
I tried a lot of chenin blanc during my trip to South Africa and Reyneke's was one of my absolute favourites. The concentration of the apple puree and lemon curd flavours is sensational, while the aromas of green apple sweets and lemon sherbet is enticing. Pricey, but worth it.
Sadie Family Old Vine Series Skurfberg Chenin Blanc, 2017 (£36 for the 2016, Vin Cognito)
Rosa Kruger pointed out that the grapes used by Eben Sadie to make this wine come from the very first old vines vineyard that she placed on her list. What struck me most about this white was the drier, flintier nose, with apricot and lemon rind, along with the delicious texture, like the skin of a peach.
Thorne & Daughters Rocking Horse Cape White, 2017 (£22.50 for the 2016, Woodwinters)
The fresh acidity in the Rocking Horse was nicely balanced by its apricot and lemon flavours. It's made from an interesting blend of semillon, chardonnay, roussanne, clairette blanche, chenin blanc and viura, a mix that changes with each vintage.
Mullineux Kloof Street Chenin Blanc, 2017 (£15.50 for the 2016, Woodwinters)
Peach, lemon and sweeter lemon sherbet on the nose, leading into gala apple, pear and more lemon on the palate. Californian winemaker Andrea Mullineux and her South African husband, Chris, are among the best-known producers of old vine wines in the Swartland region, and their range of wines made on granite and schist soils is well-worth exploring too.
Vriesenhof Grenache, 2016 (£19.65 for the 2014, L'Art du Vin)
Made by former Springboks rugby player Jan Boland Coetzee, this grenache is full of sweet red cherry and vanilla flavours and aromas, with light wood smoke and a hint of mint on the nose, plus raspberry jam and spun sugar on the palate. There's enough tannin to handle food, but it's all soft and well-integrated.