New Zealand leads with lower-alcohol wines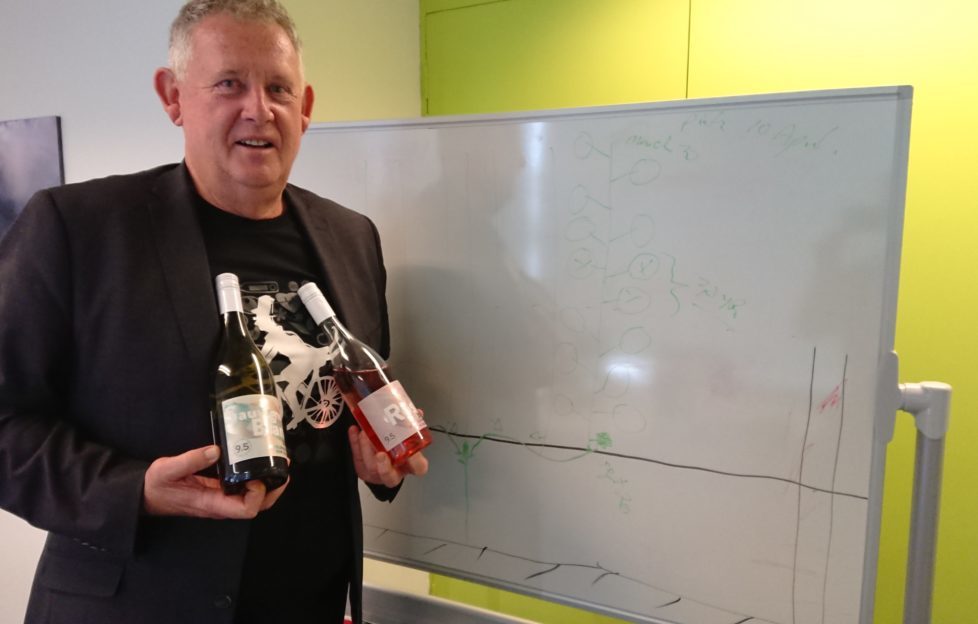 Peter Ranscombe meets John Forrest, a pioneer of lower-alcohol wines, to taste his new bottles for Marks & Spencer.
IT MIGHT be 30 years since John Forrest left his career as a medical researcher to become a winemaker, but his enthusiasm for science clearly hasn't faded.
Standing in front of a whiteboard inside New Zealand House in London, the tall Kiwi's passion for his subject is obvious as he annotates his sketch of a vine growing on a series of wires and poles.
Forrest's diagram illustrates the method he developed for making white wine that has all the classic Marlborough sauvignon blanc flavours, but with less alcohol.
His technique involves removing some of the vines' leaves at key stages during the growing season.
This leads to less sugar – which will be turned into alcohol when the grape juice is fermented to make wine – but doesn't interfere with the build-up of the other key components in the grapes that give the wine its flavour and acidity.
It feels mean to summarise four years of hard work and research in just a few short lines, but that's testament to Forrest's ability to explain the science in clear and concise terms – he's obviously not lost his touch.
While other methods of producing lower-alcohol wines – like spinning the wine around in a cone at high speed in a laboratory – can result in thin or insipid liquids, Forrest's wines are indistinguishable from "normal" Marlborough sauvignon blanc in terms of taste and mouthfeel… at least to me.
The appliance of science
Forrest pioneered lower-alcohol wines with The Doctors' Sauvignon Blanc, which he introduced to the UK four years ago, and last week launched two own-label wines for Marks & Spencer, which tip the scales at 9.5% alcohol-by-volume (ABV) instead of the standard 13.5%.
"I took The Doctors' into pubs and the men who owned the pubs didn't understand why they would need a lower-alcohol version if they already had my Forrest Wines sauvignon blanc on their menu because they were worried it would cannibalise sales," he explains.
"But the women doing the work behind the bar got it immediately because they said it meant that people would feel they could have a glass at lunchtime or have a second glass if it was lighter.
"Then the owners understood that they could list it separately on their blackboards as a whole new category of wine."
Forrest is also a leading figure in the "New Zealand Lighter Wines" project, a NZ$17 million (£8.7m) government-backed initiative to establish that new category.
It's a collaborative effort, bringing together 18 wine companies, and builds on the nation's success in introducing the screw cap to the world.
While it may be a new category, Forrest believes the success of the new M&S wines will be down to them being placed on sale next to "normal" Marlborough sauvignon blanc or "international" rosé and not set aside on a separate "low-alcohol" shelf.
Wider implications
As well as selling more New Zealand sauvignon blanc, Forrest's research could bring benefits to other wine-producing countries too.
As climate change takes hold, areas in Australia, California and South Africa are getting hotter, with the grapes producing more sugar in the sunshine, which in turn leads to higher levels of alcohol in the wine.
Forrest thinks that winemakers in California could choose to make a proportion of their wine – say, 20% – using his technique and then blend it back into the remainder, retaining freshness and lowering the alcohol level without compromising on the style of the finished drink.
I can see his method appealing to many winemakers who want a natural solution to the problem that they can apply in their vineyards, instead of messing about with laboratory techniques to adjust the final wine.
The taste test
Ultimately, it all comes down to the quality of the liquid in the bottle, so what do The Doctors' and the new M&S incarnation actually taste like?
The 2017 Marlborough Sauvignon Blanc (£10.99, Marks & Spencer) brought the familiarly-intense gooseberry and asparagus notes on the nose, with more tropical passionfruit and guava joining in the party too.
There was the trademark tingle of acidity that was nicely balanced by the typical Marlborough tropical fruits, with a touch of riesling in the blend helping to maintain the acidity and citrus notes.
A blend of 70% pinot noir and 30% arneis is used to create the 2017 Marlborough Rosé (£10.99, Marks & Spencer), which had aromas of strawberry and raspberry, leading onto lemon and further soft red fruits on the palate.
It had a rounded mouthfeel, yet still retained a healthy kick of acidity – Forrest said he takes rosé with him when fishing because he finds it as refreshing as lager.
Just what The Doctor ordered
It's interesting to draw a comparison between the new wines for M&S and The Doctors', Forrest's existing low-alcohol wine brand.
For me, the guava and passionfruit were more pronounced in the 2017 The Doctors' Sauvignon Blanc (£8.99, Waitrose), which retained the same great balance between the fruit and the acidity, with perhaps a twist of lime joining the lemon on the palate.
The 2017 The Doctors' Rosé (£13.95, Gerrard Seel for the 2016) is also a blend of pinot noir and arneis and has very similar red fruit flavours, with a floral touch on the nose and perhaps a slightly rounder and slightly off-dry finish.