It's only natural: first look at Vin Cru, Glasgow's new wine bar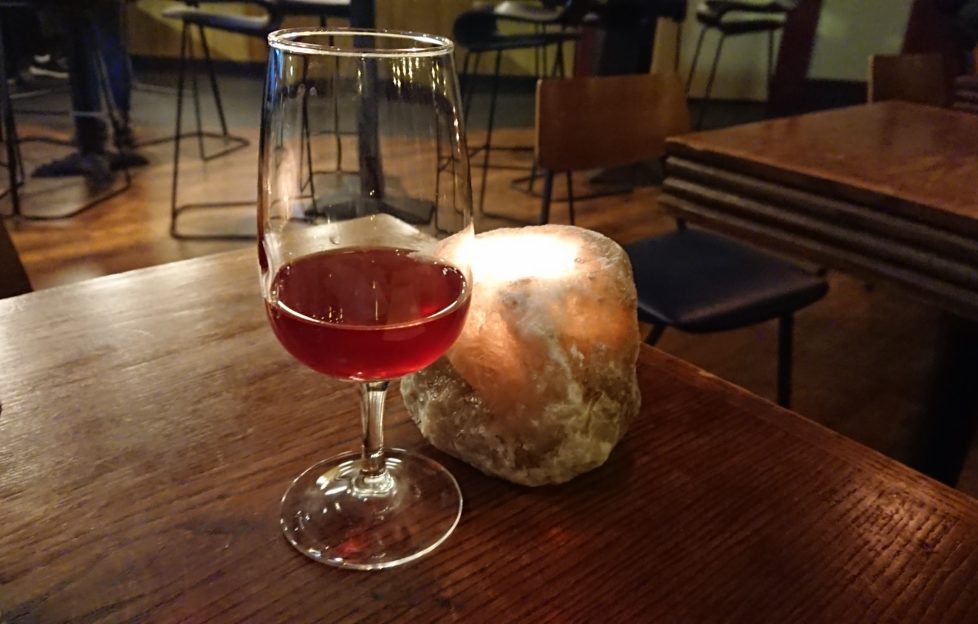 Peter Ranscombe gets excited about the list at the first natural wine bar in Glasgow – and about its tacos too.
GLASGOW'S food scene has developed dramatically since I lived in the city in the mid-noughties, when I was training to become a journalist.
Just take a walk through the Finnieston district between the city centre and the west end and restaurant names like The Gannet, Ox & Finch and The Finnieston itself will leap out.
Some of the most-exciting food in Scotland is being served in our biggest city… but is its wine scene going to catch up?
The opening of Vin Cru – Glasgow's latest wine bar, on the other side of the centre in the Merchant City – gives me hope.
It's hard to overstate the strength of its list – working with suppliers like Dynamic Vines, Les Caves de Pyrene and Woodwinters has paid clear dividends, with producers including Gut Oggau, Judith Beck and Elgin Ridge jumping out at me from the "wines by the bottle" pages.
Yet it's the "wines by the glass" section that got me really excited – this is an excellent place in which to learn more about organic, biodynamic and natural wines.
All three are categories fascinate me for different reasons, as I've written about before in The Grape & The Grain blog.
In a nutshell, organic wines are certified as not using systemic chemicals, biodynamic wines are produced following the lunar cycle and using certain preparations in the vineyard, and "natural" wines are a bit more ephemeral, but in general have fewer interventions in their production processes, using less sulphur dioxide as a preservative and are made with natural not cultured yeasts.
For a deeper dive into the subject, check out this excellent online video by my friend and colleague, Amelia Singer, who lifts the lid on what's happening in LA.
The taste test
You don't need to do your homework beforehand though – Izzy and Maggie at Vin Cru will guide you through the flavours you can expect from each wine on the menu.
Sipping on a glass of fizz is the ideal way to peruse the wine list and the Case Paolin Col Fondo (£7 a glass, £41 a bottle) hit the spot; don't call it "prosecco" whatever you do, but it does come from the same place in Italy and is the way in which the area's sparkling wines were made before the tank method was adopted for prosecco.
It's got intense red apple, pear and floral notes on the nose and then much fresher green granny smith apples on the palate, ending with lemon juice.
No natural wine bar would be complete without an "orange" wine – a white in which the grape juice has been left in contact with its skins for a short time to take on colour – and the 2014 Casale Trebbiano (£6.70, £40) from Chianti is a classic example of how a run-of-the-mill white grape can be given a new lease of life, with funky peach, lemon rind and nail varnish aromas developing into concentrated lemon juice and apricot on the palate, with a salty sharpness suited ideally to seafood.
My favourite among the whites was the Domaine de Fontainebleau Ma Cuvee (£6.60, £39) from Provence in the South of France, which leapt from the glass with its ripe pear, tinned peach and caramel notes.
Great acidity and fresher fruit characterised the palate, with green apple, pear, lemon rind and a salty tang, a rarity when vermentino or rolle is grown away from Sardinia.
For a classic natural wine experience, try the 2017 Sibiliano Grillo (£4.10, £24), with its distinctive, funky nose full of lemon drops, pear and nail varnish, leading into sharper and fresher lemon rind, apricot and savoury tastes, making this Sicilian white a bottle well-suited to food.
Other impressive whites on the list included the 2018 Gut Oggau Theodora (£11, £65), an Austrian gruner veltliner with an orange hue and slightly cloudy appearance, and aromas of lemonade, apricot and salted almonds.
Like traditional GruVs, it's packed full of fresh acidity, but focused more on the lemon flavours instead of green apple, and – in true natural wine fashion – had a strong tangy or sour element to it – it would be great to see it alongside fish or seafood dishes.
Turning the Dear Green Place red
Theodora's pink sibling, the Gut Oggau Winifred Rosé served from a magnum, was one of the highlights of my visit, with its red apple, fresher raspberry and sweeter raspberry jam nose.
This is proper, grown-up rosé, with tonnes of texture, but still plenty of freshness to stop it from becoming cloying.
To complete the set, the 2015 Gut Oggau Atanasius (£10.50, £62) – a blend of Austrian red favourites blaufrankisch and zweigelt – had all the classic natural wine aromas of a wet furry dog lying by the hearth, yet dances on the palate with fresh blackcurrant and sweeter raspberry and blackcurrant jams, plus a much rounder mouthfeel than its white sister.
What's perhaps most interest about natural wine is how fewer interventions in the production process can produce a drink that's light-years away from mainstream examples – like the 2015 Matthieu Dumarcher ZinZin (£8.10, £48), a blend of 70% syrah and 30% grenache that's about as far removed from conventional Cotes du Rhone as it's possible to get thanks to its bright, attractive blueberry, blackcurrant jam and vanilla aromas and its intense and juicy black fruit flavours.
Similarly, the 2014 Domaine Cosse Maisonneuve Le Combal Cahors (£7.60, £45) was to supermarket malbec what Bonne Maman preserves are to those tiny packets of jam you get in cheaper hotels; plenty of chewy dark fruit flavours and an intensity and inkiness of flavour to match its grippy tannins.
Two Italian reds also stood out in the shape of the 2018 Montesecondo Sangiovese (£8.80, £52) from Tuscany and the 2017 Luigi Zucci Pruno Rosso Rugra Merlot (£6, £35) from Piedmont.
The merlot was excellent value, delivering attractive, defined and distinctive blackcurrant and raspberry aromas, with a sprinkling of brown sugar, which morphed into sweeter raspberry jam, blackcurrant jam and spun sugar flavours on the palate; plus, it had chewy tannins for texture, demonstrating that merlot doesn't have to be dull and boring.
The sangiovese had all those classically attractive red cherry, raspberry jam and sweet vanilla notes on the nose, followed by fresher fruit on the palate in the form of red cherry, raspberry and darker blackcurrant jam.
Taco to the limit one more time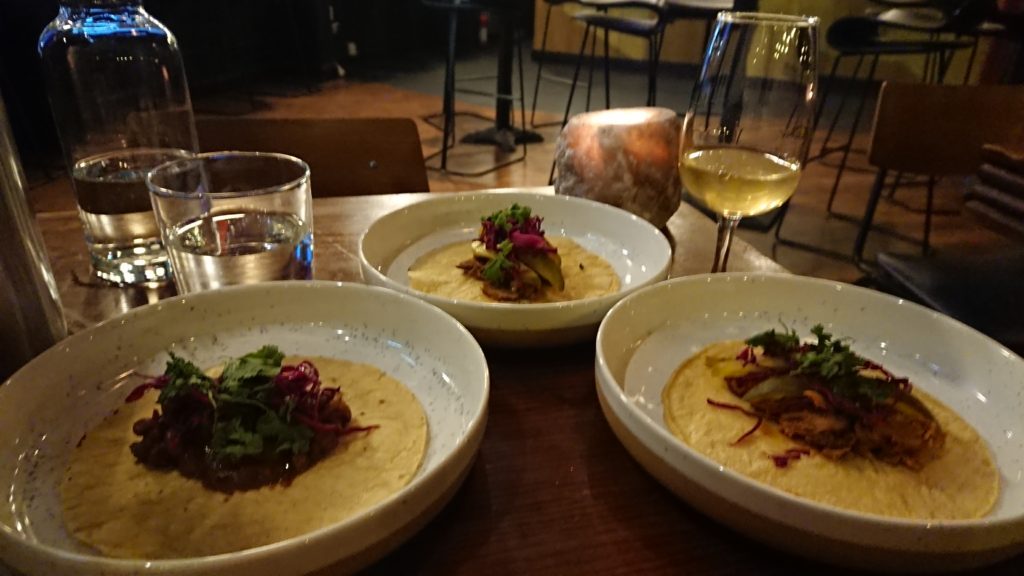 While most wine bars will serve platters of cheese and charcuterie, Vin Cru has thankfully broken the mold and instead offers a selection of tacos.
Owners Colin Campbell and John Baillie Jr – the guys behind The Hug & Pint and Dennistoun Bar-B-Que – offer flavours from both their menus.
Highlights for me included the rich, sweet and smoky bacon and molasses beans taco, and the distinctive smokiness of the sauced hand-pulled pork and the sauced brisket tacos.
The pork and brisket were each smoked with Texan oak – while there may be questions over the sustainability of flying wood around the world during a climate emergency, there's no arguing with the taste it delivers, which was truly scrumptious.
As Elvis crooned Treat Me Nice over the stereo and darkness descended on the Merchant City, I quickly decided Vin Cru could easily become my second home in Glasgow – especially with a glass of the sangiovese offering a warm hug on a cold winter's night.
Read more of Peter Ranscombe's blog entries on The Grape & The Grain at https://www.scottishfield.co.uk/grapegrain/