Pairing food and wine at Creation in South Africa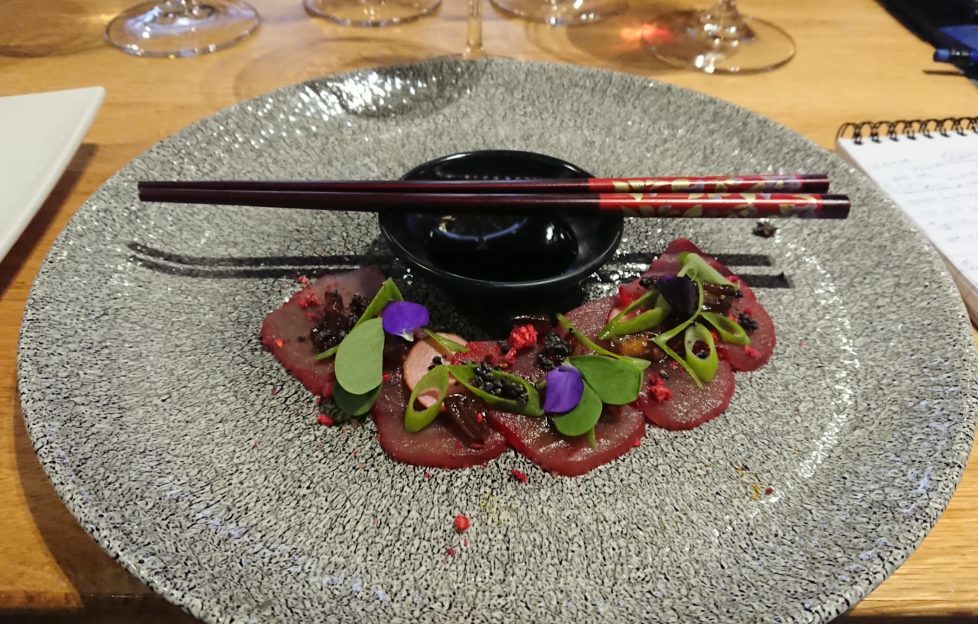 Peter Ranscombe visits one of the regions on his wine bucket list, Hemel-en-Aarde in South Africa, and enjoys dining with JC and Carolyn Martin at Creation Wines.
"WE DON'T run a restaurant," maintains Carolyn Martin as we sit down to dinner at Creation winery on Hemel-en-Aarde Ridge in South Africa.
As I glance around the rest of the room – taking in its tables neatly laid out with glasses and cutlery – a puzzled look crosses my face.
It looks like a restaurant, it feels like a restaurant and later, when the food is served, the dishes are clearly of a restaurant standard.
Yet Carolyn is firm in her assertion that they don't have a restaurant at Creation – they have a tasting room instead.
The difference is the emphasis that's put on food and wine pairing, with Carolyn and her team of chefs creating dishes to match the wines made by her husband, Swiss-born JC.
The dishes change through the seasons, with the menu for our early-spring meal opening with tuna sashimi.
The Creation Sauvignon Blanc Semillon (£102 for six bottles, creationwines.co.uk) is a smart pairing for the raw tuna and, although it has the rounder mouthfeel of a Bordeaux Blanc thanks to its blend of grapes, its flavours are perhaps more akin to a Sancerre, with asparagus and green bean.
What caught me off guard was how well the 2015 Creation Reserve Pinot Noir (£177.80 for six, Fine Wine Company) also went with the tuna, with its acidity still fresh enough to take on the fish.
Both the reserve pinot noir and the 2017 Emma's Pinot Noir – a special edition of just 800 bottles – were a classic match for the "mushroom garden", a dish of mixed fungi, with Emma's concentrated red cherry and raspberry flavours coming to the fore.
Emma's pinot noir is the second wine to be named after the couple's daughter, whose first wine was produced back in 2012 when she was just ten years old.
Switching back to whites, two vintages of the Creation Art of Chardonnay (£55, creationwines.co.uk) were served with trout accompanied by miso, sorrel and citrus.
The pairing brought out more of the pineapple, peach and lemon flavours in the 2017 – which showed a great balance between its fresh acidity and lighter butter notes – and emphasised the butteriness of the 2016, which for me had heavier oak characteristics.
Game for anything
A flight of three Creation Art of Pinot Noir (£55, creation.co.uk) accompanied springbok, served with oyster mushroom, braised leek and cherry jus, highlighting the subtle differences between each vintage and the way in which they have begun to age.
The 2017 was my favourite, with floral aromas joining the raspberry and red cherry, while the 2016 was more savoury and had firmer tannins, and the 2015 had softer tannins but still plenty of fresh acidity, focusing around redcurrant and cranberry.
All three worked well with the soft meat, and I can imagine them pairing beautifully with roe deer.
For the fuller flavour of venison from red deer then a switch to some of the Rhone varieties would be my preferred option.
During a hiatus in our meal, we sampled some of the Rhone-style wines made at Creation; although JC is best known for his Burgundian-style wines produced from chardonnay and pinot noir, it's his work with syrah and grenache that's really getting me excited just now.
The 2016 Creation Sumac Grenache (£174 for six, creationwines.co.uk) offered aromas of wood smoke, blackcurrant and granite on the nose, leading into red berry flavours of ripe red cherry and raspberry jam on the palate, all wrapped in crisp acidity and enough tannin to tackle meat.
Bluer fruit was the order of the day for the 2017 Creation Reserve Syrah, with blueberry yoghurt mingling with black cherry and roast meat on the nose.
The tannins were firm and, as is quite natural in such a young wine, need longer to integrate with the blackcurrant and blackberry fruit flavours – it'll be fascinating to see where this wine is in five years' time.
Blending 25% grenache into the syrah in the 2017 Creation Syrah Grenache (£121.20 for six bottles of the 2016, Fine Wine Company) created a wine that's already noticeably softer, with violets joining the blueberry yoghurt and woodsmoke on the nose and an injection of acidity to sit alongside the tannin.
I remember the 2015 vintage also pairing beautifully last year with steak at Champany Inn near Linlithgow.
An activated charcoal crumble with mango and meringue rounded off the meal and was matched to a pair of whites, the 2017 Creation Reserve Chardonnay (£156 for six bottles of the 2016, creationwines.co.uk) and the 2018 Creation Viognier, which was bottled just two weeks before our dinner.
The chardonnay had a delicious roundness to it, balancing its crisp acidity, while the new vintage of the viognier continued to impress me, with peach and lemon sherbet flavours and aromas accompanied by plenty of acidity, creating a tingling bone-dry finish.