From dream to brewing reality in just three months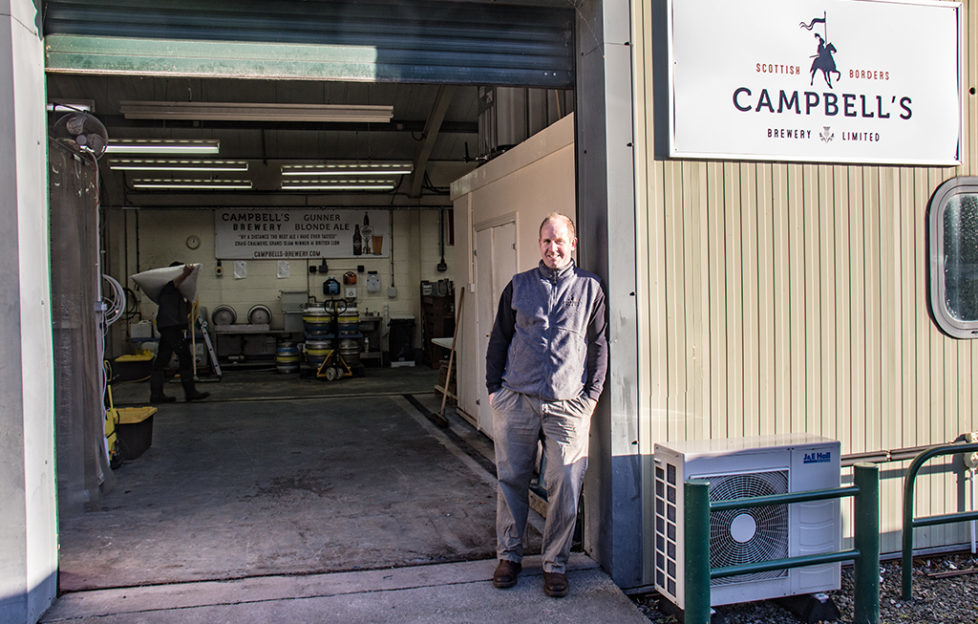 In December 2016, Murray Campbell had a dream. He wanted to open a brewery. Three months later, it happened.
Campbells Brewery was established in early 2017 in Peebles by Murray. It was a complete change of direction for Murray who, up until that point, had been involved in a tent business.
However, with a dedicated team of experts in their craft, he is now producing four different ales, which have the approval of former Scotland rugby stars Craig Chalmers and Gary Armstrong.
A key part of the business has been making the beers with Scottish produce, with all of the barley malt and wheat for one beer being grown local in East Lothian.
Murray said: 'The brewery was built out of boredom! I had been doing the same thing for 14 years. I'm the co-owner of Greenfield Marquees with two others, Miles Craig and Murdo Anderson. I'm still involved with the tents, but most of my time is on the beer now.
'I always loved my beer. I've had an interest in breweries for a long time, so thought I would give it a crack.
'I thought about it at Christmas 2016, and by the New Year, decided I was going to go for it. I applied for all the relevant licences, which came through, and by 13 March 2017 we were producing beer.
'I live about two miles outside Peebles, and myself and two others have also got an interest in a business that buys industrial units. We bought a unit, which we now rent to the brewery.
'There was previously a brewer in Peebles that had stopped trading, so we bought all the kit for brewing from them, which made life a lot easier for us.'
Murray ensured that Campbells Brewery recruited carefully, to ensure that they were bringing in an individual who knew their craft, to create their fine ales.
He continued: 'I'm not the brewer myself. We brought in a brewer from the Black Isle Brewery, Isaac Knowles-Gruft, who has been absolutely brilliant.
'He has developed new beers for us, which has been an exciting part of the whole project, starting with a blank canvas and now we have four beers, all of which are selling well.
'What makes a good beer is really subjective. Modern brews in the 21st century can be quite outrageous, with which hops go in. I like to keep things relatively simple.
'We get all our barley malt from East Lothian, but our hops come from all over the place, Britain, Germany, Slovenia and the USA. I think we do our brewing really well – we don't try to reinvent the wheel.
'All our beers have been cask ales so far, so now we're starting to do kegged as well. We've got four beers, Gunner, Flintlock, Destrier and White Tail Pale Ale.
'The feedback so far from the customers has been good. That's what we wanted to hear!
'The original recipe for Gunner we got from the guy who had been running that brewery. Everyone I spoke to commented that it tasted good, so we took that and tweaked it, to become Gunner.
'I've gone to lots of pubs to ask what they thought of the beer, and they were complimentary about it. We've stuck to the basics.'
Murray was given a huge boost today (Thursday), after it was revealed that Campbell's Gunner is a finalist in the Scottish Beer Awards (pale ale category).
At present, Murray is personally delivering supplies to pubs and hotels, using his background in logistics to ensure his clients receive their beer when they expect.
Murray explained: 'The main geographical areas we supply have been in the Borders, East Lothian and Edinburgh, but our beer has gone to lots of other places. We have a distribution deal with Allsons, who are based in Glenrothes, and they are taking our beers outwith the current areas for us.
'Typically, we're selling over 3000 pints a week, which is pretty good for how long we've been going. We'd like to kick it on a bit more now.'
'We're now making a kegged beer. The difference between a keg and a cask is, it will last for three or four days in a cask, but once you open it, it starts to turn. When you open a wine, even if you close the bottle again, it starts to turn to vinegar. With a kegged beer, you've got about a month to drink it once it has been opened.'
Alcohol consumption in Scotland has changed within a generation, with the smoking ban in pubs being a part of this.
Murray concluded: 'One of the big differences now is the way people drink, as their habits have changed over the last 15-20 years or so.
'Before, you'd get people popping out to the pub, having a pie and a couple of pints, but now, it's people going into Pret to get a sandwich.
'That's a challenge which the whole industry is facing.
'But we're confident in our beer, and hopefully we can continue the growth we've seen in the first year and three months, so more people across Scotland will get the chance to try them.'