A trip to remember: eating and drinking my way around the South of Scotland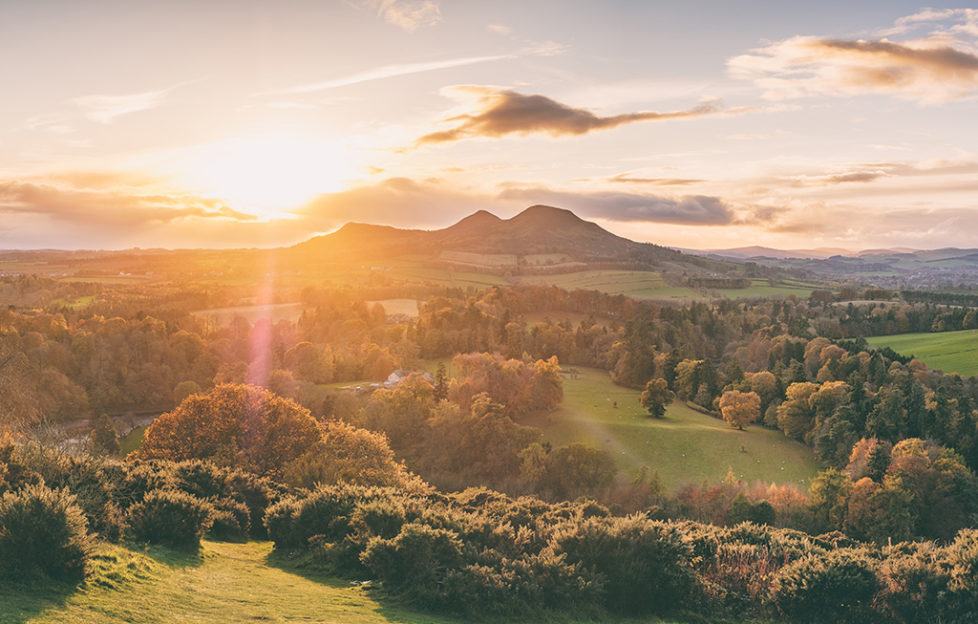 As we approach the end of February, the good intentions folk set out in the new year might have all but dried up. 
While I pledged – along with many others – to focus on becoming healthier and more active, I also made it my mission to explore more of Scotland in 2020.
Like most people, my first thought was the islands and the far north but a recent trip with a special food and drink focus to the Scottish Borders and Dumfries & Galloway has truly opened my eyes to a part of Scotland that is often overlooked.
The trip began with an initial cup of tea as our group arrived from various countries across Europe. We had journalists from the Netherlands, Germany, France and London along with a couple of us Scots. Once everyone was acquainted we met our driver Ian who runs Borders Journeys and would be taking us around for the next days. From the outset it was clear Ian is very passionate and knowledgeable about Scotland, throughout the trip he highlighted points of interest and the history behind them.
Our first stop was The Cringletie House Hotel in Peebles. In true Scottish fashion, over the course of our delicious lunch and tour, we experienced alternating bouts of snow and glorious sunshine. We tucked into a traditional Scotch Broth – which is made with Scottish lamb- followed by pan seared Tweed Valley venison with truffle mashed potato and romanesque. Both dishes were delicious and the perfect introduction to our epicurean adventure.
We were given a little tour of some the luxurious bedrooms and could easily see why the bride and groom who had chosen to get married at Cringletie that day picked this place. Only 30 minutes south of Edinburgh, it's also really accessible.
Our dessert was to come in the form of a chocolate making lesson at Cocoa Black's Chocolate & Pastry School. With world class Master Chocolatier Ruth Hinks at the helm, our group was greeted with luxurious hot chocolates and an overview of how the sweet stuff is actually made. It was then time to try and make our own chocolatey creations.
On top of being interesting and a lot of fun, we each walked away with three gift bags full the chocolate truffles and lollipops we made. I decided to share these with Scottish Field office – inhaled within minutes they were. There are a number of different options if you're interested in taking one of the classes or if you'd rather avoid the hard work, the cafe downstairs is packed full of delicious treats to enjoy over a coffee.
Our home for the evening was The Schloss Rosburghe Hotel which again offered a beautiful drive up and a warm welcome. The 19th century building was formerly owned by the Duke of Roxburghe and still contains many pieces from the family's art collection. The dark wood panelling contrasted with the colourful soft furnishings throughout the foyer and public spaces was incredibly inviting. Stepping into my bedroom there was a mix of old & new with a gorgeous bathroom which had everything I needed, it's just a shame there wasn't an actual bath. Although I could have spent days in the gargantuan shower. Dinner was a wonderful confit mutton dish with spiced barley semolina, parsley root and minted jus. This was followed by a sinfully sweet apple dessert.
The construction of 50 more bedrooms, a spa and another restaurant are already underway so it will be exciting to see how it all looks when it's completed in the Spring of 2021.
After a wonderful sleep and a breakfast of Eggs Royale, it was time to check out and have our first stop of the day; Teviot Game Fare Smokery. Now a real destination shop, visitors can explore the water gardens, browse a huge selection of Scottish products including the Smokery's own range and should all that leave you feeling peckish, you can grab a seat in the restaurant.
Never too early for a pint, we ventured to Born in The Borders to find out how this multifaceted business first began. As we sipped on a cold Wee Beastie (one of the Brewery's ales) we were given a tour of the brewery itself and told how owner John Henderson wanted to highlight and bring together as many of the local producers as possible to share their own stories and ultimately promote food provenance. You'll find a huge range of food and drink made by local businesses in their shop.
 Lilliard Ginnery is also based at Born in the Borders, and is inspired by Borders legend and local heroine Lilliard.
They distil their gin in small batches in a copper still, and their botanicals have been carefully selected to represent the lush abundance of the rolling Scottish Borders countryside. Rowan, rosehip, meadowsweet and elderflower combine with juniper to create an elegant, floral gin that embodies the four fragrant seasons of the Border valleys. We were invited to try a sample – and never one to turn down a g & t – we of course obliged. A lovely reward for the tough task of listening and drinking ale.
Stuffed with a hearty lunch courtesy of the Born in the Borders cafe it was on to Jedburgh Abbey, which was built over more than 70 years and dates back to the 1100s. Personally I've always loved history and Scottish history in particular is so rich and complex that I feel like I'm constantly learning new things. One of the abbey's volunteers is a lovely gentleman named Matt and he took us on a tour of the abbey and shared his extensive knowledge. Routinely attacked and damaged by English troops, the abbey was almost always under construction and there are one or two stories of murder in the abbey itself to boot. This made for an excellent stop on our tour and the town of Jedburgh boasts other attractions like Jeburgh Jail & Museum and the Mary Queen of Scots visitor centre.
A bit damp from the dreich weather, it was nice to arrive at our next hotel. Set in the heart of Dumrfries & Galloway, Trigony House Hotel is a Scottish Country house offering a cosy welcome. It's pet friendly too if you fancy bringing your pooch along. The foyer is decked out in light coloured wood and has a really homely feel as you walk in. My room was big, comfortable and the bathroom was stocked with Ishga products.
For anyone who has some time to relax, the hotel has a holistic micro-garden spa with exclusive use Swedish wood fired hot tub and Finnish sauna cabin.
After a hearty veggie breakfast, we headed to Castle Douglas to discover the huge selection of local businesses selling lots of food & drink, antiques and plush interiors. The 18th century market town also features a pop-up shop for local artists to sell some of their work and I couldn't help buy a gorgeous bookmark made from the wood of a cherry tree.
Tummies beginning to rumble, it was time to drop in to Station House Cookery School in Kirkcudbright to watch an Indian cooking demonstration take place.
As soon as we walked in the door we were hit with the intoxicating waft of spices and our noses led us to the classroom. Set up by Nick Morris in 2016, the school offers classes in a whole range of cuisines and cooking styles including fish, brunch, burgers, french and of course Indian.  Guided through several Indian dishes, we were lucky enough to sample Nick's handy work of Southern Indian style green beans, black bean and mushroom curry, daal, rotis along with lovely fresh yoghurt dips.
We were given recipe booklets so that we can try to recreate these dishes at home. Dishes like the dips and green beans would be great as sides for most meals. Nick also takes the time to discuss flavour profiles and the science behind the recipes and ingredient combinations, giving you helpful tips for cooking in general.
Appetites well and truly whetted we hopped down the street to the Selkirk Arms for lunch. Dating back to 1777, our dear Rabbie Burns was a lodger there on several occasions around 1794.  This traditional inn and watering hole offers a selection of Scottish and Mediterranean food with a twist but having clocked the fish finger sandwich, there was little room for negotiation. Save your gasps of horror, Captain Birdseye was no where near this lovely dish of succulent breaded haddock on a brioche bun with creamy tartar sauce and a side of some of the best chunky chips I've ever tasted.
We ventured next to Marrbury Smokehouse – a 5 star tourist shop which specialises in smoked salmon and  has a selection of smoked cheeses including brie, Stilton and goats cheese. The shop offers a range of treats along with a selection of gifts like quirky Scottish fridge magnets, soaps and crockery. Another big draw of the shop is the well-preserved ruins of Carsluith Castle. This 16th century tower house has a winding staircase up to the top level where you get an amazing view across the water to Wigtown. It's definitely worth the climb and went at least some way towards burning off my carb-heavy lunch.
Unless you've been living under a rock, you will be aware of the explosion of Scottish craft gins and distilleries popping over the past decade. A big fan of a g & t myself I was excited to pay Crafty Gin Distillery  in Galloway a visit. Unlike many other Scottish gin producers, Crafty make their own wheat base spirit and they do this by using local grain. We were given an in-depth tour of the distillery and the processes involved to create their award-winning gin. Set in the beautiful Galloway countryside, we were then able to sample the Hills & Harbour gin along with their newest offering, the smoky & citrus distilled cocktail.
Made using as many local botanicals as possible, these include Noble Fir and Bladderwrack seaweed. The flavour profile of the gin overall is a balancing act between the five basic senses of taste: sweet (mango), sour (orange), bitter(Noble fir), salt and umami (seaweed). When we were served our own little g & t garnished with a slice of fresh mango to try, you could taste the effort these guys put in to create a high-quality spirit.
The distillery's Tree Bar and cafe is filled with handmade wooden furniture comfy enough to spend a bit of time enjoying a tipple. As a means of linking great producers together Crafty's also launched the Galloway Picnic: simply grab a basket and a chopping board, then help yourself to a range of cheeses, smoked goods, pates, fresh breads and a range of preserves.
The gin was an excellent precursor to a sing-song filled drive to the historic quayside of Glencaple where we would be having dinner. Over looking the River Nith is The Boathouse. With such a wonderful watery location and nautical decor scattered throughout, you'd be forgiven for thinking this eatery had a purely fishy focus. While you'll find scallops and an option for the catch of the day as options on the menu, there weren't any other choices from under the sea. Still a wonderful setting to enjoy dinner with my new found friends and there's a lovely shop within the restaurant filled with products from local makers.
Our final day of the trip began with a visit to Kilnford Barns Farm & Shop to meet 75 year-old 'retired' farmer Jock Rome. With a family that have been involved in farming around Kilnford for over 300 years, Jock is extremely passionate about the meat he produces for the farm shop's butchery. Galloway beef, Blackface lamb -grazed on their local farm- and Duroc Cross pigs are farmed to the highest welfare standards and with more people looking for greater food provenance, it means 50% of the shop's business comes from meat sales. There's also a delicatessen stocked full of cheeses, cooked meats, an olive & salad bar along with a selection of pies.
There's a huge selection of local and Scottish products through out the store meaning it's all too easy to spend a few hours at Kilnford. The restaurant is in the converted barn and there's a children's play area and nature trail for little ones and their families to enjoy. When the Spring comes Jock will have lambs and cattle moved in the surrounding space so everyone can see exactly where the meat is coming from and the connection from field to fork is fully understood. This is something Jock and the whole team at Kilnford are really passionate about.
No trip in Scotland is complete without whisky and for this we travelled to Annandale Distillery. Established in 1836 and reborn in 2014 following a massive restoration project, it means that single malt Scotch whisky is being produced in the region once again after almost 100 years. We were given a tour by Andrew who only a few years ago learned that he is a direct descendant of the original distillery owners, George and Margaret Donald. As Andrew took us on a journey through the entire whisky making process, his passion for the Annandale story and its products was abundantly clear.
With the surge in popularity of whisky tourism, most whisky distilleries put a lot of effort into having a cafe or restaurant offering food that's as good as they believe their particular brand of amber nectar to be. To break up our tour (or go longer than 2 hours without eating, perish the thought!) we sat down to lunch in The Maltings Coffee Shop found within the distillery's old malting floor. With a cosy wood burning stove at the front of the room, it was an inviting space to retreat from the chilly February air. I thought I'd be patriotic and opt for the Scotsman's platter, a glorious affair of smoked salmon, a scotch egg, mini haggis & cheese tartlet all served with red onion chutney, cheddar cheese and oatcakes. Wonderful!
To conclude our tour of the distillery we were given samples of cask strength (between 60-65% ABV) peated and un-peated whiskies. I'm on a mission to become a whisky enthusiast, partly because I'm just so fascinated by the history behind it and being a proud Scot, I see it as a bit of a duty to get familiar with our national drink. With it being cask strength, I can't say it was the easiest dram to drink but the whole tour and experience made you appreciate the work and effort that goes in to making each drop.
Passion, quality and hard work were all common themes that kept cropping up during this four-day foodie extravaganza. The level of innovation and commitment to give back to the local community and create something that will benefit everyone lies at the heart of all of these enterprises. People connect with people and that's what you really buy into when you visit these producers. Their love of what they do is evident and it is reflected in the high quality of the food and drink they have created.
Beyond that, this part of the country offers stunning landscapes and endless activities whether you're a foodie or not. So when you plan you're next Scottish adventure, I heartily encourage you to venture south.
Sláinte!