Scots candle firm lights up London Fashion Week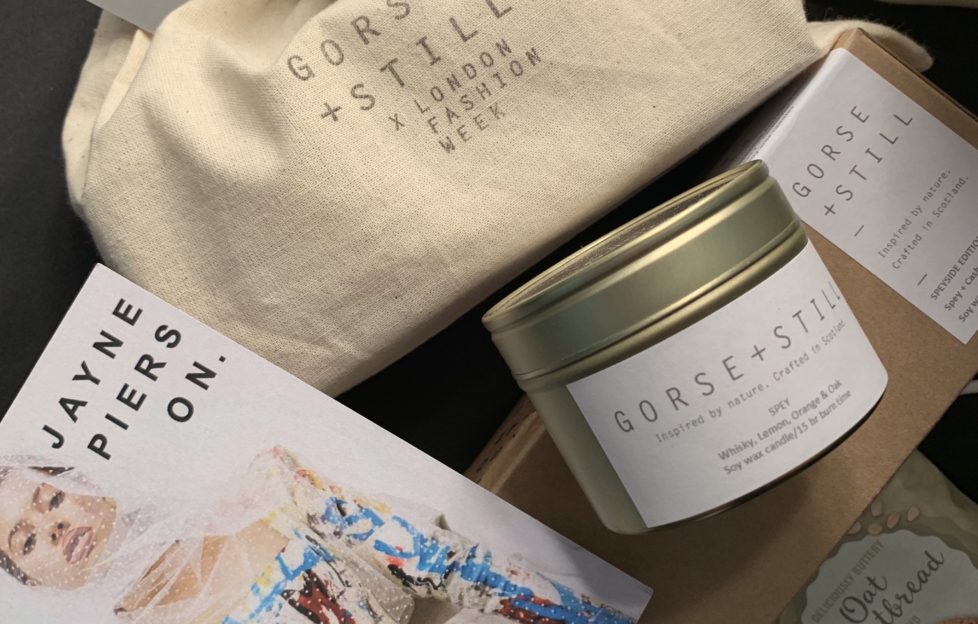 A Scots business featured in the front row at London Fashion week.
Speyside company Gorse + Still  was launched last November by Elgin businesswoman Leanna McDonald, who was delighted to have been invited to feature front row by International award-winning fashion designer Jayne Pierson as she launched her collection J'Ayne as part of British Fashion Councils London Fashion week.
Inspired by nature, crafted in Scotland is the theme running through the heart of Leanna's soy candle company.
Jayne Pierson's wealth of luxury brand experience has included working with iconic couture designers Alexander McQueen and Vivienne Westwood before starting her own hugely successful luxury, womenswear label. Since setting up her own art driven, fashion house she has received much press attention including bespoke commissions garments for many high-profile actresses and Brit Award winning singers and musicians.
Her J'Ayne AW19 LFW collection conceptualised the story of a modern woman who longs to reveal her most inner self, her dreams, hopes, aspirations and struggles. The collection expressed her deepest thoughts and feelings which were displayed on hand painted leathers, hand drawn digital prints, luxe woven painted fabrics, silks and draped leathers with delicate hand embroidered tulle.
The colour pallet had rainbow brights and pops of primary red leathers all on contrasted, structured architectural silhouettes. The collection conveyed a clear expression of feelings displayed as contemporary art, the garments being worn as armour to empower and celebrate our individuality.
The fun filled catwalk show was packed with the fashion glitterati, celebrities, artists, singers, presenters, fashion bloggers and leading editors – with Vogue amongst others taking up prime position on the front row. The show itself had no standing room left, Jayne Pierson had completely packed out London's Freemason's hall with her new highly anticipated collection. Everything about the show was fun, from the music to the colourful collection of garments, multidimensional and full of powerful pieces for AW19.
Gorse + Still were thrilled to be invited to style front row bags and backstage, and Leanna had worked for four weeks on creating a G+S London fashion week gift bag, limited edition box set of hand crafted, luxury soy candles and Speyside's world famous Walkers shortbread.
Inspired by the undeniable beauty and contrast of their Speyside surroundings, these bags contained handcrafted, nature inspired scents. She chose to feature and celebrate blends highlighting the best of what makes Speyside so special – the world's best whisky and the world's finest cashmere, both of which would not be possible to create without the abundance of wild nature – as well as the purest of water found in Speyside. The bags were received with much excitement and went down a storm, with some delighted guests even trying to secure additional goodie bags.
Leanna said: 'We are so honoured to have been invited to feature at London Fashion Week by such an inspiring, leading designer whose values, attention to detail and focus on sustainability are so well aligned with Gorse + Still.
'We are immensely proud to have seen our brand feature front row and backstage at such a prestigious, exciting event. This was a fantastic opportunity for our new company to bring a touch of Speyside magic to London Fashion Week, our website and brand is going from strength to strength and we are excited to see what the future may bring for us.
'Here in Speyside, the heart of Scotland, we really do have a rare advantage of rich countryside alongside the contrast of the coast line and fresh sea air. Nestled amongst the finest whisky distilleries in the world means there's no end of inspiration being surrounded with evocative, contrasting scents and landscapes of fresh, wild Scottish countryside or beautiful beaches and an abundace of estates filled with wildlife and woodland.'
Leanna has crafted and captured the aromas of the seasons, landscape and weather, and been inspired by nature to share these very surroundings with her customers, in their home. Every product has been ethically sourced, hand crafted and hand poured with soy wax and the finest of ingredients. Where possible they use sustainable packaging and ingredients to support their love of nature.'