Outlandish weddings with a new Scots pair-up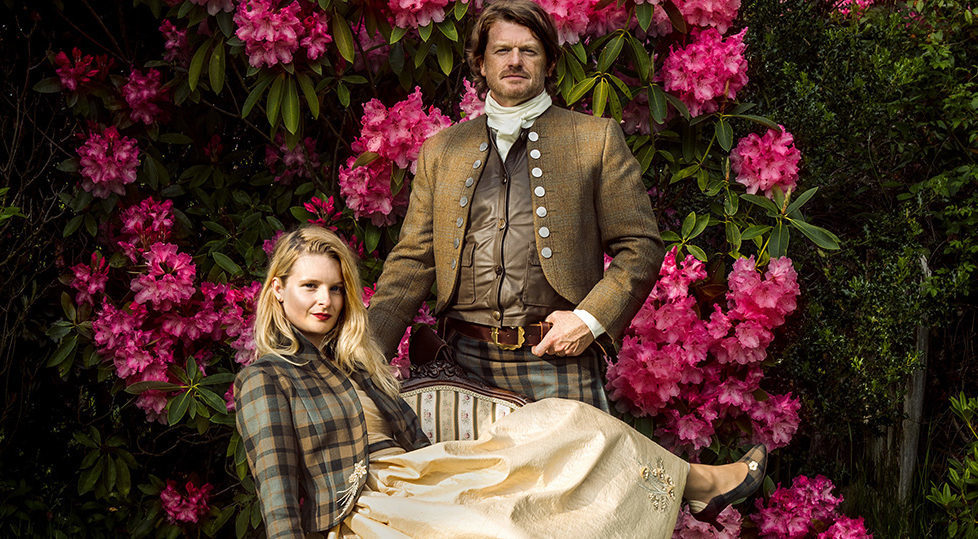 A collaboration between Gordon Nicolson Kiltmakers and Blues & Browns has created a historic match made in Scotland.
Sadly, we live in a world where craftsmanship has been de-valued by globalisation. Technology certainly allows us to do more things and to do them faster, but that doesn't mean that what we are producing is any better.
When Gordon Nicolson and Kairen Alexis Ruse met, it quickly became apparent that despite this environment, their businesses had been built upon the appreciation of true home-grown craftmanship.
Blues & Browns was established in Perth, Scotland by Kairen in 2002 with a simple philosophy 'to create beautifully tailored clothes in Scotland, by women for women'. The Wendyhouse Workshop manufactures everything from hats to intricately tailored coats in robust tweeds and wool, to exquisite celebration outfits in the finest silks and velvets.
The bespoke service, which includes shoes handmade by their artisan shoemaker, offers the discerning customer individual attention, an impeccably hand-tailored fit, sumptuous and elegant fabrics and the meticulous quality of craftsmanship. Only the finest tweed and tartan cloths, woven in small factories the length and breadth of Scotland are used, so that a Blues & Browns garment is truly tailor-made in Scotland.
Gordon Nicolson Kiltmakers is a Scottish retailer of Highlandwear specialising in bespoke kilt outfits, accessories and exclusive tartans. Renowned for their pride in offering traditional Scottish craftsmanship they strive to preserve national heritage.
They were established in Edinburgh's historic Royal Mile in 2001. With a thorough range of bespoke and made-to-measure items, they demonstrate their enthusiasm about local, hand-crafted goods.
Their made-to-measure range is renowned for quality tweed jackets coupled with a selection of exclusive tartans, including Flodden, John Muir Way, University of Edinburgh and Highland Mist.
After noticing a decline in the standard of kiltmaking, Gordon Nicolson created the Edinburgh Kiltmakers Academy to ensure high quality kilt-making by offering a course in the traditional handsewn craft. Their aim is simple— to train the next generation of kilt-makers in this traditional art.
By combining their unique services, Blues & Brown and Gordon Nicolson want to feed a growing desire among people to understand more about the provenance of their clothing: who makes it, how it's made and under what conditions. This collaboration comes at a perfect time as clients, particularly within the wedding market, are getting more demanding and want a personal connection with their purchases.
The teams have been working together, sharing ideas, and stories for over a year. A confluence of events so seemingly magical, made for a charmed photo shoot at the atmospheric Tibbermore Church, with its medieval origins set in a fascinating walled graveyard and the historic A-listed Seasyde House in Errol, now home to the Leslie Family which was originally the home of Admiral The Viscount Duncan, Scotland's hero of the high seas during the 18th century.
Kairen, owner at Blues & Browns said: 'What a fabulous day we all had. I simply love a free reign when it comes to designing and creating bespoke outfits. This was a real opportunity to go all out and showcase the Scottish design, textiles and manufacturing industries at their best.
'We are all fans of Outlander and we just fell in love with the idea of communicating a slice of Scottish history in a contemporary fashion, whilst pushing boundaries and supporting Scotland.'
Photography by Charlotte Kinsella. Make up by Sarah Clarke. Grateful thanks to Fiona Leslie of Seasyde House and the trustees of Tibbermore Church, Sue MacLean and her Jack Russells.