Theatre broadcast will be Absolutely Fabulous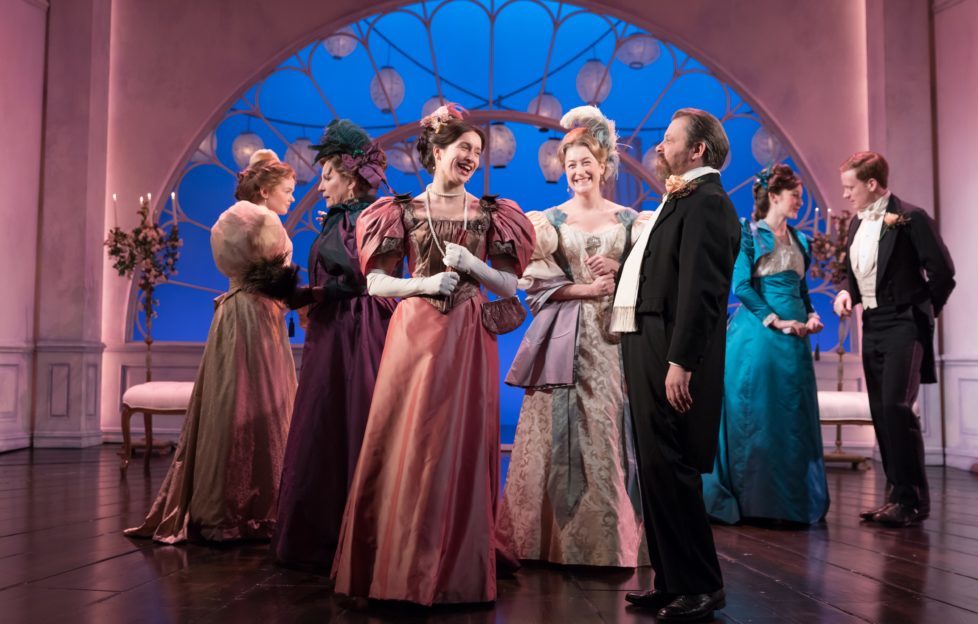 Scottish theatre lovers unable to attend a London performance will be able to see a show live in cinemas.
Oscar Wilde's Lady Winderemere's Fan is currently being staged at London's Vaudeville Theatre, and will be broadcast on 20 March.
The cast includes BAFTA Award-winning actor Jennifer Saunders as the Duchess of Berwick and BAFTA-nominated Kevin Bishop as Lord Darlington, alongside Joshua James (McMafia and Black Mirror) and Grace Molony (Mary Queen of Scots and The Country Girls) as Lord and Lady Windermere respectively.
The play masterfully executes the wit that has come to define Oscar Wilde's extraordinary body of work, and boasts the wonderful Jennifer Saunders in a role she was born to play.
Award-winning director Kathy Burke has brought together a talented comedic cast in this beautifully staged production designed by Paul Wills. Jennifer Saunders guest stars as the Duchess of Berwick, marking her return to the West End stage for the first time in over twenty years.
As a comedian, screenwriter and actor she is best known for writing and starring in the BAFTA-winning sketch show, French and Saunders, and the BBC sitcom Absolutely Fabulous, which won international acclaim, a BAFTA and an Emmy.
Double Olivier Award-winner Samantha Spiro stars as the mysterious 'other woman' Mrs Erlynne. She first came to fame playing a young Barbara Windsor in Cleo, Camping, Emmanuelle and Dick at the National Theatre, a role she recently reprised for the BBC drama Babs.
She won the Olivier Award for Best Actress in a Musical for her performances in Merrily We Roll Along and Hello, Dolly! Her other credits include Carnage, Psychobitches and Grandma's House.
Following his starring role in the BBC's remake of the classic comedy Porridge, Kevin Bishop returns to the stage as Lord Darlington. As well as starring in Tracey Ullmann's Show, Rebel Wilson's Super Fun Night and Peep Show, Bishop is also known for co-writing and starring in Channel 4's The Kevin Bishop Show, which ran for two series. His recent stage credits include the one-man show, Fully Committed, and Once In A Lifetime at the Young Vic.
Lady Windermere's Fan is the second production of the Classic Spring Theatre Company's year-long season of Oscar Wilde at London's Vaudeville Theatre and follows the highly successful A Woman of No Importance which was broadcast live to cinemas on 28 November 2017.
Dominic Dromgoole, artistic director of Classic Spring, said: 'Oscar Wilde was a lover of the modern in all its forms, and I'm sure the idea that his plays could now be broadcast live to so many people, in so many places, would have delighted him.
'We are very pleased that these glorious plays are going to reach an even wider audience and have life beyond their runs in the West End.'
More2Screen will also broadcast the final two productions of Classic Spring's Oscar Wilde Season from the Vaudeville Theatre to cinemas nationwide: An Ideal Husband on Tuesday, 5 June and The Importance of Being Earnest on Tuesday, 9 October.
Cinema tickets for the live broadcasts are now on sale at OscarWildeCinema.com.
Starting at 7.15pm, the show has a running time of 150 minutes, including one interval. It will be shown at:
Cineworld Aberdeen; Birks Aberfeldy; Lonsdale Annan; Odeon Braehead; Fullarton Castle Douglas; Empire Clydebank; Cineworld Dundee; Odeon Dundee; Omniplex Dundonald; Odeon Dunfermline; Studio Cinema Dunoon; Cineworld Edinburgh; Dominion Edinburgh; Odeon Edinburgh; VUE Edinburgh; Showcase Glasgow; Cineworld Glasgow; Waterfront Cinema Greenock; VUE Hamilton; Tower Arts Centre Helensburgh; Grosvenor Hillhead; Eden Court Theatre; Inverness Odeon; Odeon Kilmarnock; Phoenix Cinema Kirkwall; The Buccleuch Centre Langholm; VUE Livingston; Showcase Paisley; Playhouse Perth; MacRobert Arts Centre Stirling; VUE Stirling.