Winner of top Scottish art prize is unveiled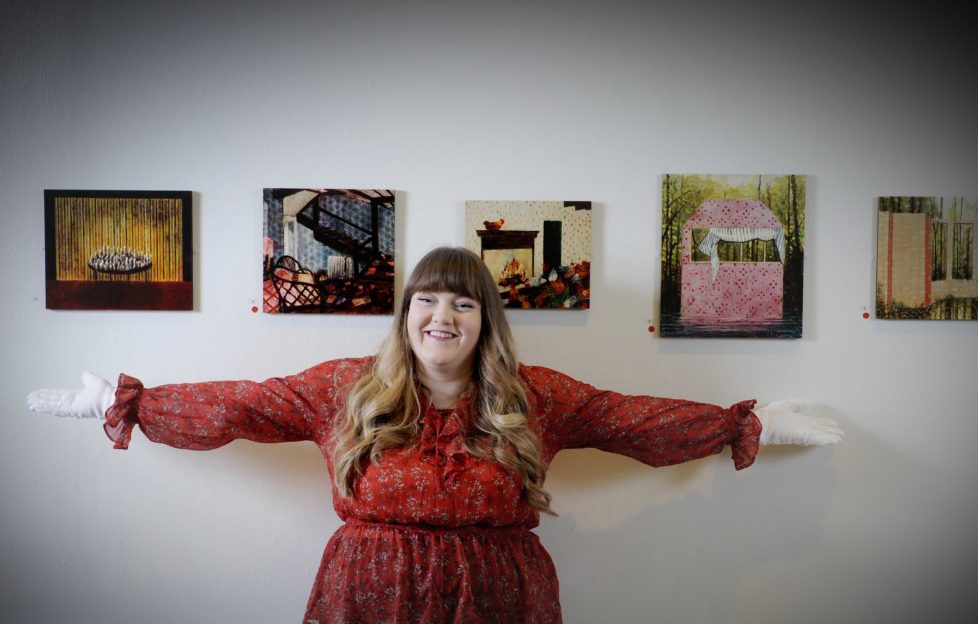 A young Scottish artist whose paintings are inspired by exploring abandoned buildings has been named as the winner of a major art prize.
Samantha Cheevers, 23, from Port Glasgow, is the winner of the Glenfiddich Residency Award, worth £10,000, the largest award for an emerging artist in Scotland.
She will receive three-month funded residency at Glenfiddich Distillery in the summer of 2019, including a monthly stipend of £1400, and an additional £5800 made available as a production budget for new work.
Work made during her residency will be exhibited at the Glenfiddich Gallery, and one piece of work will be accessioned into the William Grant & Sons art collection.
The award winner is chosen from among the artists in the RSA New Contemporaries exhibition, a showcase of emerging artists selected from the students who graduated from Scotland's five art colleges in 2018. The exhibition opens to the public in Edinburgh on Saturday.
Samantha, who grew up in Port Glasgow, did an HNC in Art and Design at City of Glasgow College, then a degree in painting at Gray's School of Art, Aberdeen. In 2018, she was the recipient of an Aberdeen Arts Centre Graduate Award.
Part of her work involves exploring abandoned buildings, including farm houses, hospitals and children's homes.
She said: 'My work is influenced by urban exploration and psychogeography. The documentation and photography I have collected from abandoned places are the key elements to my paintings.
'The letters and objects I have found inside these derelict buildings help to create a narrative that brings a surreal and peculiar environment to my work.
'When exploring the buildings I always found it interesting how nature was taking over these man-made structures, so a lot of my work is focused on bringing the outside into these empty spaces.'
Colin Greenslade, director of the RSA, said: 'The Royal Scottish Academy is delighted to present the RSA New Contemporaries in its tenth anniversary year. We congratulate the artists for producing such fantastic works for the show.
'Once again we are indebted to the Awards providers for their valued and very generous support of the exhibition.
'Our major award this year is the Glenfiddich Residency Award, which is a much sought after prize at the show.
Large-scale awards like this one enable and encourage artists to develop and expand their careers, introducing them to new opportunities and networks which may stand them in good stead for the rest of their careers.
'This support is crucial at such an early stage in their development after art school.'
The Glenfiddich Artists in Residence programme was launched by distillery owners William Grant & Sons in 2002, and is one of the largest privately funded artist residency programmes in the UK with a total budget of £130,000.
This year is the fifth year Glenfiddich has invited an emerging artist from Scotland to join the residency, offering an unrivalled opportunity develop their work at a crucial point in their career.
Samantha will join artists from India, Australia, China, Korea, Taiwan and Canada at Glenfiddich this summer.